Samsonite Colombian Leather Flap-over Messenger Bag
This is the Samsonite Colombian leather messenger bag by Samsonite. Samsonite is a well-known household name that doesn't need any introduction but nonetheless they are a top player in the field of luggage and other travel gear.
This leather messenger bag is a great example of the quality type of product that Samsonite puts out and was a pleasure to review. As always we'll review the style, comfort, durability and functionality of this bag and then provide our recommendation. So let's get to the review!
Samsonite Colombian Leather Messenger Bag Has Style
The Samsonite Colombian Leather Messenger Bag is one of classic style. I myself am partial to the brown but they also offer it in a black and black/chrome combo. I love the way the bag appears to be buckled down with metal buckles and not some cheap Velcro or magnets, although it actually uses hidden metal clips underneath the end of the straps.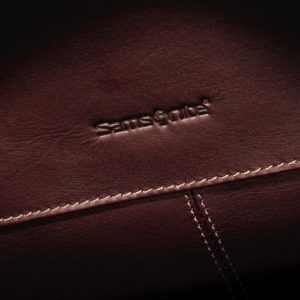 There's not a whole lot in terms of design features as Samsonite didn't try to do too much here. By keeping it very minimalistic they actually outdo themselves.
A feature that I do love about this bag is the fact that it is real genuine leather. It is crafted from a natural cowhide and is not overly treated. By doing this Samsonite is able to make each Colombian leather messenger bag just a little bit different and have its own distinguishable characteristics.
Being genuine leather is not all about the appearance though. You also want to have that genuine leather smell and feel. Obviously as this is a natural cowhide you get just that. This Samsonite leather messenger bag not only looks great but smells and feels great as well.
Finally the inside of the bag is not half bad either. The inside of the pockets are made of a soft fabric that feel fantastic.
I love the way this bag looks, feels and smells and would not have it any other way in a messenger bag. Samsonite has gone far with this bag because they kept it simple and if you're considering this bag it's because you know the quality that Samsonite puts out. The style for this Samsonite Colombian leather messenger bag gets a very solid and well deserved 5 out of 5 stars!
Samsonite's Colombian Leather Messenger Bag Is Comfortable
The Samsonite Colombian Leather Messenger Bag is one of extreme comfort. It is very enjoyable to carry and I never feel like I'm burden down by it in any way.
The shoulder strap on this Samsonite messenger is padded and very comfortable for your shoulder. It also has a grip texture on one of the sides so that it doesn't slide around on your shoulder while walking. It's not a bad material other or something annoying like Velcro.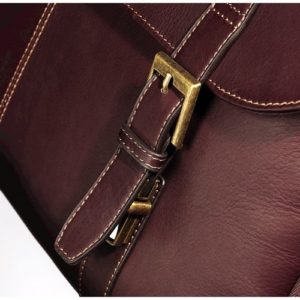 The shoulder strap is also adjustable so that you can make changes as needed to make sure it fits you comfortably and the padded shoulder strap is also removable if you decide you want to forgo it altogether.
Another feature that was mentioned previously is about the leather. It is while noticeably soft and feels great when you are handling it. I would much prefer to work with soft leather than a rough hide.
Lastly the leather messenger bag does have some weight behind it. It weighs about five pounds but I don't look at this as a detractor. The weight makes it feel like a quality bag that is well built and made. I wouldn't have it any other way. The reason why I'm not too worried about this is even when the messenger bag is loaded up; the strap still makes it very comfortable to carry.
The comfortability of the Samsonite Colombian leather messenger bag is exactly what you would expect from Samsonite. It's got a great feel from the leather, it has great padding on the shoulder strap and it is adjustable. I have no complaints about this bag and give it 5 out of 5 stars for comfortability.
Samsonite's Colombian Leather Messenger Bag Could Use More Durability
I like to get some good use out of products that I buy and the durability of any piece of travel gear is very important to me. This Samsonite Colombian leather messenger has some great durability but there is a small issue that I have with it.
I've been able to take this leather messenger bag out quite a few times now and so far it has done a remarkable job holding up. I've loaded the bag up with a laptop, notepads, mouse and more and I have not noticed any signs that the leather messenger is starting to fail.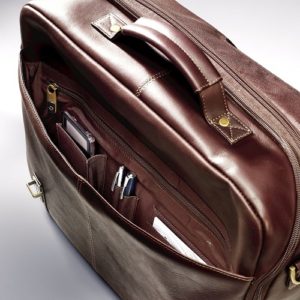 The straps have held up well every time I've used them and I don't see the quality going in any way. The stitching on the messenger bag is holding up well also and I don't have any complaints there.
The only area of concern that I have, unfortunately has to do with the actual leather surface. Don't get me wrong it looks great but the soft leather is susceptible to damage and marks unlike the full grain leather messenger bags. I noticed a small scratch on my leather messenger bag after I accidentally scraped it while out and about one day. So if you're rough on your bags I would say you might want to avoid this bag and look elsewhere. I wanted to see if I was the only one who ran into this issue, so I did some research and learned that even tape can take the paint off and cause marks. This is unfortunate but I don't plan on using tape on my bag at all.
The durability of the Samsonite Colombian leather messenger bag does a great job of holding up structurally through the rigors of daily commutes and basic use but unfortunately I'm not a fan that the leather can mark so easily. Maybe it will actually give it more character but not something I plan on intentionally doing to this messenger bag. Structurally it's great but cosmetically it has its flaws. For these reasons I have to unfortunately give this bag 3 out of 5 stars.
The Samsonite Colombian Leather Messenger Bag Is Functional
Anytime I buy something whether it's in person or online, I always have to see what neat little features and quirks the product has. As it goes with travel gear and specifically this Samsonite Colombian leather messenger bag, the same is true.
So when it comes to functionality with a messenger bag it usually has to do with what's up the flap and this is no different. Under the front flap of this bag you will find an organizer that can be used for your business needs. It has a couple of dedicated pockets including a spot for your cell phone and pens and it also has a separate zippered pouch that can be used to store separate documents.
Beyond this in the main area of the bag you have two sections that are divided with one area to hold a laptop or tablet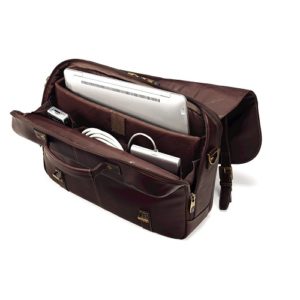 and the other to hold the laptop accessories or other files and documents. I noticed with the space however that if you were planning to store additional items in here for a full day of activities you may want to look for another bag. This one seems more suited to a professional or business purpose. You won't be able to put a change of clothes and lunch in with your computer and files for example.
The functionality of the Samsonite Colombian leather messenger bag is not suited for everyone and has a specific group of people who would find this useful. It appears to be more useful for individual who are looking to get around campus from class to class. It is also useful for someone who needs to get around with papers for work as well as a laptop and doesn't want to be bothered with backpacks or briefcases. It is not however, ideal for someone who is looking to store a lot such as bike messengers or for someone looking to store groceries if that gives you an idea.
For the purpose of this bag I love how it is designed and laid how to give you the sections you need to store the small extras, your files and folders or notebooks and a section for your laptop. The functionality of this Samsonite Colombian leather messenger bag gets 4 out of 5 stars for the fact that it could be a little bigger to appeal to more people.
Samsonite Colombian Leather Messenger Bag Score
So here we are at the end of this review and I think it's fair to say this leather messenger bag by Samsonite is a top choice for many people and one that you should consider if you've made it this far.
I'm not a fan of how easily the leather can be marked up which is a big concern for me because I'm pretty rough with my bags but for individuals who take care of their gear, this shouldn't be too big of an issue. I would also have liked to see it be just a bit bigger to store additional items.
I did however like the look of the leather as well as the smell and feel of it as it is soft leather. I enjoyed how well it fit and draped over my shoulder when I was carrying it around town and the fact that it structurally has held up well without any wear and tear on the bag. The best part about this messenger bag is the fact that it has dividers so it doesn't seem like just an endless chasm where everything is just thrown into a large pit.
For these reasons it's hard to say no to the Samsonite Colombian leather messenger bag, especially when you can get a bag of this quality for such a good price. I give it a buy rating for professionals and students and a pass for everyone looking for an all-around multipurpose bag. All in all, this leather messenger gets a very respectable 4 out of 5 stars.
If you have a review of this product or have something to say then feel free to leave your review or comment below!