A Word about Michael Kors
Michael Kors is a globally-recognized, luxury and ready-to-wear designer. The award-winning company, founded in 1981, manufactures a wide array of products under two labels: signature Michael Kors Collection and MICHAEL Michael Kors. Michael Kors really does it all- each line includes accessories, watches, jewelry, footwear, men's and women's ready-to-wear,
eye wear and even fragrance products!
You can find Michael Kors stores in some of the most celebrated cities in the world, including New York, Beverly Hills, Chicago, London, Milan, Paris, Munich, Istanbul, Dubai, Seoul, Tokyo, Hong Kong, Shanghai and Rio de Janeiro.
Behind the scenes of this successful empire is a single designer: Michael Kors. With a penchant for glamour and effortlessly chic style, Michael Kors has been honored with many awards within the fashion community. The brand is known for a style that is sophisticated and indulgent, luxurious and modern.
Since its beginning, the Michael Kors brand has been involved in philanthropy. In New York Michael Kors works with God's Love We Deliver organization to help distribute meals to people with HIV/AIDS, cancer and other serious illnesses. He teamed up in 2013 with the United Nations World Food Programme (WFP) to help fight world hunger by designing the 100 Series watch. Michael Kors helps WFP's school meals program, by contributing a portion of the proceeds from his special-edition timepiece.
Official Website
If you enjoy our Michael Kors Jet Set Review and want to find out more about similar products or the brand itself, we highly recommend that you visit their official website. It has an abundance of information about the various Michael Kors collections and myriad of products.
From the official website, follow the instagram icon for dazzling photos of the latest and greatest Michael Kors trends and products.
The official website is the best place to get excellent customer service; returns and exchanges, tracking orders, and much more can be done from the official site. Whether you're looking for new arrivals in handbags, jewelry, or ready-to-wear, the official website is the best for authentic and unique Michael Kors products.
Style and Design of The Michael Kors Jet Set Tote
Women know that the perfect handbag will make or break any outfit. The Michael Kors Signature Jet Set Tote is the handbag that will pull together a perfect outfit! It's polished look, and carry-everything design has quickly made it one of Michael Kor's most iconic and recognizable styles.
Logo embossed PVC gives this modern tote a sleek style that transitions easily from work to play, for the jet-setter who is on the go! With its classic shape, it is simultaneously functional and elegant. Sleek leather handles with eye-catching hardware complete the luxurious look. The tote features metal feet on the bottom to protect it while you are on the go. The cutout logo medallion dangles decoratively, providing a finishing touch.You will be able to choose from nine fabulous color variations:
Black – An absolute classic in an inky black. For those who enjoy simplicity and a clean look.
Brown/Steel Blue – A timeless, regal look for the shopper who wants a color that radiates elegance.
Brown/Chili – A stunning, rich color that makes a statement about professionalism and class.
Vanilla – A bold, stand-out, crisp color that is sure to attract attention in the best way possible!
The look and design of the tote will stay the same no matter which color you select.
The Michael Kors Jet Set Tote comes in just one size. It is a large, carry-all tote bag; designed for travel or everyday use, you can carry all your essentials- phone, wallet, make-up, tablet, and more! It has a wonderfully sleek shape that is eye-catching in the best way.
The exact measurements are:
11″ high
16″ wide
9″ shoulder drop
The Michael Kors Jet Set is the epitome of iconic fashion. With the Michael Kors stand-out logo embossed design, adjustable leather handles, and gold cutout logo medallion, this handbag is stylized beautifully down to every last detail. Michael Kors does not disappoint when it comes to designing a functional and luxurious handbag.
We love how many storage spaces the Michael Kors Jet Set Signature Tote provides – Side exterior slip pockets, a back wall zip pocket, multi-functional slip pockets and a center zip pocket! Stay organized and feeling put-together as you transition from work to leisure with this smartly designed, statement tote. The Overall Rating for Style and Design for the Jet Set Tote is 5 out of 5 stars!
The Michael Kors Signature Tote Comfort
The unexpectedly high level of comfort the Michael Kors Jet Set provides is like icing on the cake for this unique handbag. One might imagine that a large travel satchel that can hold all your essentials would feel heavy and uncomfortable. But on the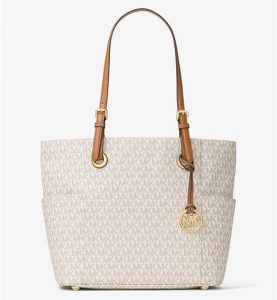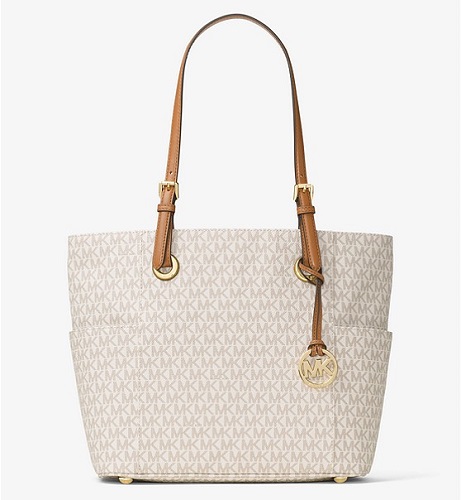 contrary, the Michael Kors Signature Tote offers a different experience thanks to some very thoughtful design elements from a team of genius designers who are clearly designing for the on-the-go, jet-setting woman.
Smartly designed with logo embossed PVC material, the bag feels lighter than air. It's just what you want when you're stashing all your carry-on items for your net trip! When you're on the go you don't want to be weighed down by a heavy tote. With Michael Kors Jet Set Tote you can feel comfortable and supremely stylish at the same time!
The Michael Kors Signature Tote is designed to be carried on the shoulder. Everyone woman has their own personal preference to what feels right when it comes to carrying a handbag, and Michael Kors has taken this into account in the design of the tote. Built to be fully adjustable to fit the length of your torso and carry your items with equal weight, the satchel provides unparalleled comfort for your day-to-day wear. The dual buckle shoulder straps allows you to create a custom fit that is perfect for your size and shape.
The Overall Rating for Comfort for the Signature Tote is 5 out of 5 stars! Every detail of this handbag is well designed to be light, modern and multi-functional.
The Michael Kors  Jet Set Signature Tote Durability
You will immediately notice how polished and well-crafted the Michael Kors Signature Tote feels the moment you try it on. This remarkable handbag is made up of several different high-quality materials to make it last for years worth of everyday wear and jet-setter travel.
The body of the tote is made of a premium quality, logo embossed PVC material. Sometimes called polyvinyl chloride, this material is durable, practical, and eco-friendly. Many see it as a great alternative to animal skin leather. It has a wonderful shiny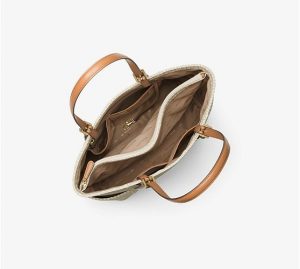 polished look, and best of all it is easy to clean! This beautiful material has a protective finish that improves the durability of the bag, working to prevent scratches and cracks in the material.
The Michael Kors Signature Tote has another major advantage in durability- besides being scratch resistant, it is also water-resistant! This smart tote has a surface that water droplets can't absorb into. Your luxury tote bag won't be ruined if you get caught in the rain while travelling! Or if you have a wine spill, simply wipe gently with a clean cloth, and any stains can be avoided.
Every woman knows you have to be wary of where you set your handbag down, you might accidentally ruin it! With the Michael Kors Jet Set Signature Tote you never have to worry. It is cleverly designed with metal feet on a flat bottom that protects your bag from any scuffing or damage, keeping it in pristine condition.
Finally one of the things everyone wants to see in any product they buy is some kind of guarantee or warranty. Fortunately, Michael Kors provides a one year limited warranty on their handbags.
For fashion-savvy shoppers who strive to find impeccable design and durability in a high-fashion handbag, the Michael Kors Jet Set is the ultimate! Along with it's iconic logo and timeless design, you will get a long-lasting handbag you can count on. Incredibly damage resistant, the Michael Kors Signature Tote will stay with you for years of fashion statement making. The Overall Rating for Durability of the Michael Kors Signature Tote is 5 out of 5 stars!
Features of the Michael Kors Jet Set
We have already covered several of the key features in this Michael Kors Signature Tote review, but going over the entire list will be beneficial to those of you seeking certain specifications. Every woman has a certain qualities that they desire in a handbag- we bet the Michael Kors Signature Tote will meet your expectations!
The amount of thoughtful details is impressive and you will notice that Michael Kors did not cut any corners when developing this luxury handbag:
Imported
12″ high
5″ wide
MK Logo Signature PVC with Gold-tone Hardware
Two Exterior Slit Pockets
Interior Zip Pocket, Interior Cell Phone Pocket, Three Interior Pouch Pockets, Keyfob
Measures 14″ x 11″ x 5″
Zip Divide at Center, Open Top
Double handles
Two exterior slip pockets, zip compartment, interior zip pocket, four interior slip pockets, interior key fob
12″W x 6″D x 11″H; 9″ handle drop
PVC/leather
Silver Hardware
The Overall Rating of the Features of the Michael Kors Signature Tote handbag receive 4 out of 5 stars! Michael Kors goes above and beyond expectations in features of comfort, surprising even the most picky handbag lover. It's durability and convenience for easy cleaning, due to the PVC material, make it incredibly functional and a spectacular buy.
Although most of the tote's qualities are positive, the Michael Kors Signature Tote lacks a noteworthy feature that many shoppers look for in a handbag. There is no top zip closure on the bag, so while it does provide easy access, one needs to be careful while carrying it not to spill the contents inside. One other small complaint is over time the leather handles can show some wear.
Value for the Price
The Michael Kors Signature Tote is one of Michael Kors's best sellers. It has been a mainstay product in their handbag collection, and it's clear why – the combination of timeless design and durability in a luxury handbag such as this one are truly hard to come by. The price is quite reasonable for the impressive quality of the product. You are making an investment in an iconic, statement tote that can last you for years of travel.
Although guys might think you're crazy for spending this much money on a bag, us girls know this bag is a steal! This is really a case of getting what you pay for. The Michael Kors Signature Tote materials are high quality and you're also paying for the brand and status symbol that comes along with carrying a Michael Kors bag. The design of the handbag is very modern for those who prefer a youthful, timeless style.
The good about The Michael Kors Signature Tote:
Durability – Cleverly designed with PVC logo embossed material, the tote is water resistant and stain-resistant. The metal feet on the bottom protect from scuffs and damage. This is bag is as durable as it is fashionable! Enjoy it for years!
Timeless – The clean, modern shape and lines of this tote are incredibly fresh. From a mile away, you can spot it as a luxury bag. The Michael Kors Signature Tote will not be outdated or out of style next season or even next few years. It's iconic design is adored world-wide!
Lightweight – The bag is created with a very lightweight construction which provides you with hours of comfort if you're out for the day and carrying around this bag.
Warranty – These handbags come with a one year limited warranty to provide you with some peace of mind in the event you run across poor manufacturing or craftsmanship.
The bad about The Michael Kors Signature Tote:
Access – The tote provides great pockets and storage capabilities, but there is no top zip closure on the bag. It does provide easy access, but one needs to be careful while carrying it not to spill the contents inside.
Variety – We love the design features, but we wish the tote came in a larger variety of colors! If only there were more choices and opportunities to channel your personality and express yourself through other beautiful hues.
The Final Verdict
The Michael Kors Signature Tote is a high-quality, luxury travel tote bag. This style is a Michael Kors top-seller because of its durable materials and fresh, iconic design. Now shoppers don't have to choose between a function and luxury when it packing a carry-on bag for travel. With the Michael Kors Signature Tote, you can have it all! If you are looking for high-end fashion at an amazing price, this tote is for you! The Overall Rating for the Michael Kors Signature Tote is 4 out of 5 stars!