A Word About North Face
The North Face was founded in San Francisco in 1966 by Douglas Tompkins and his wife Susie Tompkins. With full respect, we can say that they are one of the best companies in this line of business. Not only they have a lot of experience in this field, but because they truly recognize the needs of their customers.
In the beginning, they were offering limited merchandise. As the time passed by, their gear for climbers, hikers, mountaineers was expanding. Not only do they sell climbers equipment now, they also offer useful camping stuff too.
If you are looking for a backpack, tactical packs, tents, sleeping bags, luggage and duffels, this company can provide you with the best-quality merchandise, and the good thing is that they literally have everything for everyone.
What We'll Discuss
There's a lot of backpacks on the market – how can you be sure that you picked the right one? With all the features that one backpack can provide you, there is a pretty big list. In order to save you some time, we have prepared this review about an amazing North Face Jester backpack. You will defiantly find it helpful.
In this review, we will discuss all the good and bad things about this nifty North Face Jester backpack. We will talk about performance, price, durability, as well as color variations and design.
You will find this backpack pretty interesting, not only for its specifications but we'll talk a little bit about the brand itself, which is going to be a pretty good guidance for you.
North Face Jester Appearance & Style
We can talk about this backpack's appearance and style for hours, but we will let it speak for itself. Not only does it look marvelous, it comes in a manifold of colors. Every single color style is truly remarkable. North Face Jester backpack is capable of a lot of things every climber would want. Large main compartment, padded laptop pockets, front accessory pocket, even a panel for items that are not wide and big.
North face jester backpack comes in nineteen color variations, among which the best are:
Falcon Brown Heather & TNF Black – This is the first style and color you will see when you search for this backpack if you are on North Face official web site. We can say that is a classy backpack for people with style. Shoulder straps are solid black. The front of the North Face Jester backpack in this variation is looking elegant. The combination of black and brown is quite good since it's not noticeable that much when its dirty.
Acid Yellow/Turbulence Gray – Acid yellow is definitely a color that's attractive in full light. So wherever you go, it will be an eye-catching phenomenon. Turbulence gray is good here because it is hiding the less-attractive outside features of this backpack. The combination of this two colors is quite a thing, even though it can trick the eye.
Ketchup Red Emboss & Asphalt Gray – Ketchup red emboss is dominant in this color combination. It covers top and side of the backpack. The bottom is asphalt gray. The redness of this beautiful backpack Is making you take the action while the gray is referring to a stable and strong performance.
Blue Aster Emboss & Banff Blue – This one is definitely made for blue color lovers. Blue Aster emboss and Banff blue is pretty good together, because of the similarity of two shades. Some people would say this backpack reminds them of clear blue sky in June, as it's both deep and transparent at the same time.
TNF White Mountain Camo print & Metallic Silver – TNF white mountain camo is the best way of saying that you are a true climber. Metallic silver only adds more fuel to the mountain love fire. With this model, you don't need to show off because everyone will know what it is that you are proving.
Terrarium Green Emboss & Lemongrass Green – With this variation of green colors, you can for sure go outside and become part of nature. Terrarium green emboss is truly the great color for representing the nature shades. Lemongrass zipper appears like a refreshment, mainly because it stands out exquisitely.
The Overall Style & Appearance rating of North Face Jester backpack is 5 out of 5 stars. This backpack is truly a good-looking one. Also, we could add a few more color variations, but there is no need to since every North Face Jester backpack color combination is beautiful in its own way; there are a total of nineteen color variations after all.
All of the color names are taken directly from a North Face official web site.
North Face Jester Backpack Comfort
The North Face Jester Backpack comes with a couple of features that make it very comfortable to use as a daily backpack whether it's to work, school, just to carry some belongings around or perhaps even little day hikes. North Face is known for being one of the top brands in backpacks and there's a good reason why they excel, they are comfortable!
The Jester backpack here offers its users exceptional comfort for a standard backpack by making the back panel padded so you don't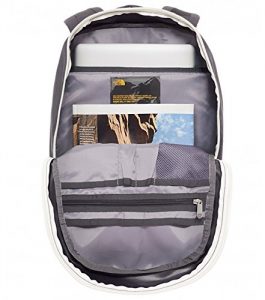 have the contents of the bag resting directly on your back. Also the shoulder straps are padded as well so they will not be digging into your shoulders while you carry your things around. The back panel is also ventilated which only helps with the overall comfort by keeping your back nice and cool so it doesn't get sweaty while your walking around with it in the sun!
Another neat feature that you don't normally see on regular backpacks but you will find on the North Face Jester is the addition of a chest strap. A chest strap allows you to connect the two shoulder straps together across your chest which does two things; it helps stabilize the load so it's not swinging around or anything and it also provides your back with additional support making it easier on you.
The top handle of the back pack that you use to haul it around with is also padded, keeping the handle from digging into your hands and fingers when you need to pull it out of the car or carry it around that way such as going thru security at the airport or while walking down the aisle on the airplane.
The Overall Comfort of the North Face Jester Backpack is 5 out of 5 stars. Overall this backpack is just made with comfort in mind. They took some of the many common aspects they would incorporate in their high end hiking backpacks which costs hundreds of dollars and they added it to this smaller Jester backpack.
North Face Jester Backpack Durability
North Face products have always been known to come with some of the best durability available in the market. They consistently create their products with an attention to detail and durability and use only the best materials available. Not only that but they stand by their products also by offering a Lifetime Warranty.
The Lifetime Warranty just goes to show how much they stand by their products and how much faith they have in them. If for whatever reason your gear starts to fall apart or comes already in a poor condition, North Face will make it right.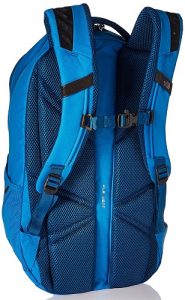 The material quality is one of the most important features when we are discussing the comfort and durability of the backpack. North Face Jester backpack fabric is made of 600D polyester, 450D x 300D heather polyester, 600D geo emboss polyester and 1200d polyester.
600D polyester – This material is considered to be a strong material that is water-resistant. It absorbs and holds the colors better, making it fade resistant. All these fabric characteristics are making this backpack a good choice when it comes to quality.
450D x 300D heather polyester – 450D polyester is weak compared to 600D. In combination with 300D polyester, it excels in a heat retention. It provides solid and satisfying protection.
600D geo emboss polyester – This type of polyester is often used in clothing, never the less, it's a good material for backpacks. Comfortability that this kind of material is providing can be considered good. It is stretch-resistant and you won't have any trouble with the material wrinkling.
1200D polyester – Great material for luggage and sports bags, but it is absolutely perfect for backpacks. This makes any backpack highly durable and exceptionally reliable.
The Overall Durability Rating of the North Face Jester Backpack is 5 out of 5 stars. The combination of these materials is in every way impressing and when it comes to durability, this backpack is truly something. The designers thought about everything that needs to be done when they made this beauty.
North Face Jester Backpack Features
What makes one backpack perform awesome and impressive? Well, the answer to this question is simple. Every part of the backpack is important, what is even more important is the harmony between them. You do not need to worry about all of that with this backpack.
North Face Jester backpack is equipped with a set of premium-quality features. On first glance, you might not see every single one, but look closely, and you will be amazed. To save you some time, here are the most important features of North Face Jester backpack:
This classic 26-liter backpack was upgraded with more comfortable back panel and shoulder straps
Floating padded 15'' laptop sleeve in the main part of the backpack, which will protect your laptop if you drop the backpack or if it falls on the ground.
The FlexVent™ suspension system boosts shoulder straps and a padded air-mesh back panel with a spine, making it easier to hold on your back and giving you a lot of support and ventilation.
The main compartment has a phenomenal organization that is secured with zippered pockets and pen pockets.
There is even a front elastic bungee for more storage that is located outside of the backpack. It really is something special.
Water bottle tabs, shoulder straps webbing for more comfort, 360-degree reflective bike-light loop.
There is also two mesh water bottle pocket located on the sides of the backpack.
Sternum strap.
The Overall Features Rating of the North Face Jester Backpack is 5 out of 5 stars. This really sums up every single thing that a good backpack needs. Not only you will have a lot of fun going on trips with this bad boy, you will also be very happy that you decided to pick this one to be your loyal and trustworthy friend along the adventures. All these features combined are making an awesome backpack.
North Face Jester Backpack Value
North Face Jester backpack belongs to the affordable price point category that only makes this backpack more wanted on the market. You might think that the value is expressed in price, but that doesn't have to be the case every time. If u take into consideration all the amazing features this backpack comes supplied with, you will find that it holds a massive value for the cash.
The performance of North Face Jester backpack can be described as versatile. It is good for hikers, backpackers, mountaineers, and even casual people who want a good looking backpack. It is truly a masterpiece in the backpack business. Maybe one of the best things about this backpack is the price. The best way to rate performance is in the field, so where does this gem of a backpack excel?
Great for laid-back people – Do you enjoy casual travel trips? If so, you will find this product very useful. It is capable of storing all sorts of things, without having to fret about unwanted surprises. Lap-top, clothing, shoes, books, and even food. You can organize all these items in this vast backpack with ease.
Mountaineers and hikers absolutely adore it – One thing you need the most when you are going to conquer some mountain top is a good and reliable gear. This backpack is made for that. Immense durability and outstanding comfort, you won't even know that there is something on your back making it a challenge for you to climb. Some would say that this backpack is truly a friend in need when it comes to rocky mountains.
It excels in camping occasions – It is a beautiful day outside and you made a decision to go camping and spent the rest of the day in nature. What is the first thing you will need? A superb and enormous backpack to help you get all those camping gear on the way. That's where North Face Jester backpack comes in.
Totally redesigned Jester can now hold up to 26 liters, which is no joke. They simply don't play around when it comes to protecting and organizing your gear. It is good for almost every type of trip, and you can count on your backpack to have your back. This bag is almost a ''must have'' item on the market since it comes at an affordable price with extremely positive performance level.
The Good about North Face Jester Backpack:
Manifold of Features – The North Face Jester backpack is loaded with features for being a smaller backpack.
Design and Style – With around 19 different styles to choose from, there is something for everyone.
Padding – The padded shoulder straps and back panel make carrying the backpack around extremely comfortable.
Ventilation – The back panel is ventilated mesh which keeps your back cool and dry.
Lifetime Warranty – The lifetime warranty shows how much they believe in their product and they back it up with an incredible guarantee.
The Bad about North Face Jester Backpack:
Limited Use – This won't be perfect for everyone but more so for people who want to head out during the day for a quick hike or day trip. Not meant for anything overnight really.
The Final Verdict
Plainly speaking, the North Face Jester backpack is pretty versatile and quite valuable for the cash. It comes supplied with premium quality features and state-of-the-art technology, so it is quite easy to deduce why it holds such an exquisite value for the cash. All in all, this is a perfect backpack for campers, hikers, mountaineers but it should also be an option for people who are low on cash. The Overall Rating for the North Face Jester Backpack is 5 out of 5 stars!