Herschel Supply Co.
Herschel Supply Co is a design driven global accessories brand that produces quality products with an excellent regard for details. The brand's journey started in the early 1900s, Peter Alexander Cormack, a barrel maker by trade, and his wife Annie made the transition from Wick, Scotland, to Canada. The couple settled in the small town of Herschel, whose population today is counted at 30 residents.
Founded in 2009 by brothers Jamie and Lyndon Cormack, Herschel Supply Co. adopted the name of the town where three generations of their family grew up. Based in Vancouver, Canada.
Looking for good products to keep clothes and other traveling packages is essential. The Herschel Novel Duffle bag is the best fit. It is the perfect day bag to have everything on hand quickly. Moreover, it is waterproof, which is paramount in some more critical situations.
Herschel Novel Duffle
The Herschel Novel Duffle bags comes in a single size but different colors. The uniqueness of this excellent product is derived from the simplicity and compact style, hence the one size. The color varieties give customers the liberty to select from their most fashionable choice and still maintain the compactness of the brand to cater for all its uses.
Style and Design of Herschel Novel Duffle Bag
The beautiful logo of the brand Herschel Supply Co. BrandTM was well and visibly placed on the bottom left-hand corner of the bag for the majority of the color types, except a few that has this unique logo badge set in the middle close to the handle drop region.
When it comes to colors and giving everyone an option that should suit them, Herschel Supply Co. does not disappoint. Just take a look at the following colors:
Apricot blush/Tan
Black/Black
Black/Tan
Cadet Blue
Canteen Crosshatch
Cloud Pink/Tan
Dark Shadow/Black
Deep Lichen Green/Tan
Eclipse Crosshatch
Grey/Tan
Khaki/Black
Light Grey Crosshatch/Acid Lime Zip
Limoges Crosshatch
Lunar Rock/Grey
Navy/Black Bandanna/Black
Navy/Navy
Navy/Red/Woodland Camo
Navy/Tan
Neon Floral
Pastel Petals
Peacoat Floria
Pelican Palm
Raven Crosshatch
Red Ballistic
Routes
Twilight Blue/Black
Winetasting Crosshatch
Winetasting Metric
Woodland Camo
Each color features the same design, style, and features, and each is comprised of the same high-quality materials as the next. It is evident to say that Herschel Novel Duffle Bag is just beautiful. The color variation provides a different set of advantages, and are exceptionally remarkable.
The Overall Rating of Herschel Supply Novel Duffle Bag's Style and Design gets 5 out of 5 stars. Herschel Supply has certainly outdone themselves with an impressive amount of options available here not only in color but also in material options as well, since there are a few that have leather option available.
Herschel Novel Duffle's Comfort
First, the duffle bag is very convenient and this due to its compactness. It is designed for simple travel with all your wears packed in one single bag, and these characteristics are essential to the specificity of the usage because without wasting time, one can pack all the necessaries on the go.
It should be noted that the carrying of the Herschel Novel Bag is simple and easy, the strength and quality of the handle are easily observed when handling the bag.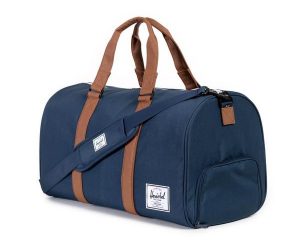 If there is anything more convenient for your traveling (business/leisure), it is Herschel Novel Duffle bag. It is unarguably the best in its category, and a vast majority of the reviews online affirm this claim and even add to the many qualities the bag possessed according to their usage – simplicity, comfortability and compactness are tagged with this fantastic design.
The range, diversity, and flexibility of Herschel Novel duffel bags make them the ideal luggage for a large number of situations. The bags are readily available due to which they are considered to be a handy piece of luggage to have around.
Herschel Novel Duffel bags are great for overnighters, weekend getaways, and mundane road trips. They are also ideal to carry to a beach. In addition to this, they make a perfect gym bag as they offer a lot of space and ease to clean. You can also lug them over your shoulder when going on a business trip or for sports and recreation.
The Overall Rating of Herschel Supply Novel Duffle's comfort gets 5 out of 5 stars. Because of it's flexibility as a duffle bag and the ease of carrying it, this makes it an easy no-brainer choice for your next duffle.
Herschel Novel Duffle's Durability
You should always remember that Herschel Novel Duffle Bag is a reliable, versatile and affordable product that surpasses your expectations. A good duffle bag must, of course, allows easy access. A simple but durable design to last you a lifetime.
The design and the materials are what makes this bag different from others.  Most bags you see out, there are made as cheap as possible. This is because some companies only care about maximizing their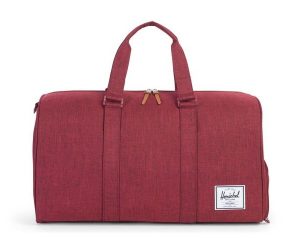 profits using cheap parts and materials.
Herschel made sure they stayed away from becoming one of those companies producing disposable products with breakable components. And when you look around at many different bags you will find the same cause for a bag to fail over time.
Herschel Novel Duffle Bags are made with high-quality materials, thread, zippers, long-lasting plastic parts, with durable clips and hardware.
When it comes to adventure travel, business, sports and recreation, gym and hunting you never fully know what to expect. That's when having the right bag to do the job is important—and having one that can be put to the test, again and again.
Herschel Novel Duffle Bag has every characteristic to look out for when choosing a duffle bag:
Weather/waterproof – Herschel Novel Duffle Bag is made from a durable waterproof polyester or nylon material.
Compartments – With one large compartment your clothing and gear are all set.
Shoulder straps –The duffel bag comes with shoulder straps that can easily be hidden or tightened along the side when not in use. These will be your best friend if you plan on walking a lot or taking public transit during your travels.
Finally one of the things we always look for in a product is the commitment and pride that a company put's into their products and that they stand behind them. The way we look for this is with a warranty. In this case Herschel Supply backs their Novel duffle bag with a lifetime warranty, that should speak for itself!
The Overall Rating of the Novel Duffle's Durability gets 5 out of 5 stars. Herschel Supply Company makes sure that they use quality products in their design and this is what has propelled them up the rankings in the industry. That and a lifetime warranty and you're well on your way to creating a loyal fan base.
Herschel Novel Duffle Features
How can we not talk about the incredible features of the Herschel Duffle Bag when the features are the edge it has over duffle bags in the market? You have nothing to fear about this awesome bag because it has proved its worth and it is here to stay.
The main material is Polyester; this fiber is synthetic while seeking to reproduce insulating and impermeable properties that are found in certain natural materials. Polyester is easy to wash and dry clean. It has excellent memory characteristics to retain its shape. And unlike natural fibers, polyester is non-allergenic and doesn't promote the growth of bacteria that is susceptible to when wet.
The presence of the finely engraved brand logo on the material and the zips is also appreciable and persists in giving a very qualitative character to the product. The bag has interior multi-functional pockets for cereal bars, cards, and quick access zip to the main compartment. Finally, the lightness of the bag will be a decisive factor for the fans of the duffle bag.
Thanks to its flat bottom, it stands upright while you carefully fill it with all your traveling packs. You can also pack a pair of shoes in the bottom compartment of the duffle bag for added stability or to take with you on your travels. It is imperative to note the following features when trying to get a duffle bag for business, sports, recreation or travel.
The full features of the Herschel Novel Duffle Bag:
Polyester
Imported
Polyester lining
Zipper closure
22″ shoulder drop
Wipe with damp cloth
5″ high
5″ wide
Pockets: 1 interior slip
Removable shoulder strap length: 55″
Handle has a drop of 6.5″ and a length of 19″
Interior multi-function pocket
Exterior zipper pocket
The Overall Rating of the Novel Duffle's Features gets 5 out of 5 stars, and there is no exaggeration in this as the Bag has proven beyond reasonable doubt to be the best among the rest and will serve every purpose a duffle bag does. Of course, you will not exhaust all of these features in one go but you will discover more and will be appreciative in the long run.
Value for the Price
After much has been said about the awesome brand – Herschel Novel Duffle Bag, you will agree that its value is worth the money. The multi-use advantages (business, travel, gym, hunting, sports, and recreation) makes it a "must" purchase for everyone that desires compact and easy access luggage. The classy designs and color varieties also off you many choices that you would not have with another company.
For as much as there is fierce competition, it will be worthwhile to make a purchase of the best duffle bag that will last and serve its true purpose. With its many features, you should have a clear picture of why Herschel Novel Duffle Bag is so valuable.
The Good about Herschel Novel Duffle Bag:
Duffel bags won't work for everyone. Some obvious pros and cons will make a traveling with a duffel bag more suitable for some trips over others.
Duffel bags have many advantages and offer a large number of benefits. Herschel Novel Duffel bags are usually very light in weight, easy to carry and make your essentials easy to access.
They are all about room and offer a lot of space for your stuff. Our Duffel bags are also easy to clean.
In addition to this, they are highly flexible and are likely to squeeze into tight storage spaces. Above all, they remain comfortable to carry almost in any situation.
Herschel Novel Duffle Bag is a product whose simplicity and accuracy impose respect, a subtle balance between rigor and elegance. This logic, Herschel Supply Co. BrandTM has perfectly understood it and applies it in all the strata of its production. A process that allows us today to get our hands on a basic duffle bag at first glance but resolutely complete in its design.
If you need a super durable and easy to pack bag, then a Herschel Novel Duffle bag is a great option. The fact that there is only one large compartment means you can easily reach items on the bottom and see almost everything you have in your bag at once.
The Bad about Herschel Novel Duffle Bag:
There are very few disadvantages of duffel bags as compared to their advantages.
One disadvantage is that they become really difficult to carry when loaded with a lot of stuff or when you are off on a long vacation.
Also, when carried for long periods of time, the seams of duffel bags can fray very easily.
Another drawback is that all your gear is mixed. If you like to keep your items separate one option is to pack toiletries and such into smaller travel and compression sacks inside your duffel bag.
If you prefer to roll your bag behind your back, then you should also look elsewhere. Although there are roll-able duffel bags, a traditional duffel bag will be hand carried, but new versions also have backpack straps.
The Final Verdict
"The best your money can buy" – that's Herschel Novel Duffle Bags for you. Time and time again, this unique product represent simplicity, compactness, elegance and the most important thing a fashionista will appreciate is the various color of the brand while maintaining a top quality material and designs all through. The Overall Rating of the Herschel Supply Company's Novel Duffle bag is 5 out of 5 stars! So be sure to conquer the road ahead with Herschel Novel's durable duffel bag and enjoy a lifetime of use.