Case Logic SLRC-206 SLR Camera And 15.4-Inch Laptop Backpack
This is the Case Logic SLRC-206; it is a backpack that is designed to hold your SLR camera and laptops. Case Logic is a company that has been around since 1984 and most of their products is built around protecting your electronics, whether it is a laptop, a camera, a tablet or more.
Case Logic has done a great job with the SLRC-206 and consistently gets high marks with this bag as it is one of the best-selling SLR camera backpacks available. So let's get down to it and dive right into this review.
(TL:DR video at the bottom)
Case Logic SLRC-206 Style
The Case Logic SLRC-206 backpack is designed specifically for SLR cameras and laptops up to 15.4 inches. And being a backpack for cameras and laptops it actually looks really slick. It's designed to keep up with you wherever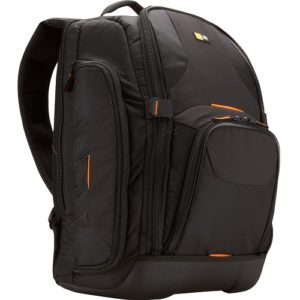 you need to run all while keeping your electronics secured.
The all black backpack has orange accents that really make it look sleek and almost stealthy. It's a very minimal style but I love the design of it. Unfortunately if you don't like orange and black then you're out of luck as this is the only color option offered for this Case Logic SLRC-206 backpack. If you're a fan of Case Logic or have had one of their backpacks before then this should not be anything new to you.
There's not much that can be said for style when it comes to a camera or laptop backpack as they aren't really designed to be flashy, at least not Case Logic. Although there is only one design, when it comes to style for the Case Logic SLRC-206, I'm not looking for anything else other than the black and orange. I don't need to see it in any crazy color combinations. For this reason, the pack looks great so I'm going to give it 5 out of 5 stars!
Case Logic SLRC-206 Comfortability
One of the most important features when it comes to any sort of bag or luggage or anything you have to put on your back is comfortability. If you have to lug around something all day then you want to make sure that it's not going to be a pain in your back.
I would say luckily but it's not luck, Case Logic makes their backpacks extremely comfortable to carry. I love the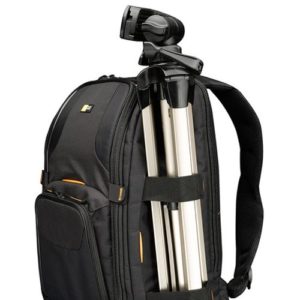 design with the mesh padding that promotes airflow so that you always stay cool and dry and doesn't make your back sweat. Cause nobody likes a sweaty back!
The straps are also designed well. They may be a little narrow but there is this padding there that even when I loaded this backpack up with about 20 pounds of gear, it was still very comfortable to carry around. In all honesty, I've never been hiking with this backpack, I've only ever carried it around short distances but I have no doubts this will hold up over many hours.
Similar to the style and design of this Case Logic SLRC-206 backpack, there's little to say with regards to comfortability. The backpack is well designed, so much so that you can load this thing up and confidently go hiking with it without worrying about it giving you any problems. The reason for this is the superior padding that they add on the straps and back as well as the excellent airflow designed to keep you dry. With these few things taken into account, I'm not sure how you can rate this anything but 5 out of 5 stars.
Case Logic SLRC-206 Durability
The durability of the Case Logic SLRC-206 is exactly what you would want out of a camera backpack or laptop backpack; in this case it's both. The backpack is extremely well crafted, keeping in mind to protect your electronics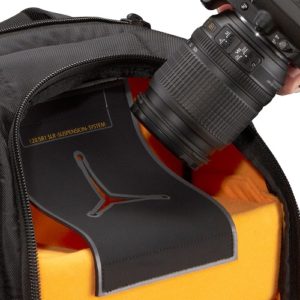 from the rigors of hiking outdoors or the busy city life just waiting to get that perfect shot.
The Case Logic SLRC-206 is crafted with a very strong, very durable, heavy-gauge nylon exterior that is designed to take a beating and keep on going. I love the feel of the material as you can tell Case Logic isn't playing around and do think about the end user in mind. Another aspect that they didn't miss a beat with is the straps on the side; or the zippers for that matter. The zippers are thick and sturdy and I have no concerns about them lasting. The straps are industrial strength and made to last and you shouldn't worry about the straps getting ripped or torn off.
The part of the backpack that usually takes the most beating is the bottom. This was not lost on Case Logic as they created the base of this backpack with a very strong and durable plastic known as EVA. That now only protects your contents from impact with the ground but also allows this back to stand up rigid and doesn't fold or collapse.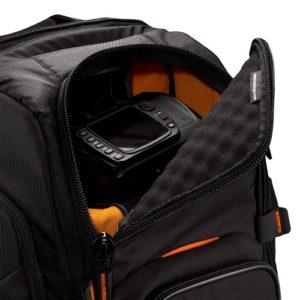 Finally what would a camera or laptop backpack be without being waterproof/water resistant? A waste of money! The Case Logic SLRC-206 gets this right obviously as its base is waterproof and built to stand the elements with you while you are outside. The rest of the case is what I would consider to be water resistant, I can easily walk around in the rain and this sheds water just fine.
The durability for the Case Logic SLRC-206 meets every need that I would need or could think of. The case is crafted with a durable nylon exterior, tough zippers and straps on the side, a tough plastic bottom known as EVA and is waterproof on the bottom and water resistant the rest of the way around. The SLR backpack also comes with a 25 year quality guarantee and warranty from Case Logic that covers defects in craftsmanship but not items inside the backpack. All of this durability for the backpack is what you would expect and for that you should expect that it gets 5 out of 5 stars for durability!
Case Logic SLRC-206 Functionality
Now the best part of getting any new product is always checking out the neat features and seeing what it can do. There's no exception when it comes to travel gear or a SLR backpack. The Case Logic SLRC-206 is loaded with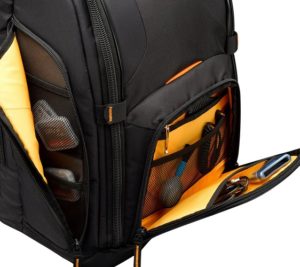 functionality but there are some areas of improvement. Let's see what this backpack's got.
The inside of this backpack has a memory foam interior specifically on the lid side, that is great for protecting delicate areas of your camera; specifically the LCD screen. The backside of the backpack is for your laptop. This backpack can hold up to 15 inch pc laptops and 17 inch mac books.
The backpack comes with removable shelves and flexible walls that allow you to create an interior that allows you to customize it to whatever suits your needs. You can remove shelves as well to easily store personal items as well. The SLRC-206 backpack also comes with four additional small accessory pockets that allow you to store smaller items like memory cards.
This Case Logic SLRC-206 can definitely be used as a carry-on for every airline, that's not a problem. However, you might find it a little more difficult to stick this under the seat and I would probably advise against it. It's not very collapsible and I don't feel comfortable trying to cram this under the seat in front of me for fear of breaking something.
One neat feature of the SLR backpack but has maybe a chance to improve is with its patent pending hammock system which allows you to suspend your SLR so that it provides it with an additional layer of protection from the bottom of the case.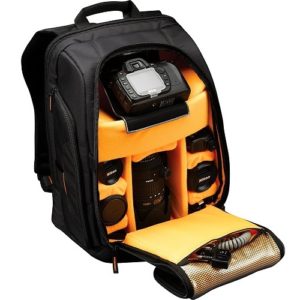 The thing that I don't like about this bag is the fact that the hammock or suspension system does not really hold any large lenses. It's only really designed for smaller lenses and as such you should consider this before making a purchase. You might be interested in this larger SLR backpack if you need something a little bigger.
One last bit of functionality that isn't a huge concern to me but I would have liked to have had is being able to lock the zippers together. Unfortunately the zippers don't come with holes so we are not able to lock them together.
This SLR backpack by Case Logic has some great functionality from its patented hammock design, its customizable walls and interior, memory foam and additional pockets. However, there is definitely some room for improvement. It could use with a little more innovation to make the contents inside the bag less susceptible to theft. They could also design it to be a little larger to accommodate larger lenses and as such it currently only holds smaller lenses. For these reasons the Case Logic SLRC-206 gets 4 out of 5 stars.
If you're looking for answers to whether or not this bag will hold your camera, check out the questions and answers page here.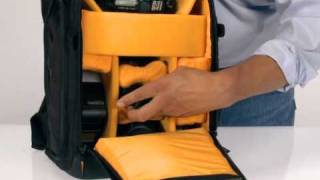 Case Logic SLRC-206 Score
The Case Logic SLRC-206 backpack is a great overall backpack for anyone looking to take their SLR and laptop with them. It also doesn't hurt that the price is extremely reasonable and you do not have to pay hundreds of dollars to protect your equipment. However, it may be better suited towards a beginner or for use with entry level cameras. Someone who has a larger camera/lens would probably be better off looking elsewhere.
Although there are some areas that could use improvement, what I like about this backpack are the sleek black and orange accent design, its hammock sling setup, its rigid exterior and its waterproof and water resistant material. It also is incredibly comfortable even when it is loaded with 20 plus pounds of gear. These far outweigh the few concerns I have and I give this backpack a total of 4.5 out of 5 stars.
Have a comment or your own review you wanted to leave, you can do so below!