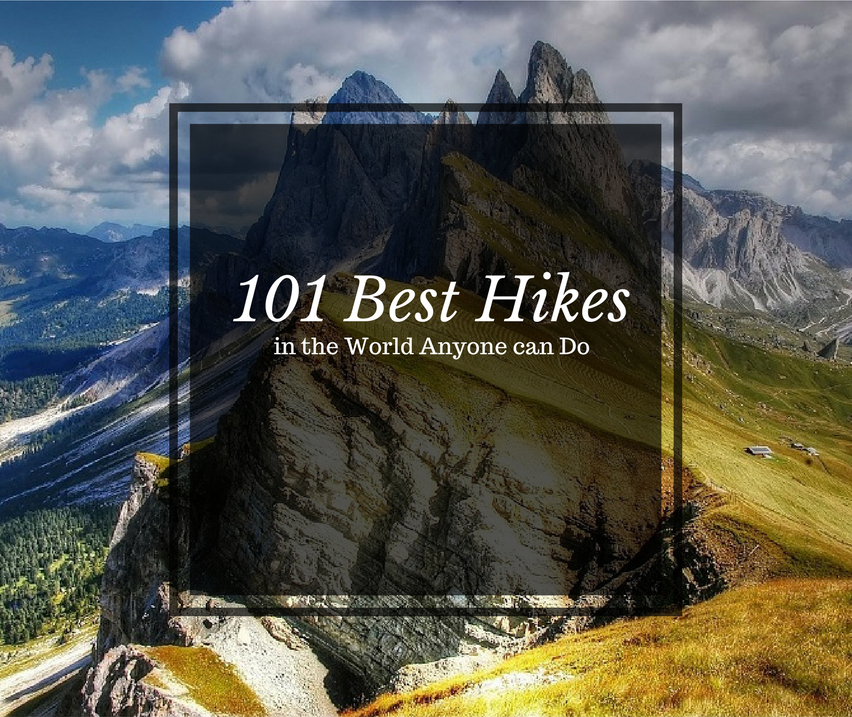 ---
Best Hikes in Europe
Best Hiking in Austria
Eagles Walk
Location: Tirol
Distance: 256.6 miles
Trail Time: 25 – 35 days
Eagles Walk is in my opinion the best walk in Austria. If you're not up for the challenge of 256 miles you can certainly take day walks to enjoy different parts of the trail but Eagles Walk provides you with the beautiful scenery of the entire country from mountain ranges to lakes and rivers that run off into the distance. This walk has a total change in altitude of around 101,700 ft broken out over 33 total sections. Eagles Walk Trail Map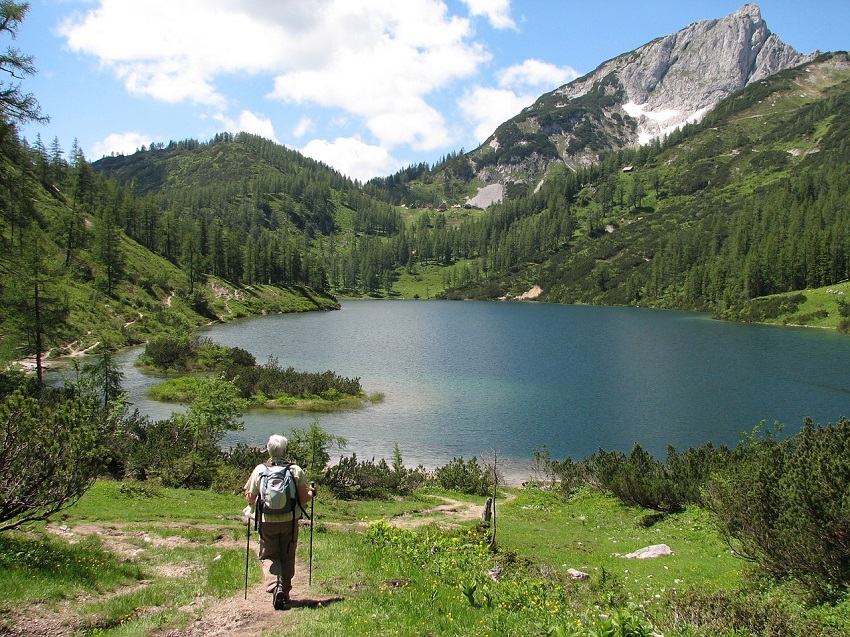 Best Hiking in Corsica
 GR20
Location: Mediterranean island of Corsica
Distance: 112 miles
Trail Time: 15 days
Considered by many to be one of the top trails in the world, the GR20 is also considered to be the most difficult hiking trail of all the GR routes. GR, by the way, stands for Grande Randonnée, a network of long-distance footpaths in Europe. The GR20 traverses from the northwest part of the island down to the southeast and has elevation change of 32,808 ft. For this one you do not need to have hiking experience but you want to be in fit physical condition. GR20 Trail Map
Best Hiking in Germany
Westweg Trail
Location: Pforzheim/Basel
Distance: 177 miles
Trail Time: 12 – 13 days
The Westweg trail is the oldest and most famous hiking trail in Germany. Starting in Pforzheim and ending in Basel, this one will take some time to finish. You'll make your way through the Black Forest and find yourself surrounded with endless opportunities to take pictures so you can relive this hike over and over again. The highest altitude you'll have to deal with on this trek is 4,881 ft. Westweg Trail Map
Best Hiking in Iceland
Laugavegurinn/Fimmvörðuháls Pass
Location: Skógafoss / Thórsmörk
Distance: 45 miles
Trail Time: 5 days
One of the more dramatic hikes on this list the Laugavegurinn/Fimmvörðuháls Pass has a little something for everyone. Interested in snow capped mountains, check. How about endless fields of lush greenery with rivers, check. Amazing sunsets painting the surrounding hills and mountains red, you got it. But the jewel of this hike is actually the incredibly beautiful, and huge, waterfall. Laugavegurinn/Fimmvörðuháls Pass Trail Map
Best Hiking in Italy
Alta Via 1
Location: Eastern Dolomites
Distance: 74.5 – 93.2 miles
Trail Time: 8 – 12 days
Alta Via 1 is a long distance public walking trail and one of the best ways to see the Dolomites. Camping is not allowed along the route so you'll need to find accommodation in one of the many mountain refuges or in the valley hotels. This trek will have you traverse over a number of mountains that are obscenely beautiful with the highest being Mt Lagazuoi at 9,022 ft. Alta Via 1 Trail Map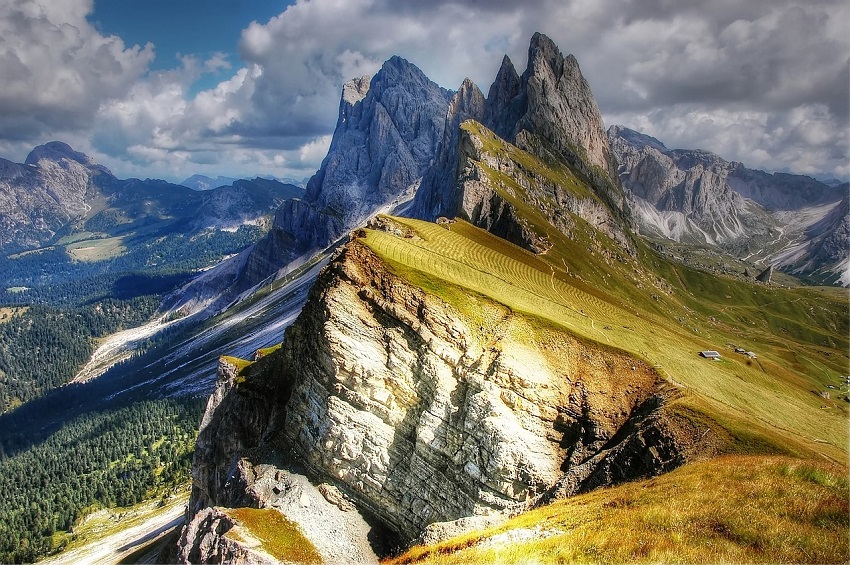 Cinque Terre Trails
Location: Cinque Terre
Distance: Varies
Trail Time: Varies
There are over 100 trails available along Cinque Terre, which is actually a string of centuries-old seaside villages along the Riviera coastline. The most popular ones range from 1 to 5 miles however and trail number 2 is the most famous. With one of the most beautiful picturesque villages in the world, your friends will be jealous they didn't tag along. Cinque Terre Trail Map
Best Hiking in Norway
Hardangervidda Transverse
Location: Hardangervidda National Park
Distance: Varies
Trail Time: Varies
One of the neat things about hiking in the Hardangervidda National Park is that there are no designated areas or trails you have to strictly follow, no campsites or nearby villages, there are not a ton of hikers gathered in one particular area. In this park you literally can get up and go wherever you want and make camp anywhere you please. Hiking around Hardangervidda National Park is no cake walk, consider taking the very best backpacks with you like the Gregory Baltoro 75 liter for example.
Trolltunga
Location: Hordaland, Odda
Distance: 13.5 miles
Trail Time: 1 – 2 days
If you've ever seen a picture of Trolltunga then you know how incredible and breathtaking it is. Luckily this location is easily accessible so you don't need to be a super hiker to reach this destination. If you have the endurance, you can easily make this round-trip in a single day but why not take a little longer and explore what the rest of the area has to offer?! Trolltunga Trail Map
Best Hiking in Slovenia
Slovenian Mountain Trail
Location: Slovenia
Distance: 372 miles
Trail Time: 35 – 45 days
One of the longer hikes on this list, the Slovenian Mountain Trail was one of the first milestones in European mountaineering as it stretches the length of the country. The magnificent views of Mt Triglav, the highest summit in Slovenia at 9,396 ft along with a handful of other mountains, makes this the ultimate trail in Slovenia and one of the top ones in Europe.
Best Hiking in Spain
Caminito del Rey
Location: Malaga
Distance: 4.75 miles
Trail Time: 1 day
Caminito del Rey is definitely just a day hike but one of the most memorable ones you will ever take. It used to be one of the most dangerous hikes in the world as sections of the pathway would be missing or in disrepair but today it has undergone extensive renovations and is safe yet still very exhilarating hike! Caminito del Rey Trail Map
Best Hiking in Sweden
Kungsleden
Location: Lapland
Distance: 273 miles
Trail Time: 20 – 30 days
Kungsleden or The King's Trail, is unlike most of the trails on this list. There aren't crazy exotic mountains miles in the sky but a relatively flat hike with maximum elevation reaching 3,770 ft. One of the neat features of this trail however is that in the winter it becomes a ski trail with almost the exact same route.
Best Hiking in Switzerland
Bernese Oberland Trails
Location: Bern
Distance: Varies
Trail Time: Varies
The Bernese Oberland Trails provide countless scenic sites for you to visit. There are over 50 different trails and they range from a couple hours to days, especially if you want to make a circuit out of them. You'll be treated to some incredible mountain views, exciting wildlife and beautiful cliffs surrounding gorges.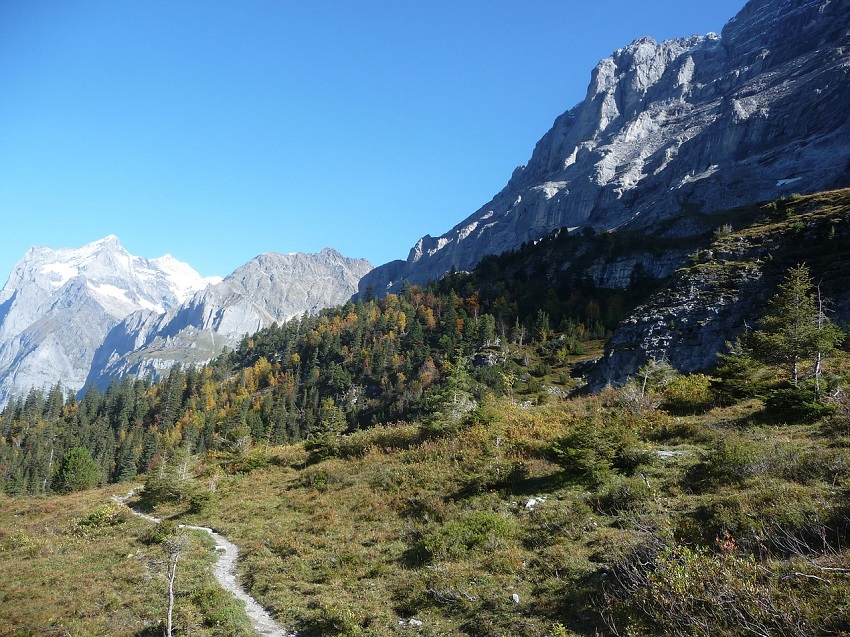 Best Hiking in UK
Scottish National Trail
Location: Kirk Yetholm / Cape Wrath
Distance: 536 miles
Trail Time: 40 – 55 days
Another long trek on this list is the Scottish National Trail that takes your from the very south end of Scotland town of Kirk Yetholm to one of the northernmost parts of Cape Wrath. The trail starts out quite easy and becomes much more difficult the further north you head as you enter into the Scottish highlands and much of it is not marked or crossings not easily distinguishable. Scottish National Trail Map
Best Hikes in New Zealand
Best Hiking in North Island
Waitomo Caves
Location: Waitomo
Distance: Varies
Trail Time: 1 day
Walking through Waitomo offers a ton of scenic beauty with sculptured rocks, beautiful gorges and arches as well as tunnels and caves. The caves are probably the most exciting part as you get to experience the soft glow of the cave from the glow worms inside; it's almost like looking up at the night sky!
Mt Victoria Trail
Location: Wellington
Distance: 4.3 miles
Trail Time: 1 day
The Mt Victoria Trail is more of a hike up to a lookout to get an incredible view of the surrounding lands, bay and city. This is definitely a day hike and you will not need to worry about bringing much aside from water and maybe a light snack. There are a number of different routes that you can take to get to the top so you could trek up this small mountain a number of times taking a different path each time.
Best Hiking in South Island
Abel Tasman Coast Track
Location: Abel Tasman National Park
Distance: 37 miles
Trail Time: 4 – 6 days
Abel Tasman Coast Track is a neat little track that you'll enjoy taking your time with. You'll get to venture along the coast as well as through the forest and over suspended bridges which makes for excellent pictures. Don't worry about anything too taxing as your highest point will only be 660ft near Wainui Bay. Abel Tasman Coast Track Trail Map
Hump Ridge Track
Location: Fiordland National Park
Distance: 35.1 miles
Trail Time: 3 days
The Hump Ridge Track brings to mind thoughts of having to slog it out for miles on end, doing you best to find a suitable location to camp when quite the opposite is true. This loop is quite the scenic route through the south coast of New Zealand, the wildlife rich forest and the sub-alpine zone of the Hump Ridge.
What's even better is that there are two great locations for you to bunker down each day where you can take a hot shower and fall asleep in a king-sized bed! There is even a helipad with wheelchair access to the disabled facilities of the lodge so everyone is welcome to come and experience this beautiful place! Hump Ridge Track Trail Map
Kepler Track
Location: Fiordland National Park
Distance: 37 miles
Trail Time: 3 – 4 days
An interesting detail about the Kepler Track is that it didn't evolve from expeditions or tracks long ago, this track was intentionally made and built for the hikers in mind. The trail you're on is built to handle whatever the surrounding area throws at it, which includes steps for steep inclines, bridges for rivers and streams and boardwalks for the really nasty stuff. Just be aware though that in the winter season there are still some dangers such as the risk of avalanche so don't think this trek is simply child's play. Kepler Track Trail Map
Milford Track
Location: Fiordland National Park
Distance: 33 miles
Trail Time: 3 – 5 days
The Milford Track is one of New Zealand's most popular track and is located in Fiordland National Park like a number of other hikes on this list. This track see approximately 14,000 people each year traverse it's 33 mile path. The Milford Track is a rare track in that you don't mind and sometimes even want it to rain as the rain cascading down the surrounding mountains can be a truly magical experience. Milford Track Trail Map
Queen Charlotte Track
Location: Marlborough Sounds
Distance: 43.5 miles
Trail Time: 4 days
The Queen Charlotte Track making it's way through the Marlborough Sounds will provide you with excellent picture taking oppotunities with lots of water. One of New Zealand's leading tracks it takes roughly 4 days to complete by foot and much 1 to 2 days on bike if you decide that's too much walking for you. Be sure you grab a pass as one is needed in order to walk or ride the track. Queen Charlotte Track Trail Map
Routeburn Track
Location: Fiordland & Mt Aspiring National Parks
Distance: 20 miles
Trail Time: 2 – 3 days
Yet another track that passes through the Fiordland National Park but that just gives you an indication of just how great this location really is. A world-renowned track, the Routeburn Track is on the shorter side compare to many others on this list but provides you enough time to take in the mountain peaks, valleys, waterfalls and more! Routeburn Track Trail Map
Te Araroa Trail
Location: New Zealand
Distance: 1,850 miles
Trail Time: 4 – 6 months
The longest trail at least on this list is the Te Araroa Trail. This trail is humongous with a staggering distance of 1,850 miles. With this trail you are going to need to plan for roughly 4 to 6 months although some people have been able to finish it in roughly 50 days. The Te Araroa Trail stretches the whole length of New Zealands South and North Islands, giving you a bit of everything on the way! Te Araroa Trail Map
Best Hikes in North America
Best Hiking in Canada
Berg Lake Trail
Location: Mt Robson Provincial Park, British Columbia
Distance:  2.8 – 65.25 miles
Trail Time: 2.5 hours – 7 days
Berg Lake Trail is a renowned back-country hiking trail in the Mount Robson Provincial Park. Mount Robson stands at 12,972 ft with almost 10,000 ft of pure ascent. The trail offers a number of additional hiking routes along and from Berg Lake Trail (both day and overnight hikes) so you can return for multiple trips and have a different path to take each time. Berg Lake Trail Map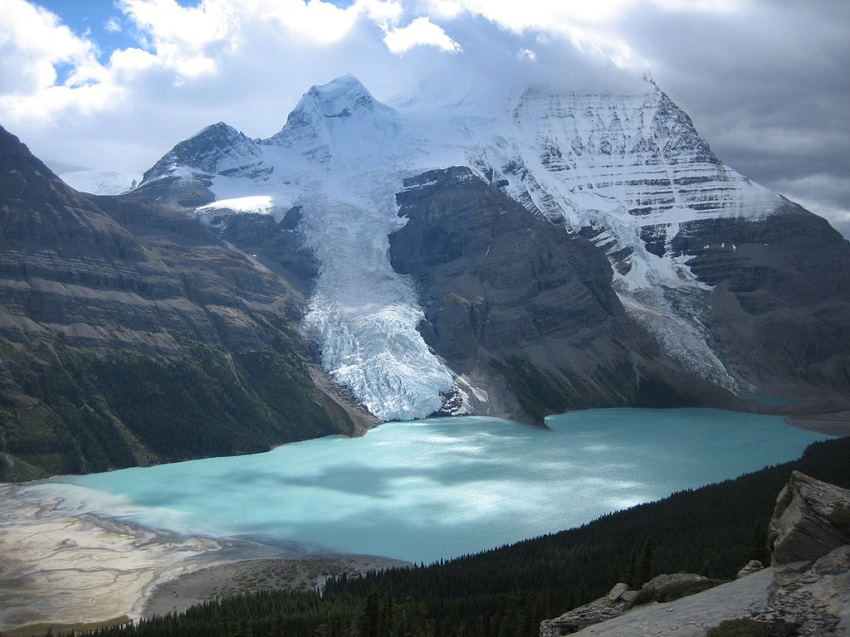 Long Range Traverse
Location: Gros Morne National Park, Newfoundland
Distance: 23 miles
Trail Time: 4 – 5 days
Long Range Traverse may be one of the most incredible hikes you can do. When walking through a gorge looking up at cliffs surrounding you thousands of feet on either side, it can be pretty awe-inspiring. Couple this incredible view with perfect mid-60s temperature in September and you have yourself one perfect hike. For your final day, summit the 2,600 foot dome for perfect pictures of the trail you just conquered. Long Range Traverse Trail Map
Skyline Trail
Location: Jasper National Park, Alberta
Distance: 27.34 – 29.2 miles
Trail Time: 2 – 4 days
With 15.5 miles of trail above the treeline, the Skyline Trail provides hikers with perhaps the most scenic trail they could take. With elevation reaching roughly 8,200 feet, you'll have unprecedented views of the meadows and valleys below as well as a chance to spot wildlife from afar and inspect some of the incredible plant life along the Skyline Trail. For those who prefer not to backpack and camp overnight you can make it to the Shovel Pass Lodge in one day about halfway through the trail and finish the Skyline Trail the following day. Skyline Trail Map
Sunshine to Mt Assiniboine
Location: Mt Assiniboine Provincial Park, British Columbia
Distance: 34.8 miles
Trail Time: 5 – 6 days
Another favorite of the Canadian Rockies is the Sunshine to Mt Assiniboine hike. Mt Assiniboine has been dubbed the "Matterhorn of the Rockies" and for good reason, it looks like the Matterhorn's long lost twin. This hike itself is not a difficult one at all even with an elevation of 7,750 ft because you are only ascending 1,312 ft and not to mention, the scenery is some of the best in the world to keep a smile on your face.
Tonquin Valley
Location: Jasper National Park, Alberta
Distance: 27.15 miles
Trail Time: 3 – 7 days
Tonquin Valley is one of the most beautiful places one could hope to hike. The trail brings you into the Canadian Rockies premier regions with a view of barren peaks, incredible wildlife and a breathtaking view of Amethyst Lake at the base of the equally breathtaking Ramparts Mountain Range. The hike itself will bring you to a peak elevation of 7,250 ft but more importantly be mindful of the wildlife as grizzlies and black bears are plentiful. Tonquin Valley Trail Map
West Coast Trail
Location: Pacific Rim National Park, British Columbia
Distance: 46.6 miles
Trail Time: 5 – 7 days
The West Coast Trail started taking shape many years ago when the Ditidaht First Nation people created many of the trails today for the purposes of travel and trading. The coast became known as the Graveyard of the Pacific during these times as shipwrecks were commonplace which resulted in the creation of a life saving trail that was established for the survivors of these wrecks. These trails along with the cultural places along the coast formed the Pacific Rim National Park and that life saving trail is the trail many people flock to today, the West Coast Trail. West Coast Trail Map
Best Hiking in Mexico
Copper Canyon Rim-to-Rim
Location: Chihuahua
Distance: 38 miles
Trail Time: 5 days
With over 10,000 square miles of canyons and over a mile deep, Copper Canyon is big, bigger than the Grand Canyon. On top of that, you'll get the true hiking experience as there are no well defined trails; this is Copper Canyon Rim-to-Rim. Don't expect it to be a piece of cake either, that average of slightly more than 7 miles a day will include a total elevation change of 20,000 feet.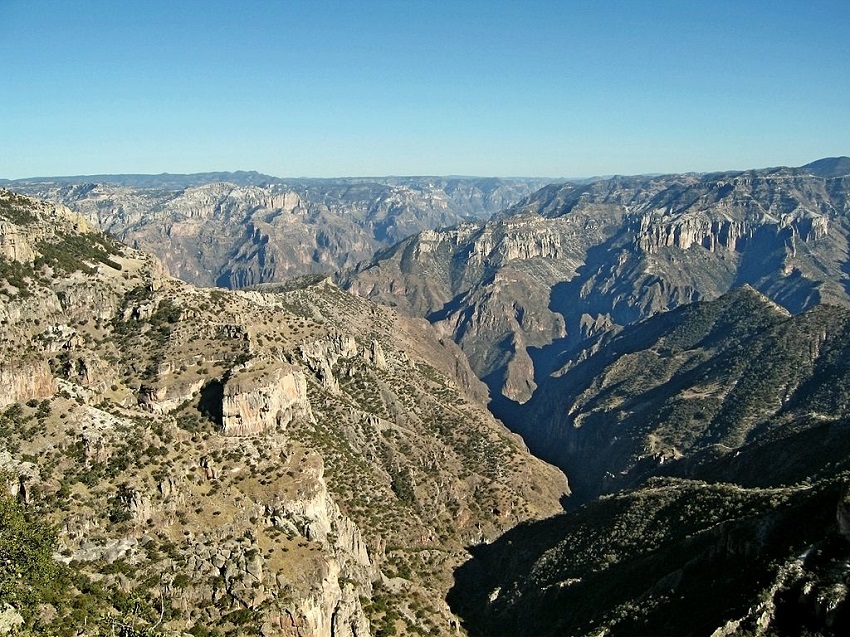 Best Hiking in US
Cirque of the Towers Loop
Location: Wyoming
Distance: 23 – 24 miles
Trail Time:  3 – 4 days
The Cirque of the Towers is a truly spectacular place and and a hikers dream come true. With over 110 miles of expanse it truly is an incredible area to hike. You'll come across beautiful crystal clear lakes, fields full of flowers and of course the glacial carved granite towers. The mountain has brilliantly tall peaks with the highest being Lizard Head Peak at 12,847 ft. Cirque of the Towers Loop Trail Map
Dosewallips to Lake Quinault
Location: Olympic National Park, Washington
Distance: 30 – 34 miles
Trail Time: 4 days
This trek takes you through some of the most gorgeous rainforests and alluring sites in Washington. The incredible site of giant tree trunks now laying flat that have become home to many animals and plants is an incredible site as are the streams and waterfalls that look absolutely enchanted and old wooden bridges that cross rushing rivers.
Grand Canyon Rim-to-Rim
Location: Arizona
Distance: 24 miles
Trail Time: 3 – 4 days
One of the bucket list adventures for most American hiking enthusiast, the Grand Canyon Rim-to-Rim hike is an extremely memorable experience. You start on the north rim on North Kaibab Trail and will end up at Bright Angel Trail on the south rim, all-the-while traversing over 10,000 feet of elevation change and taking in incredible Grand Canyon views. Grand Canyon Rim-to-Rim Trail Map
John Muir Trail
Location: California
Distance: 210.4 miles
Trail Time: 20 days
This by no means a beginners hike but that's not to say it can't be done. You will definitely need to have some conditioning as you will traverse over 210 miles and more than 75,000 ft of elevation change but if you can manage to do it, it's an incredible journey and one you won't ever forget. John Muir Trail Map
Kalalau Trail
Location: Kauai, Hawaii
Distance: 11 miles
Trail Time: 1 – 2 days
The Kalalau Trail is one of the more mesmerizing hikes you can do as you get to hike along the beautiful shores of Hawaii from Ke'e Beach to Kalalau Beach along the Na Pali Coast. Unfortunately this trail is a bit of a tease as it only provides land access to this coast. However, you will get to experience serene swift flowing streams and waterfalls on this beautiful lush island. Kalalau Trail Map
Paint Mines
Location: Colorado
Distance: 3.6 miles
Trail Time: 1 day
Although the Paint Mines are just a day hike, they are incredibly beautiful and worth a visit if you are passing through the area. Fortunately, even though it is a short loop, it's lightly trafficked. Be sure to bring a camera to take some amazing pictures of the different colored stones. Paint Mines Trail Map
Teton Crest Trail
Location: Wyoming
Distance: 40 – 45 miles
Trail Time: 2 – 5 days
The Teton Crest Trail is a beautiful stretch of land with the highest altitude at 10,645 ft. Depending on your fitness level and desire to explore, this trail although quite long can be done in as little as 2 days or you can stretch it out to 5 if you really want to take it all in. Just be sure to bring bear spray for those nosey grizzlies. Teton Crest Trail Map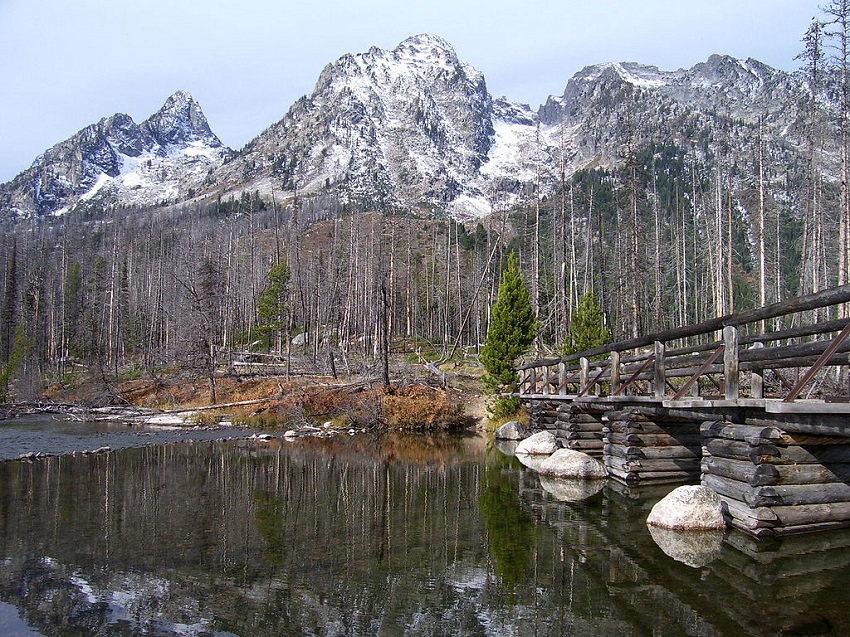 Trans-Catalina Trail
Location: Santa Catalina Island, California
Distance: 16.7 – 53.3 miles
Trail Time: 2 – 5 days
The Trans-Catalina Trail is on the Santa Catalina Island in the Pacific Ocean, about a 90 minute boat ride from California. The island has many different sceneries with dry dirt roads overlooking the coast, lush lagoon beaches and spectacular cliffs and hills reaching elevations as high as 1,746 ft. Trans-Catalina Trail Map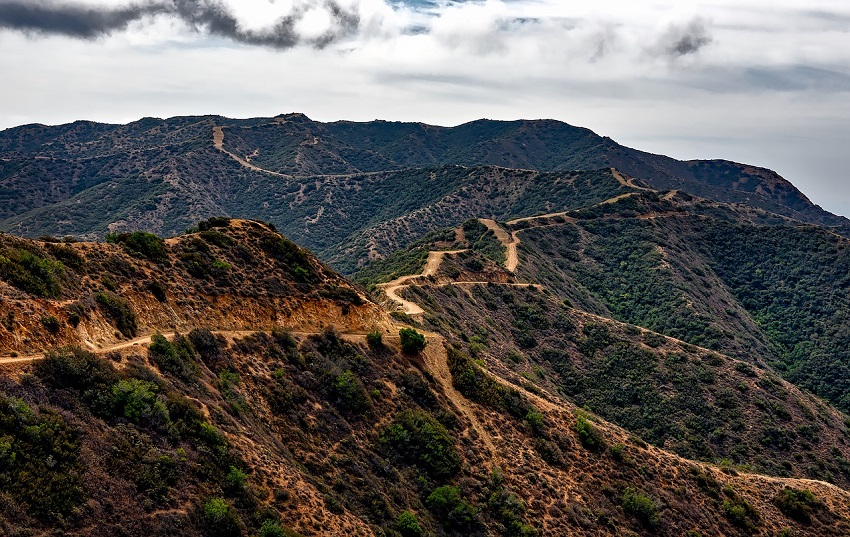 Yosemite Grand Traverse
Location: Yosemite National Park, California
Distance: 60 miles
Trail Time: 8 days
Yosemite might be one of the most well known parks in the world and for good reason, the hiking and climbing here are out of the world. One of the most famous rock formations that all hikers and rock climbers have heard of is Half Dome, which you can get to experience as part of the Yosemite Grand Traverse. Be sure you're in fit condition as Half Dome is at an elevation of 8,839 ft. Yosemite Grand Traverse Trail Map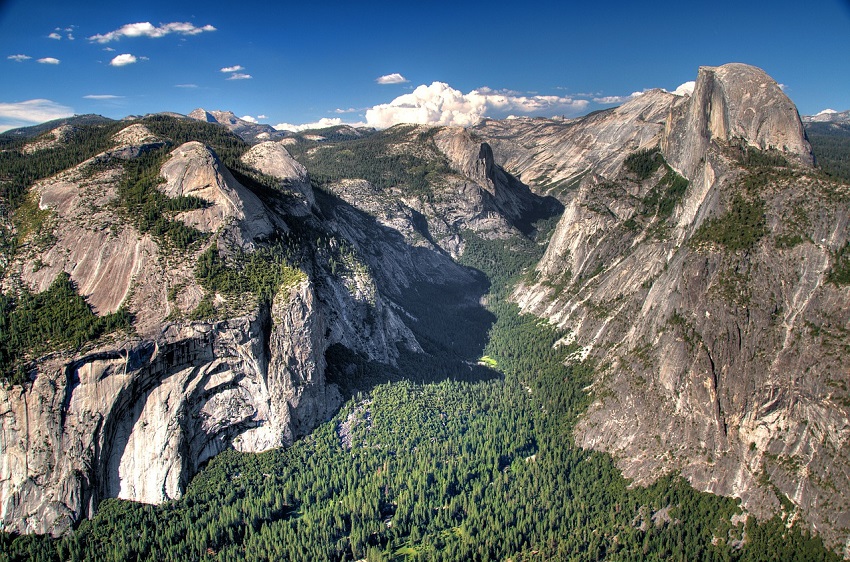 Best Hikes in South America
Best Hiking in Argentina
Fitz Roy Trek
Location: Santa Cruz, Los Glaciares National Park, El Chalten
Distance: 14.9 – 23.6 miles
Trail Time: 1 – 2 days
The Fitz Roy Trek is perhaps the most beautiful trail you could hike in the Argentine side of Patagonia. You start your trek from a small village called El Chalten where you should stay the night before as well as it's more relaxed and not as touristy. Hikes can last much longer than 2 days but that would take you away from Fitz Roy which by the way was named after Captain FitzRoy who piloted the HMS Beagle and charted large sections of the Patagonian coast. Fitz Roy Trail Map
Viedma Glacier
Location: Santa Cruz, Los Glaciares National Park, El Chalten
Distance: 2 – 5 miles
Trail Time: 1 day
Viedma Glacier Trek is more an an exploration than actual trek. Your adventure can take anywhere form 2.5 hours up to 8 hours depending on how much you explore. Viedma Glacier is actually the glacier that Mt Fitz Roy is a part of so you will get to take in that beautiful scenery as well. Hiking the Viedma Glacier involves walking on the glacier itself and climbing up some faces of the glacier.
Best Hiking in Bolivia
Condoriri Trek
Location: Bolivian Andes
Distance: 3 – 28 miles
Trail Time: 1 – 3 days
The Condoriri Trek can consists of simple day hikes or longer 3 day hikes around the mountain range. For those looking for something more adventurous, there are 5 day climbing routes. The views are extremely rewarding as you get to see the 13 peaks making up the Condoriri Massif that reach heights of 18,530 ft. El Condoriri which makes up the Condoriri range forms what looks like a condor with tucked wings, so you'll get to see the condor mountain in the event you don't get to see any actual condors which is highly unlikely.
Best Hiking in Brazil
Chapada Diamantina
Location: Chapada Diamantina National Park, Bahia
Distance: Varies
Trail Time: 1 – 8 days
The Chapada Diamantina National Park is a plateau bounded by cliffs that cover over 16,000 square miles. Altitudes can vary anywhere from 1,600 to 3,300 ft in the plateau region and up to 6,680 ft in the mountainous parts. Hikes can vary anywhere from 1 to 8 days depending on what you want to explore.
Fernando de Naronha
Location: Fernando de Naronha
Distance: 1.2 – 3.1 miles
Trail Time: 1 – 3 hours
Fernando de Naronha is a volcanic archipelago that is off the coast of Brazil's northeast coast about 217 miles.  Not only is this island a great place to trek the beaches and hills but to also go scuba diving and snorkeling. There are 5 main trails that vary from 1.2 to 3.1 miles and all in all the total hiking is about 12 hours.
Best Hiking in Chile
Cerro Castillo
Location: Aysén del General Carlos Ibáñez del Campo Region
Distance: 31 – 36 miles
Trail Time: 4 days
Cerro Castillo is a mountain range located in the Cerro Castillo National Reserve. In Spanish, Castillo means castle and with the jagged rocky peaks located here and steep walls, it sure looks like a castle. The 4 day trek along the circuit can take your breath away as you'll get to take in Cerro Castillo with its peaks reaching 8,776 ft and the beautiful lakes that are formed from the glaciers on either side. Cerro Castillo Trail Map
Torres del Paine "W" Trek
Location: Torres del Paine National Park
Distance: 62 miles
Trail Time: 5 – 7 days
Without a doubt the most impressive view in the Patagonias is the Torres del Paine. Torres del Pain is located in a park named after itself and includes many other impressive sites. The Torres del Paine are the breathtaking three granite peaks of the Paine mountain range. These peaks reach heights over 8,200 ft. The "W" trek is exactly that, you take multiple routes that make a "W" around the mountain range and cover roughly 62 miles.
Valle de la Luna
Location: Los Flamencos National Reserve, Atacama Desert
Distance: Varies
Trail Time: Varies
Valle de la Luna is known for its striking rock formations, landscape of dunes and rough mountains. It's located in the northern part of Chile's Atacama Desert and the views of this place make you think you are on another planet. There are no trail maps or predefined areas you have to follow; in the Valle de la Luna, you make your own path. Welcome to Mars!
Best Hiking in Colombia
La Ciudad Perdida
Location: Santa Marta
Distance: 29 miles
Trail Time: 4 – 5 days
Unfortunately this trek is not accessible on your own as you have to go with an authorized company but it is still an incredible experience. The treks will take anywhere from 4 to 5 days as you do a round-trip hike covering a total of 29 miles. But the rewards are incredible as you get to experience the Lost City which was built between the 8th and 14th centuries by the Tayrona Indians. La Ciudad Perdida Trail Map
Sierra Nevada del Cocuy
Location: Boyaca
Distance: 59 miles
Trail Time: 5 days
The Cocuy Circuit is a hiking trip that passes a number of different mountain peaks as you traverse through Sierra Nevada del Cocuy. An incredible area, Cocuy contains a collection of impressive peaks reaching up to 17,487 ft. The area is home to indigenous natives, the U'wa, and thus part of the park is dedicated to their agricultural activities. Sierra Nevada del Cocuy Trail Map
Best Hiking in Ecuador
Quilotoa Loop
Location: Pujilí Canton, Cotopaxi Province
Distance: Varies
Trail Time: 3 – 7 days
The Quilotoa Loop is a magnificent hike that takes place over a number of days as you traverse from village to village in the mountains of Ecuador. The loop totals 124 miles but most routes you take are much shorter that this. The number one drawing factor of hiking the Quilotoa Loop is the ability to visit and enjoy Quilotoa Lake, a water-filled caldera and most western volcano in the Ecuadorian Andes. It was formed after an extremely powerful eruption in the 1200's and left a number of peaks with the top elevation being 12,841 ft.
El Altar Trek
Location: Sangay National Park
Distance: 8 – 35 miles
Trail Time: 2 – 5 days
El Atlar with an elevation of 17,451 ft is an extinct volcano on the western side of Sangay National Park and is surrounded by a number of water features from lakes and colored lagoons formed by glaciers to incredible waterfalls. El Altar was named so because Spaniards thought it resembled four friars and two nuns listening to a bishop around a church altar. El Altar can be reached on either two or three day round-trip hikes depending on what you want to see. We recommend you at least visit the yellow lagoon, as it's one of the first you will come upon and who's ever seen a yellow lagoon before?!
Best Hiking in Peru
Ausangate Trek
Location: Cusco Region
Distance: 37 – 48 miles
Trail Time: 4 – 6 days
There are a number of different routes that you can take around Ausangate from 4 day hikes to 7 day hikes that include Machu Picchu. Ausangate in an incredible mountain and to really see all that it has to offer, including the painted mountains, you need to do a hike longer than 4 days. Ausangate is an extremely tall mountain, towering at 20,945 ft. Ausangate Trek Trail Map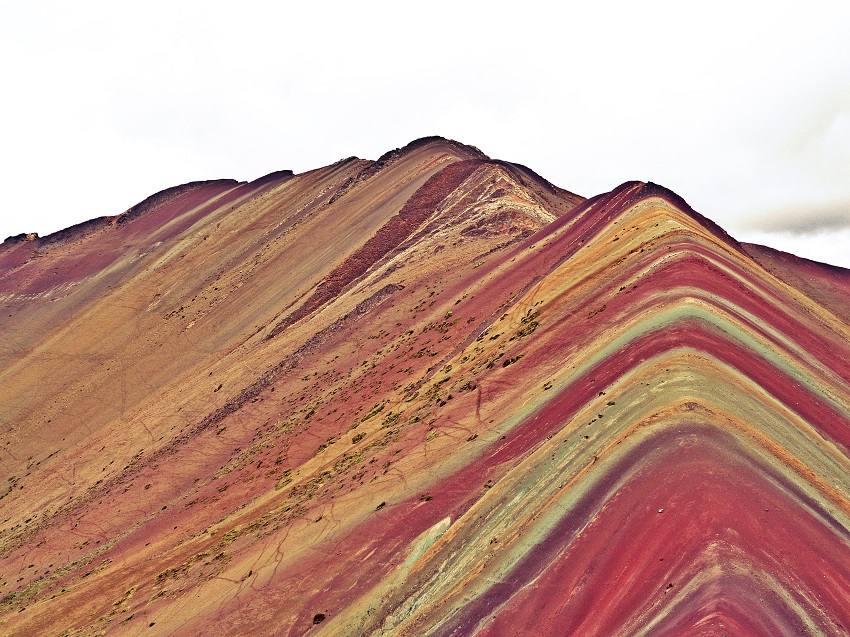 Huayhuash Circuit
Location: Áncash, Huánuco, Lima
Distance: 74 – 81 miles
Trail Time: 10 – 12 days
The classic route of the region is the Cordillera Huayhuash Circuit. Considered by many to be one of the top trekking circuits in the world, the views are incredibly beautiful just as they are dangerous. Two major dangers in this area are altitude sickness and hypothermia, which have taken trekkers lives before. Huayhuash Circuit Trail Map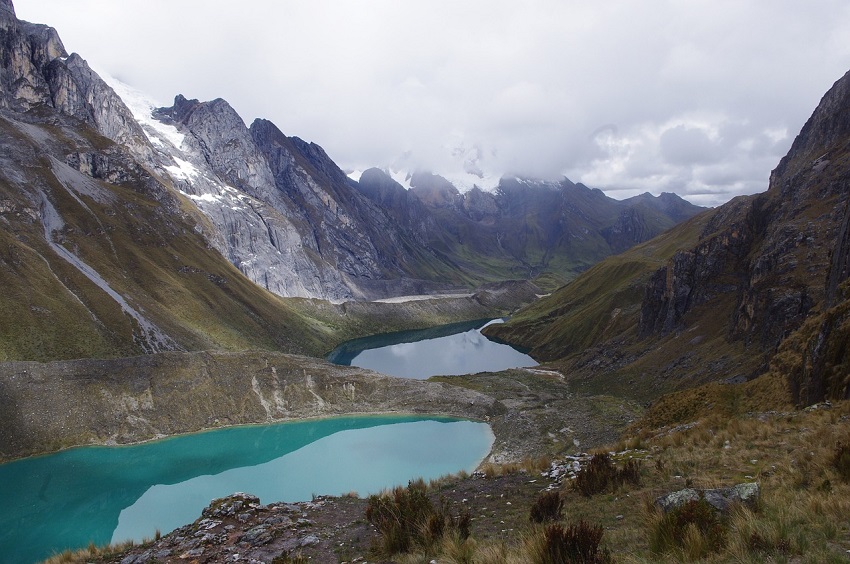 Inca Trail
Location: Cusco Region, Urubamba Province
Distance: 51 – 55 miles
Trail Time: 4 – 5 days
The Inca Trail is a hiking trail in Peru that ends at Machu Picchu. There are three paths that overlap on their way to Machu Picchu and the only way to enter Machu Picchu on foot is through the Sungate at the end of the Inca Trail. The trails altitude varies significantly reaching as high as 13,780 ft and when all is said and done you finish at an altitude of 7,972 ft. Inca Trail Map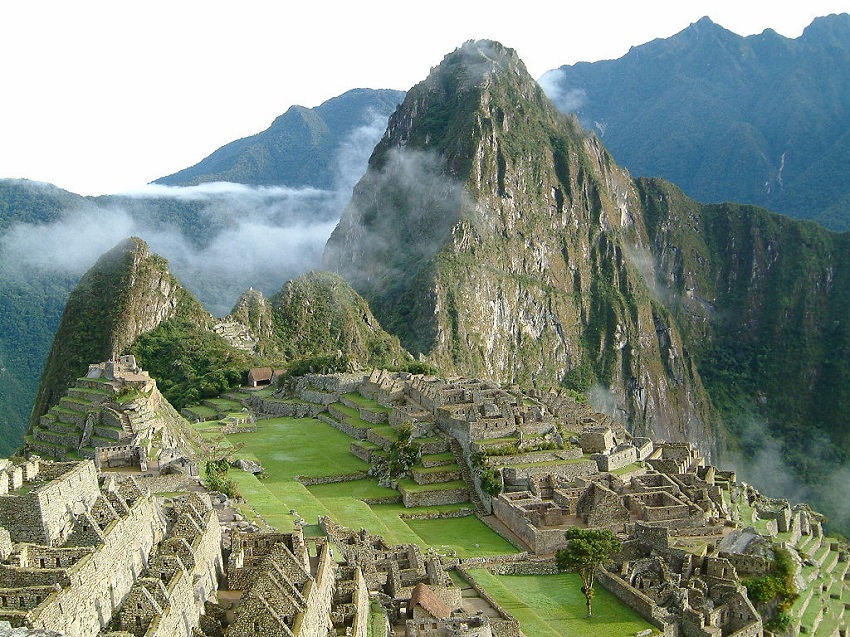 Best Hiking in Venezuela
Roraima Trek
Location: Canaima National Park, Bolívar
Distance: 43.5 miles
Trail Time: 6 – 8 days
One of the top attractions of Venezuela is Mt Roraima. It has unusual rock formations and incredible landscapes and scenery that is thought to have played a role in the inspiration of the animated Pixar film 'Up'. Known as the "Floating Island" this plateau settles at 1,200 feet above the forest floor with a maximum elevation of 9,186 ft and is a natural border between Venezuela, Brazil and Guyana.
Best Sites for Booking Airfare and Lodging
Lodging
There are two sites I always look at when trying to book a hotel, these are:
Trip Advisor – Trip Advisor is useful for finding places and reading customer reviews of the hotels so you know exactly what you're booking!
Booking.com – With millions of places to book, you can literally find a hotel in almost any city you need to fly into!
Airfare
There are a few sites I use and I'm always able to find cheap flights, we're talking international round-trip flights under $400 all the time!
Google Flights – For domestic flights, Google is probably the easiest, fastest and best place to look for tickets quickly.
Skycanner – For International flights there is no better option than Skyscanner. You can search a range of dates easily and they will show you the cheapest flights first. I regularly see flights from JFK to Dublin, Milan or Barcelona for under $400 rountrip!
We are hoping to do Mt Fuji and the caves in New Zealand next summer! Tell us about your latest or next trip and if you have a recommendation that's not on our list let us know; we'd love to hear from you!