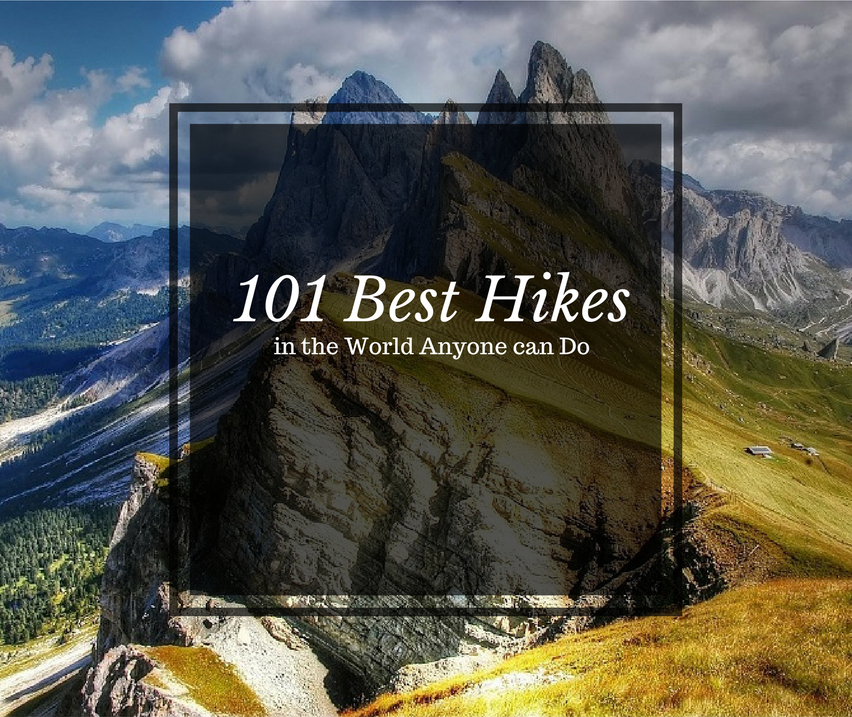 ---
I hope you agree with me when I say:
We'd all love to travel the world and hike the most beautiful scenery but it's just not feasible… Or is it?
We created this list to get you motivated about travelling the world and seeing some of the most beautiful locations on earth, all while staying active and healthy!
We'll show you :
101 Best Hikes in the World
The sites we use for finding our airfare
The sites we use for booking our lodging
All of the locations on this list are accessible for most people who are in reasonable enough shape. And best of all we've listed out hikes all over the world with varying degrees of distance and trail time for those who want to turn it up just a notch or take it nice and easy! So get in on the adventure by booking your next trip now and share with us all of the fun and interesting details when you get back!
Best Hikes in Africa
Best Hiking in Egypt
Mt Sinai
Location: Sinai Peninsula
Distance:  2 – 3 miles
Trail Time: 1 day
Mt Sinai isn't much of a hike but one that still draws in a lot of people. If you decide to ascend it on foot it can take you up to two and half hours to summit but well worth the trek as you get 360 degree views of the surrounding areas. One reason it draws in lots of foot traffic, and camel traffic, is because it is said to be the location that Moses was given the Ten Commandments by God. A solid day-pack like the Osprey FlapJack is all you should need for this short hike.
Best Hiking in Ethiopia
Simien Mountains
Location: Simien Mountains National Park
Distance: Varies
Trail Time:  2 – 14 days
The Simien Mountains is a UNESCO World Heritage Site that provides impressive rugged peaks for you to climb along with amazing wildlife like the Gelada Baboons, Ethiopian Wolves, Wallia Ibex and the Bearded Vultures. Here you can trek for as little or as much as you want and total trekking miles can easily surpass 65 miles. Simien Mountains Trail Map
Best Hiking in Kenya
Mt Kenya
Location: Mt Kenya National Park
Distance: 32 miles
Trail Time: 4 – 6 days
Mt Kenya is not just a single peak but a mountain range that was built from a volcano long ago that is now extinct. The highest elevation of Mt Kenya reaches 17,057 ft, more than 3 miles hile! Unsurprisingly it is the second highest mountain in Africa behind Kilimanjaro. Mt Kenya has a number of summits with Point Lenana being the trekking summit at 16,355 ft; however, if you are also able to climb to reach Batian, the actual summit at 17,057 ft. Mt Kenya Trail Map
Best Hiking in Madagascar
Andringitra National Park
Location: Haute Matsiatra
Distance: 18 – 30 miles
Trail Time: 2 – 3 days
When you think Madagascar I doubt the first thing that comes to mind is hiking but Andringitra Massif or "desert of rocks" is a mountain range in Andringitra National Park and a maximum elevation of 8,720 ft. The most popular trek and hike there is Pic Boby, the highest peak. Andringitra National Park Trail Map
Isalo National Park
Location: Ihorombe
Distance: Varies
Trail Time: Varies
Isalo National Park is an hikers dream as you get a variety of different terrain to traverse. You can hike through deep canyons, sandstone formations, grass land, oases and waterfalls. Aside from the excellent terrain, you'll also get to witness some incredible wildlife like the lemur. There are no set trails you'd need to take so your options are endless. Since you can turn this hike into as short or long a hike as you want, we'd recommend the mid sized Kelty Redwing 50 to cover most if not all your needs!
Best Hiking in Malawi
Mt Mulanje
Location: Chiradzulu
Distance: 15 miles
Trail Time: 3 days
Mt Mulanje is a group of peaks, over 20, that form the Mulanje Massif or mountain range. Mulanje offers incredible views and a very doable summit of its highest point at 9,849 ft, Sapitwa Peak. Often times mist will surround the slopes up to the summit leaving the peak exposed above which gives it the nickname of "Island in the Sky". Mt Mulanje is a nice warm-up for beginners and professionals alike and most should do fine getting by for 3 days with the Teton Sports Explorer 4000.
Best Hiking in Morocco
Mt Toubkal
Location: Toubkal National Park
Distance: 9 – 12 miles
Trail Time: 2 – 6 days
Mt Toubkal is the highest mountain in Morocco with a peak elevation of 13,671 ft. Accessible at any time in the year it's quite a site to see both with and without the snowy slopes. One of the routes up to the summit and more for experienced hikers and climbers, allows you to see the remains of a plane crash from 1872. Mt Toubkal Trail Map
Best Hiking in Namibia
Fish River Canyon
Location: South Namibia
Distance: 56 miles
Trail Time: 5 days
Fish River Canyon is the largest canyon in Africa covering an area of 2,300 square miles. It is roughly about 100 miles long, up to 16.5 miles wide and as deep as 1,800 ft is some spots. The hiking trail itself is not difficult at all as you'll have an elevation loss of 2,034 ft but be mindful of the wildlife which include: baboons, snakes and scorpions. Fish River Canyon Trail Map
Best Hiking in South Africa
Blyde River Canyon
Location: Blyde River Canyon Nature Reserve, Mpumalanga
Distance: 37.28 miles
Trail Time: 2 – 5 days
The Blyde River Canyon is only 15.5 miles long and on average 2,460 ft deep. It is a spectacular site to behold and every turn of the canyon's winding path will leave you jaw dropped. You'll experience sheer cliffs dropping more that 2,500 ft down, a thousand different species of flora and even rare wildlife like the bald ibis, as well as a number of different primates. With an average hike of around 4 to 5 days you'll want to consider the Arc'teryx Altra 65 liter backpack for this trip!
Drakensberg Mountains
Location: Eastern Great Escarpment
Distance: Varies
Trail Time: Varies
Drakensberg refers to the eastern portion of the Great Escarpment that encloses the central South African plateau. Drakensberg or Dragon's mountain was given the name years ago and thought to derive from the pointy tops of the plateau resembling the back of a dragon, old myths as well as dinosaur bones that may have been found. While most of it is in South Africa, the peak is actually Thabana Ntlenyana in Lesotho at an elevation of 11,424 ft. The area is vast and you can make your own trek as short or long as you prefer. If you decide to make the most out of this trek then consider the giant Kelty Red Cloud 90 liter backpack to keep you going without fear of running out of supplies!
Otter Trail
Location: Garden Route
Distance: 26.7 miles
Trail Time: 5 days
The Otter Trail, which gets its name from the clawless otter in the region, is one of South Africa's most famous for at least one reason, the scenery is astonishing and ever changing as you proceed down the trail. You'll come across impressive rock formations, rushing rivers that form beautiful pools, waterfalls, diverse flora and a number of wildlife species. For an easy, at max 5 day hike like the Otter Trail, we recommend the Osprey Porter 46 liter backpack.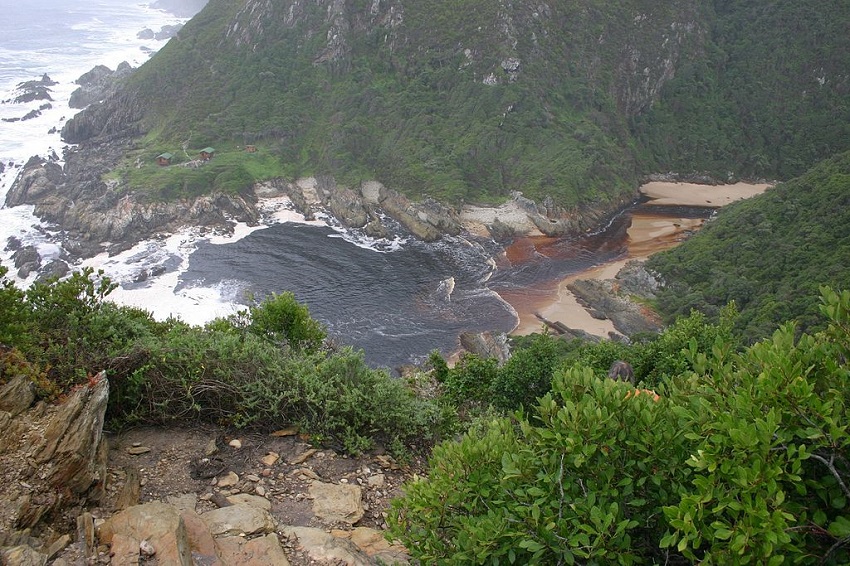 Best Hiking in Tanzania
Mt Kilimanjaro
Location: Kilimanjaro Region
Distance: 23 – 56 miles
Trail Time: 5 – 9 days
Mt Kilimanjaro, the highest mountain in Africa, stands at an elevation of 19,341 ft. It is a dormant volcano with three cones, "Shira", "Mawenzi" and "Kibo". Mt Kilimanjaro last erupted roughly 150,000 to 200,000 years ago. Kilimanjaro is the largest mountain that doesn't require any technical skills or special equipment to reach the summit, Uhuru Peak. Mt Kilimanjaro Trail Map
Best Hiking in Uganda
Mountains of the Moon
Location: Kasese District
Distance: Varies
Trail Time: Varies
Rwenzori Mountains or the Mountains of the Moon, is Africa's third highest mountain with it's peak elevation occurring at Margherita Peak, at 16,762 ft, which is actually located in the DRC. You can choose to do a trekking/climbing route up to the summit which lasts roughly 11 days or opt for the easier trekking down below in the foothills in Uganda. If you're looking to do mostly hiking in the foothills you'll want to take a look at the Wasing 55 liter hiking backpack to provide you with your storage needs.
Best Hikes in Asia
Best Hiking in Bhutan
Snowman Trek
Location: Paro / Lunana
Distance: 220 miles
Trail Time: 25 days
The Snowman Trek is Bhutan's most famous trail and is a rewarding one. You will meet some incredible Bhutanese people, hike across high mountain tops, pass monasteries and temples and get the view above the clouds! One of the best things about this hike and hiking in Bhutan in general is that the Bhutan government limits how many people are allowed to visit Bhutan each year, so it is never crowded! Snowman Trek Trail Map
Tiger's Nest Monastery Trail
Location: Paro
Distance: 4 miles
Trail Time: 1 day
Taktsang Monastery or Tiger's Nest Monastery is a small monastery built into a huge granite cliff in the 17th century. It was built where the saint Padmasambhava had mediated for 3 years, 3 months, 3 weeks, 3 days and 3 hours and is believed to have brought Buddhism to the Bhutanese people. In 1998 a fire devastated the monastery but the government quickly oversaw the renovation of the monastery back to its original form. This short day hike doesn't really require for you to take much as there's a small cafe on the way up the trail but if you want to carry water, snacks or a change of clothes then consider the smaller High Sierra Loop backpack!
Best Hiking in China
Mt Kailash Kora Trek
Location: Tibet
Distance: 32 miles
Trail Time: 2 – 3 days
Mt Kailash Kora is a large mountain the the Tibetan region of China with a peak elevation of 21,778 ft. Many people from around the world and even Tibetan people make a pilgrimage each year to walk around the 32 mile circumference and the Hindus who walk it use the term Parikrama. It is believed that walking around the mountain on foot is a holy ritual that will bring good fortune! Mt Kailash Trail Map
Best Hiking in India
Chadar Trek
Location: Ladakh
Distance: 46.6 miles
Trail Time: 8 days
The Chadar Trek, also known as Zanskar Gorge, is a winter trail in India that almost makes you feel like you're hiking a completely different planet. The word Chadar means frozen and refers to the hike along the Zanskar River that takes place in a gorge with cliffs rising high into the sky and lets not forget about the frozen waterfalls. Chadar Trek Trail Map
Best Hiking in Indonesia
Carstensz Pyramid Base Camp Trek
Location: Sudirman Range, Papua
Distance: 81 miles
Trail Time: 5 – 9 days
Carstensz Pyramid which also goes by Puncak Jaya is a part of the Sudirman mountain range of the western central part of Papua Province. It has a max elevation of 16,024 ft and the first snowfield reached was in 1909 by a Dutch explorer but it took till 1962 for there to be a summit. This trek is one that will take you through open fields, jungle and remote villages. Carstensz Pyramid Base Camp Trek Trail Map
Mt Rinjani Summit Trail
Location: Gunung Rinjani National Park, Lombok
Distance: 21.1 miles
Trail Time: 2 – 4 days
Mt Rinjani is definitely one you want to put on your bucket list and should immediately check off if you're ever in Indonesia. The peak of this mountain, which is an active volcano by the way, is at 12,224 ft but it looks much much higher when above the cloud tops. Plus it doesn't hurt that it looks like you have your own swimming pool in the sky with the lake filled crater on top! Mt Rinjani Summit Trail Map
Mt Agung Summit Trail
Location: Bali
Distance: 10 miles
Trail Time: 1 – 2 days
Mt Agung is another volcano that completely dominates the surrounding area with its imposing dome. The peak elevation of this volcano is 9,944 ft so as far as volcano hikes go, it's a bit on the smaller side but that doesn't make it any less impressive. Mt Agung is home to the 'Mother Temple' of Besakih and is of huge religious significance to the people on the island. For this short hike you shouldn't need more than a small 22 liter Osprey Talon to get you up and back down the mountain.
Salak Trail
Location: Java
Distance: 6 – 8 miles
Trail Time: 1 – 2 days
The Salak Trail is a much easier hike to do and easily accomplished in one day if you prefer. You'll reach a max elevation of 4,641 ft and get great pictures of yourself crossing the volcanic crater. Mt Salak itself however has an elevation of 7,254 ft and is an eroded volcano. Yes, another one. What's interesting is that the site has been evaluated for geothermal power development. Another interesting thing about this trail is that you might just find you come across airplane wrecks as well.
Best Hiking in Japan
Mt Fuji
Location: Honshu Island
Distance: 2.5 – 4 miles
Trail Time: 2 days
One of the most well known mountains on this list is Mt Fuji, an active volcano that last erupted on December 16th 1707. The peak of the mountain reaches 12,388 ft and provides incredible views for a sunrise if you're up early enough. Located only 62 miles from Tokyo is presence is well known and a very popular hiking destination for both locals and tourists. We recommend getting a hiking stick and having it branded at the stations on your way up the hill as a memento. Mt Fuji Trail Map
Best Hiking in Jordan
Trek to Petra
Location: Petra
Distance: 40 miles
Trail Time: 3 – 9 days
If you've never heard of Petra, I can almost guarantee that you've at least seen it. Petra is a famous archaeological site that has been featured in a number of movies including: Indiana Jones and the Last Crusade, Transformers; Revenge of the Fallen, The Mummy Returns and many more. This location is amazing as it contains tombs and temples as well as a Greek-style facade all built out of sandstone, which is how it got its nickname of "Rose City". Trek to Petra Trail Map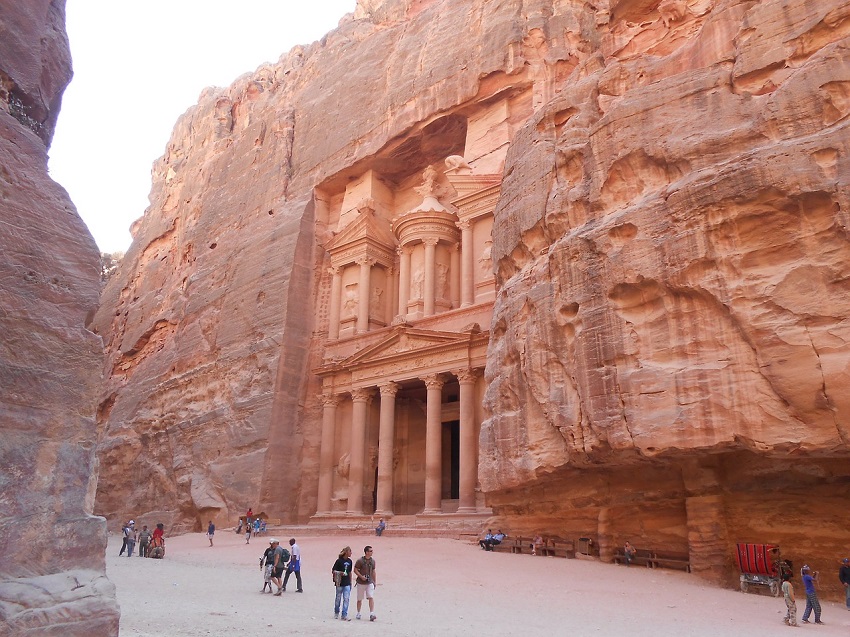 Best Hiking in Kyrgyzstan
Tian Shan Mountains
Location: Eastern Kyrgyzstan
Distance: Varies
Trail Time: Varies
The Tian Shan Mountains are a mountain range that is mostly located in Central Asia, creating a natural border between quite a few countries. The highest peak in the mountains is Jengish Chokusu at 24,406 ft. Tian Shan actually means Heavenly Mountain or the Mountain of Heaven; quite fitting considering how high it actually reaches!
Best Hiking in Laos
100 Waterfalls Trek
Location: Nong Khiaw
Distance: 6.21 miles
Trail Time: 1 day
The 100 Waterfalls Trek is one that can be extremely rewarding if you happen to plan the right time to go. Coming across many different sizes and shapes of waterfalls is pretty magical and being able to see them all in a day is quite an accomplishment. Just be sure to time your trek so that you go in high season so that you are not falling down all over the place in the mud, unless you like that!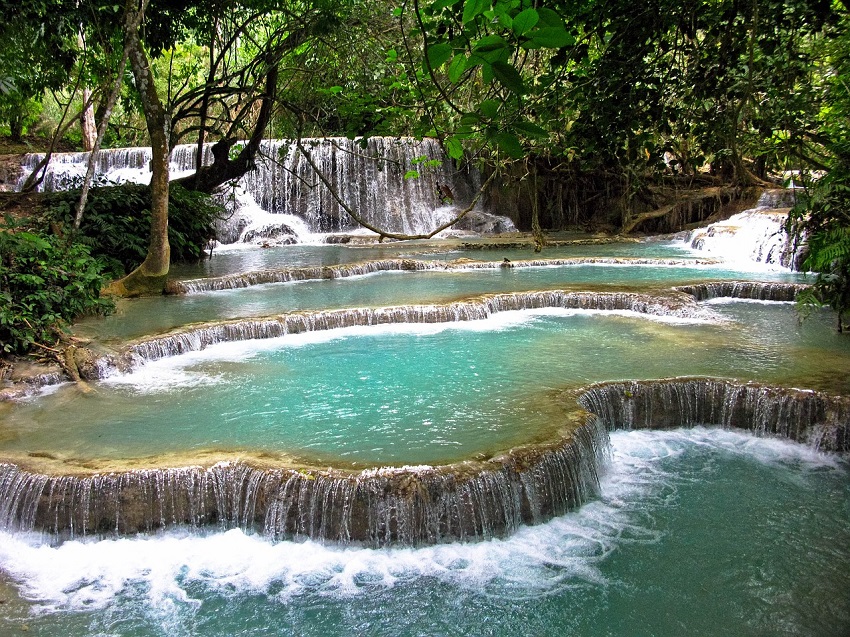 Best Hiking in Nepal
Annapurna Base Camp Trek
Location: Gandaki Zone
Distance: 39 miles
Trail Time: 7 – 12 days
When most people thing of Nepal hiking or climbing they usually tend to think of Annapurna's big brother Mt Everest, but don't sleep on Annapurna. Annapurna has an elevation of 26,545 ft and is the most dangerous mountain in the world to ascent with roughly 1 in 3 dying. Luckily for us the base camp trek is not that dangerous and is an extremely enjoyable hike to take part in. Annapurna Base Camp Trek Trail Map
Everest Base Camp Trek
Location: Mahalangur Range
Distance: 38 miles
Trail Time: 11 – 14 days
The mountain that needs no introduction is Mt Everest. This beast of a mountain, the highest in the world, has an elevation of 29,035 ft. Although an extremely dangerous mountain to ascent, there are still hundres of people who manage to do it every year. Fun fact, Everest actually grows about a quarter of an inch each year. Although the base camp trek is not quite as dangerous it is still impressive. The trek is no pushover and there are still plenty of risks hiking to the base camp. Everest Base Camp Trek Trail Map
Kanchenjunga Circuit
Location: Kathmandu
Distance: 124 miles
Trail Time: 27 days
Kanchenjunga is a mountain in Nepal that gets almost no media attention and it is actually the third highest mountain in the world at 28,169 ft. This is by no means an easier mountain than Everest, quite the opposite actually as there is a continual risk for avalanches and other weather related concerns for this mountain. The Kanchenjunga circuit however is a much more pleasant experience but still takes quite some time to accomplish. What better way to see Nepal than to hike all around it?! Kanchenjunga Circuit Trail Map
Best Hiking in Thailand
Chiang Mai Hill Tribe Trek
Location: Chiang Mai
Distance: 20 – 40 miles
Trail Time: 3 – 6 days
One of the main attractions of Northern Thailand is the ability to go hiking through the hills and meet local tribes of the area. You can take guided tours that last 2 to 6 days or create your own authentic tour and take as long as you want. You'll get to take in a many different hill tribe cultures, witness the village life and even dine and cook with the locals! Chiang Mai Hill Tribe Trek Trail Map
Best Hiking in Vietnam
Sapa Region Trek
Location: Sapa
Distance: 34 miles
Trail Time: 4 days
Sapa is the home of the highest peak in Vietnam, Fansipan, which has an elevation of 10,312 ft. Similar to the tribe hill trek in Chiang Mai, Thailand, the Sapa Region Trek will take you across some of the most beautiful country Vietnam has to offer, all the while spending the night in local villages and getting to meet and eat with the locals. One thing to be sure and pack for this trip is mosquito repellent! Sapa Region Trek Trail Map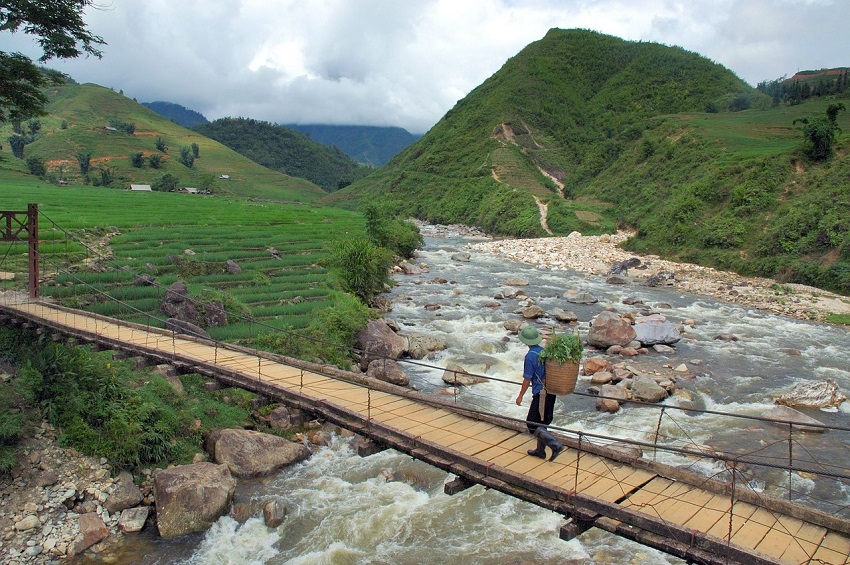 Fansipan Mountain Summit Trail
Location: Lai Châu Province
Distance: 12 – 15 miles
Trail Time: 1 – 3 days
Fansipan is quite the mountain to summit if you are looking for a "starter mountain". The mountain has a peak elevation of 10,312 ft and can be easily be a round-trip summit in a day. A favorite of everyone who ascents the mountain is to take a picture with the monument at the top of the mountain that looks like a pyramid.
Best Hikes in Australia
Best Hiking in Northern Territory
Larapinta Trail
Location: Alice Springs / Mt Sonder
Distance: 138.5 miles
Trail Time: 10 – 15 days
Another long walking trail on the list, the Larapinta Trail is just as fascinating as any other trail we've mentioned. This one will have you hiking around the hills and mountains of Northern Australia, walking between narrow cliffs in a small gorge, traversing the open fields and following along rivers and lakes. It's got just a little bit of everything for anyone interested in hiking a longer trail. Larapinta Trail Map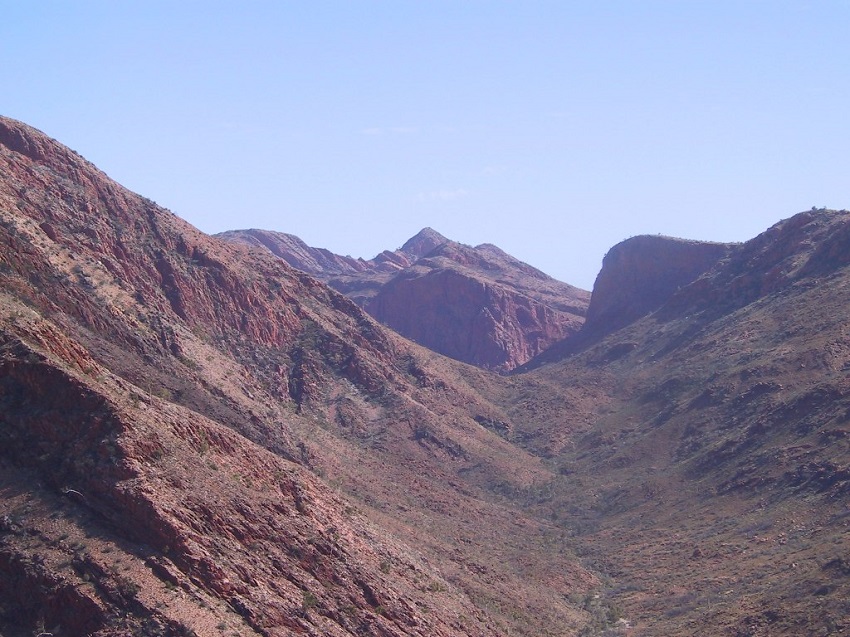 Best Hiking in Queensland
Fraser Island Great Walk
Location: Fraser Island
Distance: 56 miles
Trail Time: 1 – 6 days
The Fraser Island Great Walk is located roughly 186 miles north of Brisbane and features the world's largest sand island. Discover the landscape, the heritage and scenery all while traversing along a 56 mile path. This Great Walk allows for easy day strolls, day hikes as well as overnight trekking as you make your way across the island. Fraser Island Great Walk Trail Map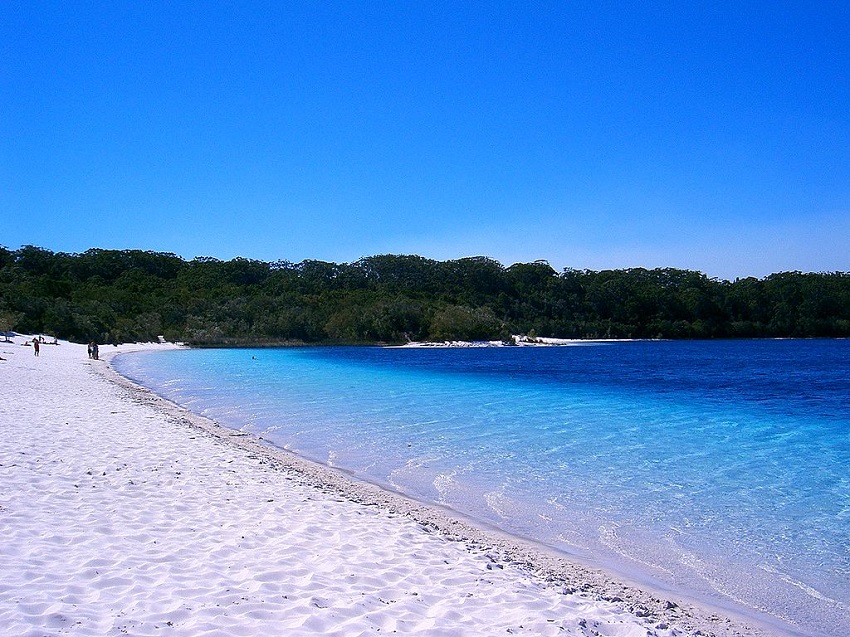 Scenic Rim Trail
Location: Clumber
Distance:  17 – 24 miles
Trail Time: 2 – 4 days
The Scenic Rim Trail is just that, a scenic trail. You'll find yourself on top of small mountains looking miles off into the distance and down at the Gondwana Rainforest down below. Of course you'll get to see a number of different plant and animal species as well as an ever-changing eco-system. Take a 4 day guided tour to live like royalty while you traverse the exotic outdoors.
Thorsborne Trail
Location: Hinchinbrook Island National Park
Distance: 20 miles
Trail Time: 4 – 6 days
Want to setup at a campsite with a bay for you to enjoy and relax in, yeah us too; luckily Thorsborne Trail offers us this option and aside from the campsite on the bay, the entire trail is just nothing but gorgeous views all around. You'll get views of the bay, amazing towering hills off in the distance down the coast, as well as inland, and overall just a very peaceful relaxing time without having to worry about getting to the next campsite in time. Thorsborne Trail Map
Best Hiking in South Australia
Arkaba Walk
Location: Arkaba Conservancy
Distance: Varies
Trail Time: Varies
The Arkaba Walk is one of Australia's epic trails as it is a quintessential bush walk. You can decide to take on the trek yourself, deciding how long and how far you want to walk or you can take one of the tours that now add a luxury element to these walks. Basically do you want dinner around a table with seats and a bed to sleep in or do you want to rough it with a tent and a makeshift table for dinner?
Best Hiking in Tasmania
Bay of Fires
Location: Binalong Bay / Eddystone Point
Distance: 15 – 20 miles
Trail Time: 3 – 4 days
Bay of Fires rocks! This area on the Tasmanian coast appears as if mankind has never set foot here. Just beautiful beaches dotted with boulders and rocks are incredible, then throw in the mix that many of the boulders are red to give the appearance as if they are on fire makes for a truly magical walk along the beaches. If you're lucky you might just get to see some marine life playing in the waves as well, I'm looking at you dolphins!
Cradle Mountain Huts Walk
Location: Hagley
Distance: 36.5 miles
Trail Time: 6 days
This is an overland trek that is definitely worth spending a week doing. You'll cover the open plains of Tasmania as you bush walk from one hut to another. You'll come across beautiful rivers to stop and have lunch at as well as climb through rain forest and even an optional summit of Mt Ossa which stands at 5,305 ft, Tasmania's highest peak.
Freycinet Experience Walk
Location: Coles Bay
Distance: 23 – 24 miles
Trail Time: 4 days
Named after the Freycinet Peninsula, the Freycinet Experience Walk is quite a trek. Spending four days walking through forests and white sand beaches with the Hazard Mountains in the background makes for long lasting memories. You'll have the option of either going for relaxing beach walks or climbing through the mountains, whatever you prefer, the Freycinet Experience Walk provides. Freycinet Experience Walk Trail Map
Maria Island Walk
Location: Maria Island
Distance: 21 – 26 miles
Trail Time: 4 days
Maria Island is a gorgeous Island off the coast of Tasmania that has a multi award winning hike in the Maria Island Walk. A great combination of excellent accommodations, wildlife and natural beauty of the shores makes this a top destination for walkers and non walkers alike. The Maria Island Walk is a gentle one that allows you to take your time and take in the surroundings.
Overland Track
Location: Cradle Mountain – Lake St Clair National Park
Distance: 40.4 miles
Trail Time: 6 days
One of Australia's most famous hiking tracks is the Overland Track on Tasmania. Over 8,000 people each year complete the 40 plus mile track which consists of open terrain for miles and miles, river crossings and alpine plateaus reaching as high as 4,100 ft. You might imagine that many people tackling the track each year might make it somewhat congested but fortunately it's walk-able year round which averages out to 22 people a day. Overland Track Trail Map
Western Arthur Range Traverse
Location: Scotts Peak Dam
Distance: 44.7 miles
Trail Time: 6 – 14days
The Western Arthur Range Traverse is unlike most other hikes in Australia. This hike is highly dependent on the weather which can change at anytime. It's also one of the few hikes where you are traversing away from the short but the destination is just as magical. At the end you come upon a lake in a ridge bowl that looks like a crater. It's just one of those places that is hard to explain without pictures. Be sure to take a gps or some other instrument with you to provide sufficient navigation as well because if you lose your way you will be in a bad situation. Police routinely perform over 100 search and rescue operations each year for this exact reason. Western Arthur Range Traverse Trail Map
Best Hiking in Victoria
Australian Alps Track
Location: Walhalla
Distance: 407 miles
Trail Time:  30 – 60 days
The last long distance trek in Australia for this list is the Australian Alps Track. This track traverses rugged alpine country that is extremely remote. There are portions of the track that are not marked and may even be marked incorrectly on maps. Stretching across 2 states, Victoria and New South Wales and one territory, Australian Capital Territory, you'll get to see and experience different parts of Southeast Australia. Australian Alps Track Trail Map
Twelve Apostles Lodge Walk
Location: Johanna
Distance: 24.5 miles
Trail Time: 4 days
The Twelve Apostles Walk is a unique and one of a kind trek that you likely won't find anywhere else. The walk is named after the breathtaking rock stacks that rise up out of the Ocean off the coast of Victoria. These are limestone pillars that were once part of the cliffs but the wind and waves have carved them up into the pillars you see today. A gorgeous site and well worth the 4.5 hour drive from Melbourne.
Wilderness Coast Hike
Location: Croajingalong National Park
Distance: 62 miles
Trail Time: 8 – 10 days
The Wilderness Coast Hike embraces the natural beauty of all facets of the coast. As you make your way along the 62 mile route you'll find yourself on hidden secluded beaches, in beautifully tall forests and walking past lighthouses. You may not want to believe it but if you have no plans of getting up early after each night camping, you may want to wear earplugs to bed, the birds can be awfully chirpy early in the morning. For a slightly longer trek like this one consider the Osprey Aether AG 70 to take care of all your hiking needs!
Best Hiking in Western Australia
Bibbulmun Track
Location: Kalamunda / Albany
Distance: 623 miles
Trail Time:  18 – 60 days
The Bibbulmun Track is a long distance walking trail and the name comes from the Indigenous Australians of the Perth area, the Noongar people. One of the neat things about this walk that you'll notice with many others in Australia is that you get a variety of scenery. You will be walking along coasts, up trails leading to cliffs overlooking the ocean, through swamps, over board walks and so on. You're also likely to encounter some extraordinary wildlife along the way as well such as snakes, kangaroos, wallabies, wallaroos and more. Bibbulmun Track Trail Map
Cape to Cape Track
Location: Cape Naturaliste / Cape Leeuwin
Distance: 84 miles
Trail Time:  9 days
The Cape to Cape Track is an interesting one as you'll likely be hugging the coast for almost the entire trip as you actually do walk from one cape to another on Australia's west coast. Nine days of walking along the coast and getting to take a dip whenever you want is maybe one of the more pleasant walks one could decide to do. One of the neat features about this walk is that it starts at a lighthouse in Cape Naturaliste and ends at a lighthouse in Cape Leeuwin. Cape to Cape Track Trail Map