Teton Sports Explorer 4000 Is Perfect For The Money
Teton Sports is an outdoor gear specialist than excels in all kinds of gear but especially backpacks. They make very durable products that have some of the lowest defect rates in the business and back that up with an impressive warranty.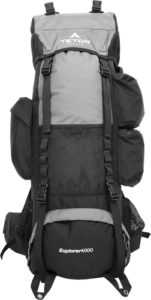 Teton Sports has a backpack that's perfect for just about any situation you may find yourself in but today we will be reviewing the Teton Sports Explorer 4000. It is an internal frame backpack and comes with some unique features that are very exciting.
We'll start by discussing the style of the backpack but won't spend much time on it as most people hiking don't worry too much about how their backpack looks. Then we'll discuss how comfortable it is to wear which is extremely important if you've got this tied to your back all day. We'll follow this up with its durability and then we'll finish the review going over its functionality, overall rating and recommendation to buy or to look elsewhere.
So without wasting anymore of your time let's get to the reason that you're here.
(TL:DR video at the bottom)
Hiking Style With The Teton Sports Explorer 4000
The style of the Teton Sports Explorer 4000 hiking backpack is one that looks great but they don't try to overdo it and that's what makes this hiking backpack look incredible. They offer the Sports Explorer 4000 in three different colors. The one I'm reviewing is grey but they also offer it in navy blue and hunter green, both of which look great.
Its design and color options make it a great choice for everyone. It is a perennial top selling hiking backpack and looks great for men, women and teens. When I compare this hiking backpack to other bags it's hard to see why anyone would choose something else over this.
There's not much that can be done with style for hiking backpacks but this one looks great regardless of it only offering 3 different colors. The look of this bag is great enough that I give it 5 out of 5 stars. Let's move on to something a little more important that colors and design. Let's talk about how this bag is going to feel after you've been using it nonstop for a few days.
Teton Sports Explorer 4000 Provides Plenty Comfort
Teton Sports outdid their selves with the Sports Explorer 4000 hiking backpack. This is one of the most comfortable backpacks that you can find and it beats out many other hiking backpacks that are in higher price points as well.
The first neat feature about the Sports Explorer 4000 hiking backpack is the fact that it can be used by anyone! This is achievable because the backpack is adjustable to fit a wide different range of body types and sizes. It has what's called a multi-position torso adjustment which basically means you can adjust the height of the bag and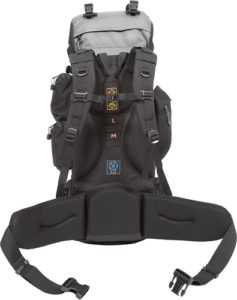 how it sits on you. I have a longer torso and my girlfriend is tiny and we were both able to test this hiking backpack out with ease. All we had to do was adjust the back length adjustment and we were good to go! That's not the only reason why this is one of the most comfortable hiking backpacks on the market.
The Sports Explorer 4000 also comes with molded channels and foam padding with half an inch of padding on your shoulders. This was great because I did not get any chaffing from my use of this pack. It also has thick hip padding and an inch of padding on your back for lumbar support and airflow. This is an extremely important feature as the airflow keeps you dry while you've been hiking around all day. I stayed pretty dry and was not soaking wet from sweat like I have been with other similarly advertised hiking backpacks.
To touch just a little more on the torso adjustment this Sports Explorer 4000 hiking backpack can be adjusted from 19 inches to 23 inches. I'm 6'1 and my girlfriend is 5'5 and it fit both of us perfectly. Also the pack when on its own and not weighed down with equipment or supplies ways a modest five pounds. That may be a little heavier for women or teens on the smaller side after you start adding contents to your bag but it all depends on how much you pack and what you can comfortably backpack around with.
Teton Sports Explorer 4000 hiking backpack is by far a top choice for anyone looking to do a multiday hike or camp. I could easily see myself using this for traveling or backpacking through Europe for a couple months without any issues. For its adjustable settings, relatively light weight and excellent padding and lumbar support, I give this hiking backpack 5 out of 5 stars for comfortability.
Teton Sports Explorer 4000 Is Durable
When I received my Teton Sports Explorer 4000 hiking backpack, the packaging was in such a mess that I was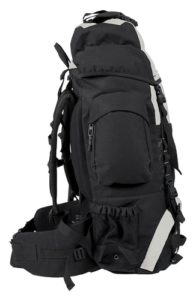 worried what my bag might look like when I finally get it open. Luckily there wasn't anything wrong with the bag. I did notice some loose threads when I received it but aside from that everything on this bag looked and worked great.
I've read some people have had issues with the zipper; however, that was not the case with my hiking backpack. I could see how if you have the compartment overly stuffed and you are trying to force the zipper then yes, the zipper would probably screw up. But if you live by the mantra, take care of your gear and your gear will take care of you, then you will be good to go. By the way that doesn't go for just this hiking backpack but any gear whatsoever.
The last thing I want to mention about this Teton Sports backpack is the fact that it is not waterproof like this waterproof hiking backpack BUT WAIT! I know from experience traveling overseas or going on a multi-day hike that getting rained on can suck. And although this backpack is not waterproof, Teton Sports did make up for this with a rain cover that is attached to this bag that does an excellent job of keeping your pack dry and light.
As I mentioned in the intro to this review, (if you didn't read it don't worry you didn't hurt my feelings, much) Teton Sports makes extremely durable products with a low number of defects. The quality of their hiking backpacks and their Sports Explorer 4000 for example are of the highest quality, it's something I would expect to see when paying for a couple hundred dollar pack.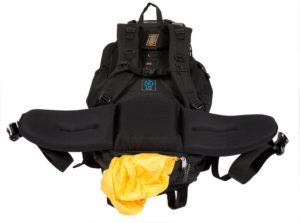 If you don't want to take my word for it or maybe you're like me and want some kind of guarantee or warranty well then don't worry. Teton Sports offers a limited lifetime warranty on all of their products including the Sports Explorer 4000 hiking backpack. This covers against defects in workmanship or defects and this also extends to customers outside of the United States as well.
Taking all of this into account the Teton Sports Explorer 4000 hiking backpack proves to me that it is beyond durable and I can't wait to use this pack for many years to come. Between its quality construction, its rain cover for those moments you get caught in the rain and simply its amazing lifetime warranty make this an outstanding pack especially for the price! I give the Explorer 4000, 5 out of 5 stars.
Functionality All Day With The Teton Sports Explorer 4000
Alright, so to me this is the best part of any review I do. I love to review all the cool functionality that a product has and this Teton Sports Explorer 4000 has plenty. I know I've said it but I'll say it again, what you get with this hiking backpack is something you would expect to see in other packs costing hundreds of dollars. So let's get to the good stuff.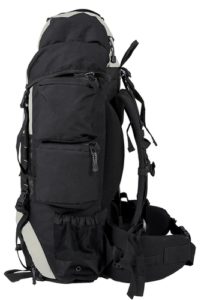 The name says it all, Explorer 4000. The 4000 stands for 4000 cubic inches or 65 liters which basically means this hiking backpack can hold a lot of stuff! You have your main compartment with an additional 6 pockets, lower and upper gear loops to hold additional items, compression straps to, well compress, and 3 mesh pockets used for additional storage. I can easily pack a week's worth of gear in there along with a small sleeping bag that I store in a completely separate compartment meant just for it. You could alternatively also pack a tent inside this backpack as well and use the compression straps to secure it in place. If this is maybe a little too big or too much stuff in one bag, you can check out the Explorer 4000's little brother, the Teton Sports Scout 3400 which is 55L. One last neat feature about storage is the face that the pockets on the sides are attached separately from the back so you are able to store tent poles and the like on the sides of this as well.
The Teton Sports Explorer 4000 hiking backpack also comes with a unique pouch specifically designed for hydration. It has a pocket on the inside of the bag against the back that is padded and holds up to 3 liter bladders, camelbacks whatever you want to call them. It also has hooks on the shoulder straps to strap your camelback hose into place. To make very clear, this hiking backpack does not come with the bladder/camelback that is sold separately.
The last part of any review for functionality with gear such as this is its use around flying. This bag is somewhat large but adjustable so it has a grey area when it comes to flying. This bag can fit some carry-on requirements and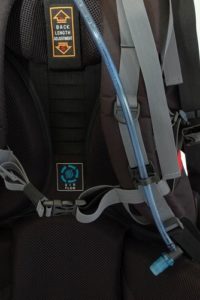 misses others. If I had to say one way or the other, I would say plan on this hiking backpack being checked luggage. When you have this thing loaded up you'd be hard pressed to get this into an overhead compartment.
There's a whole lot to say about this pack but not much as far as negatives go. In fact there was only one suggestion that I had that Teton Sports could do but even then this is easily overcome and a minor issue. I think the only improvement I could make on this hiking backpack is to include pockets on the hip straps for easy access. Cause we all like easy access. But that's about the only improvement I can think of.
As is clearly evident, the Teton Sports Explorer 4000 hiking backpack has loads of functionality and is capable of doing a lot of different things. It can hold all kinds of odds and ends with its main compartment and separate pockets on the outside of the bag; it has an area specifically for storing a sleeping bag. It can hold a one to four man tent depending on what else you are storing. It has a separate pouch just for hydration and the compression straps and its adjustability make this pack adjustable to fit any size. With all of this taken into consideration the Teton Sports Explorer 4000 gets 5 out of 5 stars.

Teton Sports Explorer 4000 Score
What more is there to say about the Teton Sports Explorer 4000 hiking backpack? It is a beast in every sense that it handles all of your needs and some and such a cheap cheap price. You would normally expect to pay a couple hundred bucks for a bag like this with all of the same features. At first the price was a concern for me because I automatically assume cheap means cheaply made but that is not the case this with hiking backpack. Plus I buy cheap stuff for now because I can't afford all the fancy stuff.
When looking back over this review, this has been one of my favorite products to review to date. It's a great looking backpack that isn't too bulky but looks the part for a week long adventure. It is adjustable so that my girlfriend or I could use the pack whenever needed and comes with exceptional padding and back support. It also has the air flow mesh which easily kept me dry.
The product is well made and I could see the stitching seemed to be of high quality. It came with a rain cover in case you get caught in the environments and Teton Sports also offers a lifetime warranty on their backpacks.
Finally the functionality of the pack is incredible. You are able to store so much as well as a separate bladder or camelback if you have one.  Taking all of this into account plus the price I have to give the Teton Sports Explorer 4000 hiking backpack my first 5 star rating! It officially gets 5 out of 5 stars!
If you enjoyed this review or would like me to review something else or even have a review yourself then please comment or submit your review below!