Wasing 55L Hiking Backpack
This is the Wasing 55 liter hiking backpack. It's not a well-known name brand backpack but it's one the best sellers on various online retailers and at its price range it's probably the best hiking backpack you will find.
It certainly does a lot of things well but there are areas that I believe they could do slightly better. As always I hope you enjoy this review and find the answers you're looking for. If you want the short and ugly of it, go to the bottom and read what's good and what's bad about the Wasing hiking backpack.
Wasing 55L Has Decent Style
There's not much to say with regards to style when it comes to hiking backpacks but I will cover what I can. The Wasing is one of the top selling hiking backpacks and for good reason.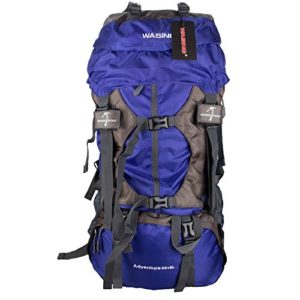 The style of the Wasing 55L hiking backpack is what you would expect from an outdoor mountaineering backpack. It's designed like many other hiking backpacks with its top loading compartment and compression straps.
It is also offered in a variety of colors that include dark blue, green, light blue, yellow and a red that looks more like magenta. These aren't bad but I would have also liked to have seen some more neutral colors like black or grey. I feel like they are trying to be a little too flashy with their color options without giving people the choice of something a little less 'loud'.
The Wasing hiking backpack has some great style if you are looking for different colors that would make you stand out a little. I personally am not a fan of colorful hiking backpacks but I can see how these would entice others. Everything here is great but for the lack of other neutral colors I give Wasing 4 out of 5 stars for style.
The Wasing 55L Hiking Backpack Is Extremely Comfortable
The comfortability of the Wasing 55L hiking backpack is on par with what you would see in many other hiking backpacks. They don't go above and beyond expectations here and they don't do a bad job with it either. There is one area they could use a little tweaking but I'll get to that in a minute.
To start, this Wasing hiking backpack has excellent padding in the shoulder straps. It is very thick and I never feel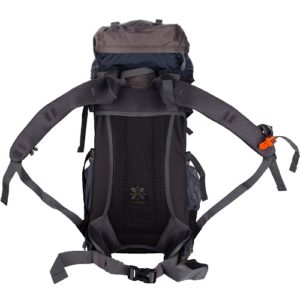 like the straps on digging into my shoulders. They provide the right amount of padding. The same can also be said for the waist straps as they are well padded. The only issue I have with the waist straps however; is that they should be a little bit longer and come around your hip more. With them being a little shorter the straps start to rub into your hips which can be annoying.
The backpack was also clearly designed for individuals with a smaller stature than mine. I'm 6'1 and this bag felt pretty small so I'm sure it would be ideal for individuals under 6 feet.
Finally the last important part of comfort for any backpack is its back! Luckily Wasing did a great job here as well and have molded foam on the back. It's also created with a mesh that promotes airflow and keeps your back cool and dry while you are out hiking. The backpack also has a single contoured aluminum frame which you are able to adjust to the shape of your back for maximum comfort.
The Wasing 55L hiking backpack has done a phenomenal job with making its outdoor hiking backpack comfortable. They were smart with implementing a thick padding on all the important areas which include your shoulders, waist and back. They also added the airflow mesh on the back which is a mainstay with hiking backpacks. I just wish they would have made the padded waist straps longer. For these reasons Wasing gets 4 out of 5 stars for comfort.
Wasing 55L Has Average Durability
The durability of the Wasing 55L hiking backpack is in line with the price you're paying for it. It does a decent job but for the more intense hikes you may want to opt for something a little more rugged. The fabric is of great quality as it's made of polyester but the straps could use a little work.
The polyester fabric makes this backpack last with being a water resistant material that sheds water pretty easily. In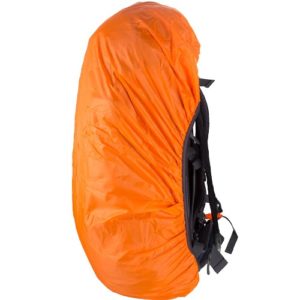 case that is not enough, Wasing added a rain fly as well for those long hiking days where you end up getting rained on.
The straps on this backpack could use a little work with the stitching as I noticed that even when I first received it the stitching seemed to be a little weak. If you get this Wasing hiking backpack I would reinforce the straps prior to going out for your hike. It wouldn't cost you much to have it done or do it yourself so it would keep the price overall of this backpack down.
Finally Wasing provides its customers with a 90 day limited warranty which is a nice gesture but I would much rather this be a year or lifetime warranty. It kind of reinforces the idea in my mind that the craftsmanship is just average.
Overall the durability of the Wasing 55L backpack is pretty average as well. It does a great job dealing with the elements but the craftsmanship along with the short limited warranty make me worry about the lasting power of this backpack. So far its held up and for the price I've basically got my money's worth out of it but the Wasing gets 4 out of 5 stars for durability.
The Wasing 55L Hiking Backpack Is Plenty Functional
Functionally the Wasing 55L hiking backpack does an alright job for the price you pay. It has numerous pockets and hooks and it's expandable to be able to carry even more when you need to pack that little extra something. It expands to hold 5 liters more of items.
The bottom of the compartment has zippered access with an internal zippered divider so you can use it as part of the main pack or a separate divided area.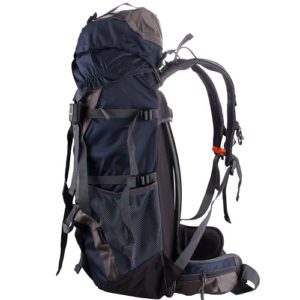 One of the things I liked about this backpack is the hip belt pocket. Even some of the more popular or pricey hiking backpacks forget this one but luckily Wasing is all over it. They've also included a bladder sleeve to bring along water for your grueling hikes. They even managed to add a couple of key hooks in the main compartment that you can use for your water bladder or to hold keys.
The Wasing 55L hiking backpack also includes a trekking pole attachment and loops on the bottom for additional poles or axes. The shoulder straps also include D-shaped hooks which can be used for smaller items that you may need to bring.
They've also included two pockets in the top lid, two side pockets that are zippered and even a spot for your sleeping bag, although the straps for the sleeping bag needed to be a little longer to accommodate larger sleeping bags.
All in all the Wasing 55L hiking backpack does a great job of carrying the amount of gear I need for such a cheap price. Although If I were looking to do a hike any longer than 4 or 5 days I would probably look at this Osprey Aether 60 Liter Backpack as it'll hold a little more is a quality backpack. I just like the reliability that it offers. With all of the functionality of this Wasing backpack and with its numerous pockets, hooks, areas for sleeping bag and bladder, I would have to give this pack 4 out of 5 stars. It's ideal for young adults or children or smaller women as a starter full sized pack.
The Wasing 55L Scores Decently 
The Wasing 55L hiking backpack is a fantastic piece of travel gear for the price that you pay. It is much cheaper than some name brand mountaineering backpacks but is able to hold its own in its price point. Let's recap what the Wasing 55L does well and what it doesn't.
The Good:
Wasing offers its 55L backpack in multiple colors for you to choose from.
The Wasing backpack offers quite a bit of comfort. They have extra thick padding in the shoulders, the waist straps and the back.
The back padding was also developed with airflow in mind to keep your back from sweating on hot hiking days.
The back of the backpack has an adjustable frame to match the contours of your back.
Wasing made the backpack out of water resistant polyester with a rain fly, should you need it.
It's offered with a 90 day limited warranty!
What you get for the price of this bag makes this one of the best bags to choose from. It's ideal for people on a budget, young adults and teens.
The Bad:
I'm not a huge fan of the colors. I would like if they would have had more neutral colors as well like a black or grey.
The padded part of the waist straps should be a little longer because the straps start to dig into your hips.
The 90 day warranty seems a bit short. If you don't believe in your product with at least a year or lifetime warranty, how are you supposed to get other people to believe in your product.
Stitching did seem a bit shoddy in some of the strap areas on the bag.
The bag just feels really small and not built for anyone tall or heavier.
So there you have it, the Wasing 55L hiking backpack. It's an excellent backpack from the price and one that is exceptional as a starter pack. However if you are a little more hardcore about your mountaineering or have a lengthier hike in mind over 5 days I would recommend something a little more durable. Overall the pack is what it is and I give it 4 out of 5 stars.
If you have a comment or review of your own feel free to leave it below!