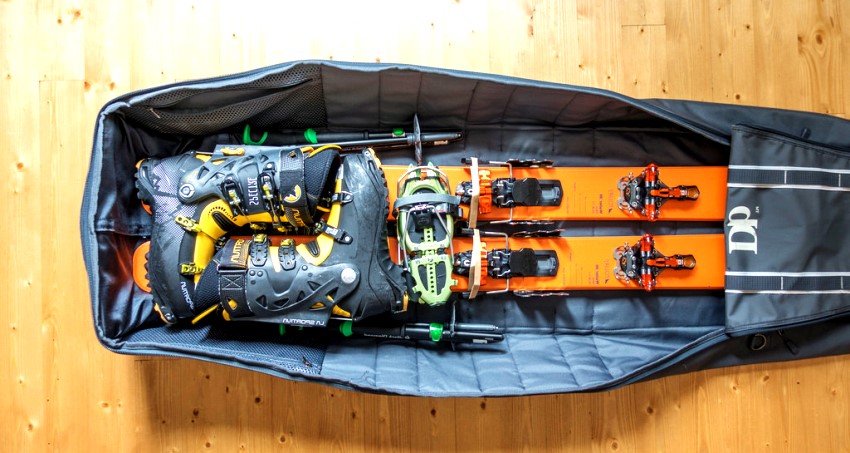 Picture this, you just booked your annual ski trip out to Colorado and you're pulling out your ski bag and ski gear to get it ready for the trip ahead. Day of the trip you get to the airport, all gung-ho about hitting the fresh powder that awaits you only to find that when you get to your destination, your skis are all battered from the trip over and now rendered useless.
Trust us you don't ever want this to happen to you, even if the airlines decide they will reimburse you, this can take some time and/or you may not get as much back as you paid. Be sure that when time comes for your next trip that you take the right precautions and take responsibility for your gear and don't leave it in the hands of the airlines.
Below are six bags out of many that we have decided are great ski bags for you to consider that range in varying prices, case types, protection, sizes and more. We wanted to be sure to find the best bags for various people as there is no one bag fits all and so we leave you with the six best ski bags for your next ski trip.
---
Best Ski Bag For Air Travel

Sportube Series 3
What is it: This is the Sportube Series 3 Special Edition ski bag. It is the latest and greatest edition to the line of ski bags from Sportube. The biggest and most capable case yet is perfect for group trips to pack for family or friends or if you just want to consolidate a bunch of gear.
Features: The Sportube Series 3 is loaded with features and is versatile enough that you'll be able to find new ways to use the case to pack for your trips. It was originally designed to hold two snowboards, boots and bindings but skiers found that they are able to hold up to three pairs of skis and poles or two pairs of skis and boots.
Dimensions: Adjustable 42-72"L x 14.5"W x 7.9"D
The Sportube Series 3 weighs 14 pounds
Made with high-density polyethylene which provides a strong, durable and very lightweight case
Heavy duty rubber wheels improve maneuverability and make carrying the case from your car to the lodge that much easier
Comes with an easy pull handle
Two durable handles to make carrying the bag around that much easier
TSA-compliant wire case pin that can be locked during shipping or travel
Easily strap to roof racks
Padding at both ends to keep your equipment from becoming damaged
Strap and band packs to hold your skis together
Versatile storage lets you fit two snowboards with boots and bindings a combination of boards and skis, fly rods, spear guns or anything else you're able to get in there
Lifetime Manufacturer's Warranty
Concerns: The Sportube Series 3 is a solid product and all around winner. There is not much to improve on with this case. If we had to pick one thing, we would like it to be cheaper but honestly for the price you can't really get much better protection for your skis.
Last thoughts: The Sportube Series 3 is consistently a best seller on anyone's list and for good reason. It provides you with superior protection and functionality that is second to none. The ability to use the case for more than just skis is a plus as well for the adventurer out there. See what all you get for the price now!



Dakine Padded Single Ski Bag
What is it: This is the Dakine Padded Single Ski Bag. Dakine has been around since 79' and was founded in and still located in Hood River, Oregon. Dakine's known for building excellent travel gear that stands the test of time and that goes beyond just snow skis.
Features: It's exactly how its name describes; it's a single ski bag that is fully padded. If you're looking for a soft sided ski case and want the best you can get then Dakine is one of the top to choose from.
The dimensions of the single ski bag are: 74.8"L x 7.5"W x 5.1"D
Ultralight ski bag for being fully padded at just 3.5 pounds
Offered in two colors to choose from, strata or black
Full length zipper makes loading and unloading back simple
Tarp lining makes ski bag durable and provide protection from the elements
Padded shoulder strap as this ski bag does not have wheels
Limited lifetime warranty
Concerns: Again a small issue but not having wheels is a deal break for me personally; however without the wheels this bag still does a fantastic job. Unfortunately I would not buy this bag thinking you can squeeze in two sets of skis. If you happen to have shorter skis you can fit jacket, gloves, goggles and maybe even a helmet in the end but that's all dependent on your gear.
Last thoughts: A well-known quality product that hardly, if ever, disappoints, the Dakine single ski bag is a top notch choice if you don't need all of the fancy features and just want basic functionality to get you from point A to point B. The fact that the bag is fully padded and offers a lifetime warranty eases our worries about it being a soft case.

---
Best Padded Ski Bag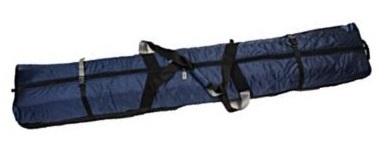 Select Sportbags Fully Padded Double Ski Bag
What is it: This is the fully padded double ski bag with wheels by Select Sportbags. It's offered in two colors to choose from, black and blue. It is a soft shell case so you will want to take note that although it's fully padded there is still the risk of damage while shipping your skis.
Features: Although this may not be a hard shell case, this ski bag by Select Sportbags does a great job of protecting your ski equipment while providing some useful functionality.
The dimensions of the ski bag are: 68"L x 12"W x 8"D
Being a soft shell case, this ski bag only comes in at about 6 to 7 pounds
Oversized bag will fit two pairs of skis up to 170cm and two pairs of poles
Fully padded inside main compartment
Padded divider to separate your equipment and keep them from being damaged
Compression straps with quick release buckles allow you to strap to the roof racks and go
Two webbing handles to carry bag around or handle on end to roll behind you
Inline skate wheels provide a smooth ride with easy maneuverability
Lining is made of tear-proof tarp that provides a waterproof seal along with durable zippers
Limited 1 year warranty
Concerns: If you're planning on packing this bag with full size skis then you most likely will not be able to add your ski boots, only if you are packing smaller skis could you get away with it.
Last thoughts: Although a soft shell case, Select Sportbags has made a durable product that is sure to keep your skis safe for road travel. How they handle with baggage handlers is another question. This bag although 68 inches in length does have enough extra space after skis and poles to pack some ski clothes, goggles and gloves should you want to pack everything into as few bags as possible.

Thule RoundTrip Single Ski Bag
What is it: This is the Thule Roundtrip single ski bag. Thule was established in 1942 in Sweden and started out by making products for fisherman. Twenty years later they were making ski racks and the rest is history. Today they pride themselves on getting your gear to its destination safely, easily and in style.
Features: The Thule Roundtrip single ski carrier is the longest ski bag on this list and despite its name is capable of carrying more than one set of skis. For a soft case ski bag, Thule does a great job of protecting the important parts of your skis as they incorporate features designed to protect the tip and tail.
The dimensions for the Thule single ski carrier are: 76"L x 8"W x 6"D
Again, another very light ski bag weighing only 3.5 pounds
Made of a durable and waterproof tarp material keeps your gear safe and the bag intact
Extra thick padding cinch-top sleeves cover the ski tips and tails
Internal compartment separates poles from skis and other gear
Compression straps prevent your ski gear from shifting around while on your travel to the slopes
Capable of fitting a single pair of alpine skis or two pairs of Nordic skis
Removable cushioned shoulder strap and handles provide for easy transportation
Lockable zippers help prevent theft (lock sold separately)
Limited lifetime "BringIt!" Warranty
Concerns: A very well made product, it's hard to find any concerns with this bag. I would only mention there are no wheels. Aside from that small concern this bag provides the extra protection you are looking for at a very reasonable price.
Last thoughts: The Thule Roundtrip ski carrier is a solid ski bag and provides an extra bit of protection on the tips and tails of your skis while also keeping you sharp ski poles from damaging any of your gear while they are stored in a separate internal compartment.
The ski carrier is large enough to not only store one or possibly two sets of skis but could also store most of your ski gear such as clothes, gloves and goggles. You could possibly even fit your helmet in there. For the price of this ski bag it's easy to see why it's one of Amazon's best sellers.


---
Best Budget Ski Bag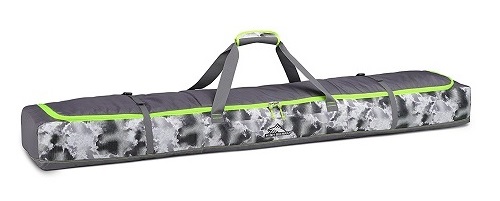 High Sierra Double Ski Bag
What is it: This here is the High Sierra Double Ski Bag. Here is another soft shell ski bag but one that's meant for the budget spenders that worry less about what their ski bag looks like and more about just hitting the slopes.
Features: High Sierra is a known player in the travel gear world and provide some of the best budget items you'll find for your next adventure. This High Sierra double ski bag is not loaded with out of this world features or anything but it gets the job done at an extremely affordable price.
The dimensions of this High Sierra ski bag are: 73"L x 12"W x 7"D
Extremely lightweight at only 3 pounds
Offered in blue/black combo and thunderstruck/charcoal/zest, don't ask me about the name
Main compartment can fit two pairs of skis and poles
Padded divider and tie down straps to keep gear organized and protected from damage
Quick release compression straps to securely hold your skis in place
Long webbing handles that are usable as a shoulder strap
High Sierra's website states its products are under a 5-year warranty
Concerns: While price plays a big role in any purchasing decision, just know that although this is an extremely great price for a ski bag it is also not without some faults/features that could make it better. There are no wheels on this ski bag and the big issue in my mind is the lack of padding. It is not fully padded and thus worries me about damage to the skis.
Last thoughts: This bag is about as basic as ski bags get and that's perfect for some. If you're just looking to head up the mountain for a day with friends or even planning on doing road trips these should do the job fine. If you plan on walking long distances or flying, I would maybe look for something that offers wheels and more protection. Again for the price though this will get the job done.

Athalon Single Padded Ski Bag
What is it: This is the Athalon Single Padded Ski Bag. It is by far the most cost effective bag on this list yet provides everything you need to get your skis to the mountain so you can begin hitting those slopes. Being a best seller on Amazon doesn't hurt either.
Features: The Athalon ski bag is offered in two colors for you to choose from, black and glacier blue. It has the basic features you would expect from a budget ski bag but it does them extremely well which is why it makes the list.
Dimensions of the Athalon ski bag are: 60"L x 12.5"W x 5"D
Extremely lightweight, this bag comes in at 2.2 pounds
Made with a high density polyester and waterproof backing
Fully padded from end to end
Coil zippers that are self-healing
Interlocking zippers
Compression straps conform the padded bag around your skis
Concerns: At first glance everything seems great and that's true for most people. There are a few people that had issues with the quality of the materials where one person's skis poked holes in the ski bag and another person's compression straps broke.
These seem to be typical one offs that you see with any manufactured product. Unfortunately I did not see any guarantee or warranty stated by Athalon so you are at their mercy as well as Amazons.
Last thoughts: The Athalon is a popular single ski bag that can certainly attribute some of that popularity to the price. Although there is no warranty mentioned, if you have any issues with this bag then you can simply buy another, that's how inexpensive they are. If you're worried about it, I would look for more quality out of the bag which typically means more money.
Taking everything into account with this ski bag it's a winner in our books. Sure it may be a humble bag and nothing to write home about but if all you care about is making your way to the mountain then this bag can definitely get the job done.

---

Things to Consider
Capacity
The capacity of ski bags is an important consideration because it's the difference of having to buy extra ski bags if all of your gear does not fit into one. There are countless ski cases available on the market and while most of ours listed are single ski bags, most of those are capable of holding two pairs of skis.
When choosing a soft bag, you'll want to make sure that there is plenty of room for all of the other gear you may want to bring, jackets, gloves etc. These bags are sometimes referred to as cargo bags. It may be a smart idea to take into consideration the likelihood of purchasing another set of skis down the road as well in case you don't want to have two sets of single ski bags.
Be sure not to overload your soft ski bags however as anything more than two sets will compromise the durability of the ski bag, as well as the handles from all of the weight you'll be carrying around.
Wheels
Wheels just make everything so much more convenient. I would rather prefer not to carry my ski bags everywhere I go and instead elect to roll it behind me, making me much more comfortable in my travels as well as not being as tired when I finally get to the resort to ski.
Be sure to take the wheels into consideration when looking at a bag and decide if you need them or not. Make sure to do extra due diligence on soft ski bags when it comes to wheels as sometimes the design of a soft ski bag compromises the functionality of the wheels.
Also take care to notice the difference in the type of wheels. Some ski bags will come with very rugged and durable thick wheels while some will offer smaller inline skate wheels. It comes down to personal preference and really where you plan on rolling your ski bag around at.
Padding
One of the most important aspects when deciding on a ski bag has to be the padding that your skis will receive. Now while not all ski bags offer the same level of protection, that doesn't mean the ones towards the bottom end are useless or should be disregarded. These often offer ample protection for very reasonable prices.
Typically you will find that the cheaper bags will come with a thick tarp type of material that is very durable and great for protecting your gear from scratches and the like but lack much padding. Then you have some ski bags that offer a mix of the two where the ends will be padded but the middle of the bag not so much. Finally a fully padded ski bag typically costs more because of the added protection all the way around.
A cheaper nylon type of bag will absolutely be able to do the job if you are planning on just tying your skis to the roof racks and heading out. If you decide to fly however, we recommend you look for something that offers padding as I'm sure you're aware of but baggage handlers aren't always that gentle.
Aside from the padding around the bag, also look for a padded divider on the inside of a ski bag if you plan on packing more than two pairs of skis. You may also want to find bags that have a separate internal compartment to hold your poles as well to avoid damage to any of your other gear.
Warranty
When it comes to ski bags typically you would prefer not to have to use the warranty as that can also mean you may be looking for a warranty on your skis, if they get damaged. However, it's better to have one and not need or use it than to not have a warranty and need to replace your damaged ski bag.
While most well-known ski bag providers are known for making quality products, they also tend to stand by them with lifetime warranties. If there is no lifetime warranty then look to see about any limited time warranty. Barring that you may want to consider reading reviews of the ski bag in question to see how people have described its durability.
All ski bags on this list either have a lifetime warranty, a limited time warranty or have been researched by us to see how the bags have held up. If there is any concern about the bags durability we will have mentioned it in our "Concerns" area for each ski.
Price
Finally the single biggest contributor to most people's decision is money. Nobody wants to spend more money than is necessary for something but sometimes that extra money spent is just for peace of mind. Sometimes people just need the bare minimum just so they can get to the slopes, either way we have you covered in this list.
When deciding on a ski bag make sure to look for the features that are most important to you and figure out which bag has most if not all of those features. Sometimes a cheaper bag isn't such a bad idea if you only plan on going skiing once a year while other times you may want to shell out for a hard case that's three times more expensive if you plan on air travel and skiing multiple times each season.
---

Conclusion
It's easy to look at bags just for one characteristic that you're looking for whether it is the cheapest, the most padding, the biggest capacity but you should really consider all aspects of a ski bag. It is probably one of the most important things you will purchase in your pursuit to endless powder days.
You want to be sure that the bag you end up choosing will not only last you trip after trip but also protect your belongings accordingly and if you have the extra coin then perhaps getting something that stands out doesn't hurt either. Hopefully you'll have decided on a bag after reviewing our list and get excited for your next trip to the slopes!
If you're not living on the edge, you're taking up too much space!