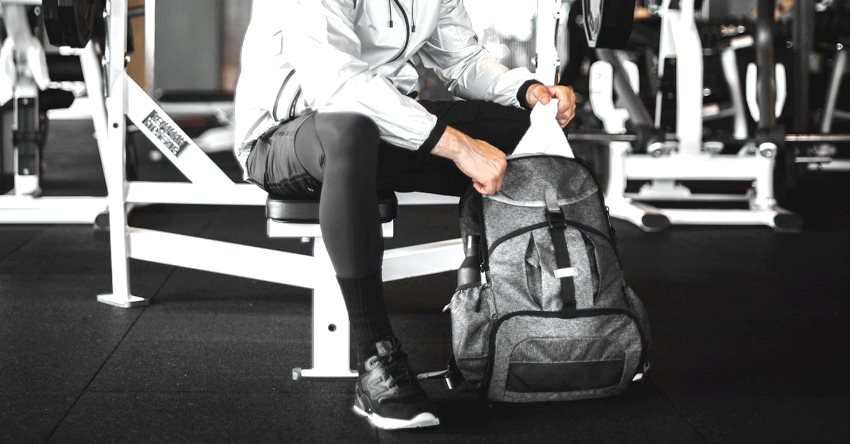 Today's gym goers are not the same as they once were. We are a different group of people with different needs and for that reason we need different gym bags. The days of a simple bag with a shoulder strap or handles on it without anything else have past.
There are hundreds if not thousands of different gym bags to consider, accommodating for how we have evolved as gym goers. Luckily, we've rounded up what we consider to be the best gym bags for different categories depending on who you are or what your need for the gym bag may be.
For a quick glance of what we have reviewed you can view the table below or for a mini summary of the specific gym bag, read on below and see what that particular bag has to offer. Who knows maybe you'll find exactly what you're looking for.
---
Best Gym Bag For Women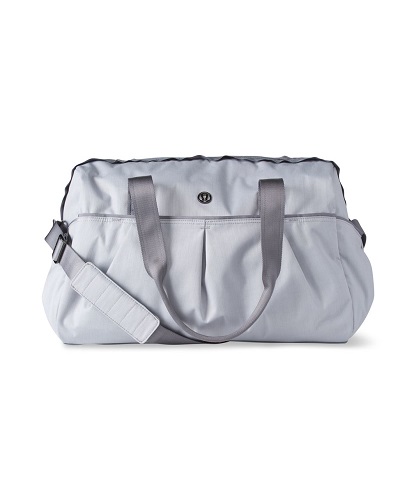 Lululemon All Day Duffel Bag
What is it: This is the All Day duffel bag by Lululemon. Lululemon is well known as being a top brand for many women and most recently men. This All Day duffel is perfect for women who are looking for a gym bag as well as using it for other uses.
Features: The Lululemon duffel bag does a surprisingly good job of organizing its contents as this gym bag features plenty of pockets to store your different belongings. So features of this duffel are:
The dimensions are 18.5"W x 12.5"H x 9"D
Weighing only a couple pounds it never gets too heavy to tote around
Built to be a 24 hour bag you can use the bag for the gym, work or a night out
Excellent space, multiple interior and exterior compartments provide excellent organization
Concerns: If you have something bigger in this bag like a yoga mat it will tilt the bag with use of the shoulder straps. Read on below for more on the Lululemon yoga bag.
Last thoughts: This bag is built to do multiple jobs and the role of gym bag it does very well. It's perfect for going to the gym from work or vice versa, taking out to eat with or just shopping in general. This bag fits many needs and lives up to its name of All Day duffel.

---
Best Gym Bag For Men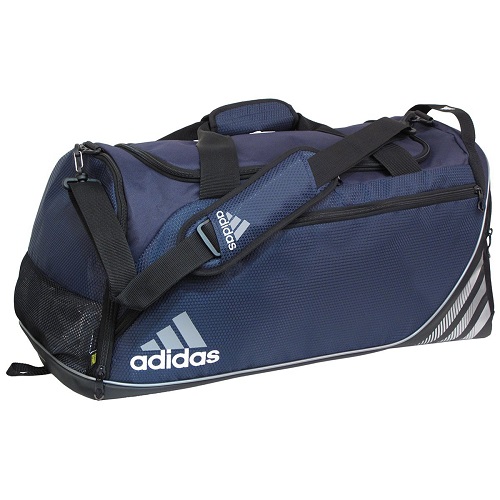 Adidas Team Speed Small Duffel Bag
What is it: This is the Small Team Speed duffel bag by Adidas. It's one of Amazon's best-selling gym bags and comes in 9 different colors for you to choose from. There are other sizes available but we feel this fits most needs nicely.
Features: The Team Speed duffel bag is made for excellent functionality and features multiple compartments for different uses. It's also incredibly comfortable all while being durable enough to take a beating only a gym rat can provide.
Again this is the small version of this gym bag but it's offered in larger sizes as well. The dimensions for this duffel bag are:
It comes in at a lightweight 1½ pounds
Large main compartment includes an interior zippered pocket to stash your valuables while hitting the weights
One end of the bag has an open mesh pocket for additional storage and the other end has a freshPAK compartment that provides excellent ventilation for sweaty clothes or smelly clothes
Large front pocket that runs full length of bag is perfect for quickly storing additional items you want to keep separate
Water resistant bottom to the bag will keep contents safe from wet ground
Removable and adjustable shoulder strap is air mesh padded as well as wrapped handles provided excellent comfort when carrying the Team Speed duffel around
Useable as carry-on luggage
Concerns: Material seems a little thin but for the price it holds up very well. Water resistant bottom is nice but rest of bag is not water resistant at all and contents will get wet if in the rain.
Last thoughts: For the price this bag is hard to beat. If you're looking for a simple bag to hold your clothes while at the gym or on a short weekend trip this will get the job done. The padding on the shoulder strap feels amazing as well.

---
Best Gym Bag Backpack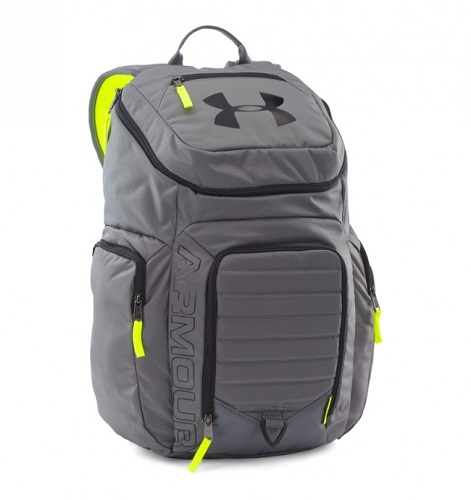 Under Armour Storm Undeniable II Backpack
What is it: This is the Under Armour Storm Undeniable II backpack, built specifically for hitting the gym hard. It's made of 100% polyester to keep it lightweight yet durable and works both as a backpack or duffel bag.
Features: This backpack duffel bag combo screams gym, sports, mud runs. Its features are all designed to deal with the nastiest, smelliest clothes as well as deal with the elements. Let's see what else its got.
The dimensions on this medium bag are:
It weighs almost nothing at just a pound and a half
Features a highly water resistant finish all the way around, can walk or bike in rain without any worries
Adjustable and padded shoulder straps with sternum strap for more stability
Two large end pockets that are vented to allow you to keep separate anything that stinks or is dirty as well as one being expandable allowing you to store shoes or dirty clothes
Has 1 interior pocket as well as 4 exterior pockets and one 45 degree water bottle pocket
Concerns: Mostly nothing but good things to say when it comes to the Under Armour Storm Undeniable II backpack. We did find one person who had durability issues with the water bottle pocket. If you're a runner or something this might be an issue but if you're using this bag for the gym then it's a small nuisance if that pocket doesn't last
Last thoughts: As mentioned earlier this bag was bred for the gym goers. It's extremely lightweight for a gym bag and has multiple pockets just for workout clothes, shoes and towels to keep them separate from the rest of the bag. If for any reason you have an issue with the backpack, Under Armour's return policy is top notch.

---
Best Gym Drawstring Bag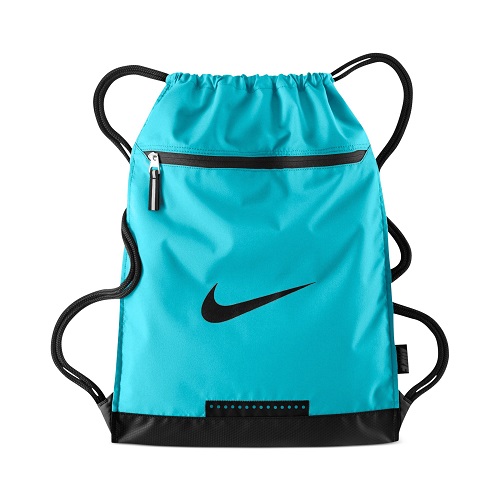 Nike Team Training Gymsack
What is it: This is the Team Training Gymsack by Nike. It's one of the best drawstring bags you can get for this price. It's offered in 7 different colors to choose from.
Features: While drawstring bags aren't known to have many features, Nike was able to provide a couple with their gymsack.
The dimensions of this gym bag are 19.5"H x 14.5"W x 3"D
Weighs less than half a pound as it's made of polyester
Nike made this with water resistant fabric to give it some additional durability and keep your items inside nice and dry
An outside zippered pocket provides a secure area for smaller items.
Thick cords won't dig into your shoulders, providing more comfortability
Concerns: Usually when I think of drawstring bags I'm thinking of basketball but unfortunately this is slightly too small to carry a basketball. The strings are also a bit long so it may not be suitable for younger kids as the gymsack will hang fairly low.
Last thoughts: A gym drawstring bag with some features actually surprised me. They've updated them from the crappy thin material with thin string bags from when I was younger and today's gymsacks provides features not expected.

---
Best Gym Bag For Work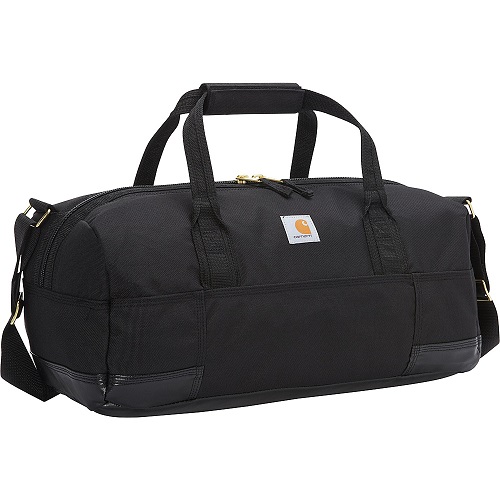 Carhartt Legacy Gear Bag
What is it: This is the Carhartt Legacy Gear Bag, perfect for those professionals who are going straight from the office to the gym or vice versa. If you want something a little different than black, Carhartt offers this gym bag in Carhartt brown and Real Tree Xtra Camo.
Features: The Carhartt Legacy gear bag is made of tough synthetic material that's built to be a heavy-duty abrasion-resistant bag with excellent water resistance. Carhartt is known for providing quality products so let's see what else this Legacy Gear bag features.
There are three sizes to choose from but the most popular is their medium version which is labeled as 23 inch. The dimensions of this bag are:
It is relatively lightweight for its size and structure at 1.5 pounds
Made with 1200 denier polyester this bag is extremely durable
Features YKK zippers, known to be the best available as well as triple stitched seams that won't cause the fabric to tear away from the bag
Handles on both the top and sides provide multiple easy handling
Features a removable and adjustable shoulder strap for easy carrying
The large main compartment which is center zippered can be used to hold change of clothes and any equipment you might need for work or the gym and smaller zippered pocket for smaller items like keys or wallet
30" version of the bag features a separate shoe compartment
Useable as a carry-on if not over packed
Concerns: Not much organization available as the only pocket is inside and 5 inches long. No way to compartmentalize unless you get the 30" bag for the additional shoe compartment.
Last thoughts: Carhartt has been around for quite some time and are known to make quality products. This gym bag is no exception as it looks great and is extremely durable. It doesn't have much in the way of organization but if that isn't an issue to you then this is a perfect bag for taking to and from the office.

---
Best Gym Bag With A Shoe Compartment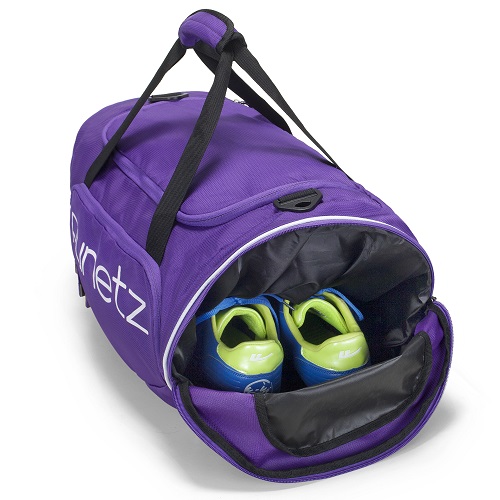 Runetz Gym Bag
What is it: This is the Runetz gym bag. It's an extremely versatile and functional bag and honestly for the price you simply can't beat it. That's why it's been one of the best-selling gym bags on Amazon for some time now.
Features: The Runetz gym bag has many features not found on almost every other gym bag plus it's offered in 8 different colors to match your personality. Other features of this bag include:
Offered in large (20") or extra-large (30") the large dimensions are:
The Runetz gym bag comes in at less than 1.5 pounds
Comfortable handles for easy handling, made of polyester
Adjustable and removable padded shoulder strap
Reinforced stitching provides superior durability with minimal quality issues arising
One interior pocket and one exterior pocket with mesh dividers for keys, phone or wallet provide excellent organization
Two end pockets that are ventilated to keep your smelly or sweaty clothes or towels separate from main compartment
One end pocket is perfect for storing shoes as well
Can easily be machined wash
Smaller bag perfect as a carry-on
Concerns: Material seems a bit thin but as long as you're not putting pointy objects in your bag it should be fine, other than this there's nothing to mention.
Last thoughts: This gym bag by Runetz provides all of this functionality at an unbelievably cheap price. It's hard to find a gym bag better than this and one that stores shoes makes this the best buy you can get for your money.


---
Best Gym Bag For Crossfit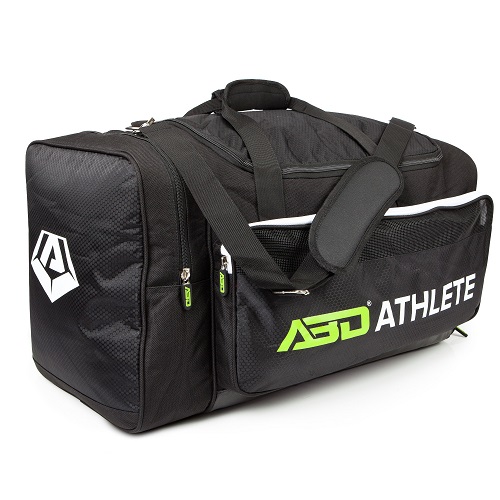 ABD Athlete Gym Bag
What is it: This is the ABD Athlete gym bag. It's a multi-compartment gym bag that is built to utilize every inch of space. With this gym bag you don't get many options of style, only black or navy.
Features: The ABD gym bag has tons of functionality and features that make it ideal to be the best crossfit gym bag. Below are some of the features that make this bag what it is:
Dimensions for this crossfit bag are:
This bag is by far the heaviest on this list at 3.5 pounds but let's be honest, if you're using this for crossfit then does the weight really matter
This bag features 7 different compartments to organize all of your belongings you'll be taking with you to the gym
There are ventilated pockets to keep your gear that stinks separate from the rest
A dedicated shoe or cleat compartment
Weatherproof bottom will keep water from leaking into the bag from the ground or floor
Durable 1200 ballistic nylon and reinforced side walls provide exceptional durability
Built in cooler compartment keeps your post workout drinks and snacks cool
Removable end panel allows customization for your team or you individually
Offers a 1 year replacement warranty which includes 90 day money back guarantee
Concerns: Might be a bit big for lockers so make sure you compare the size of this bag to what your locker will accommodate. If being a little heavy is a concern for you then look elsewhere but honestly why are you even looking at gym bags then if you're worried about weight?
Last thoughts: This bag has all kinds of functionality and its durability is insane all at a reasonable price. It's definitely a gym goer's bag and specifically we think it's best for the crossfitters out there. If your locker at the gym is too small just carry the bag around the gym or post up in one section and let everyone know who the boss is.


---
Best Gym Bag That Hold Yoga Mats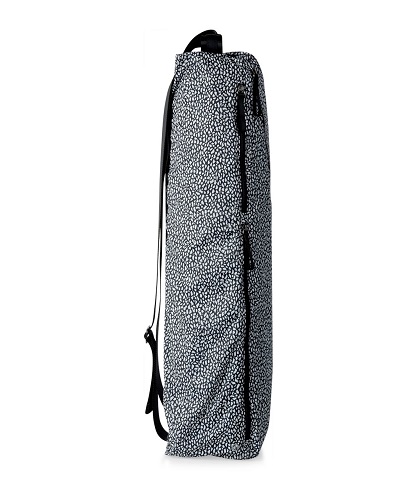 Lululemon Women's The Yoga Bag
What is it: This is the Lululemon women's yoga mat bag. It's built specifically for the yoga enthusiasts in mind and who better to make it than a company equally dedicated to yoga.
Features: The Lululemon yoga bag has a couple features besides being just a holder for your yoga mat surprisingly enough.
The dimensions of the yoga bag are 17" x 9"
It's capable of holding up to 50 pounds
There is an interior pocket built to hold your water bottle
An exterior zippered pocket is meant to keep your smelly gear separate from your mat and anything else you may have inside
Removable shoulder strap can double as a stretching strap
Concerns: Be careful to make sure that your yoga mat will fit inside this yoga bag as larger mats will not.
Last thoughts: For being a bag meant to specifically carry a yoga mat, Lululemon has done a lot with it. They've built in extra functionality not seen in many other yoga mat bags. Just another example of Lululemon setting the bar.

---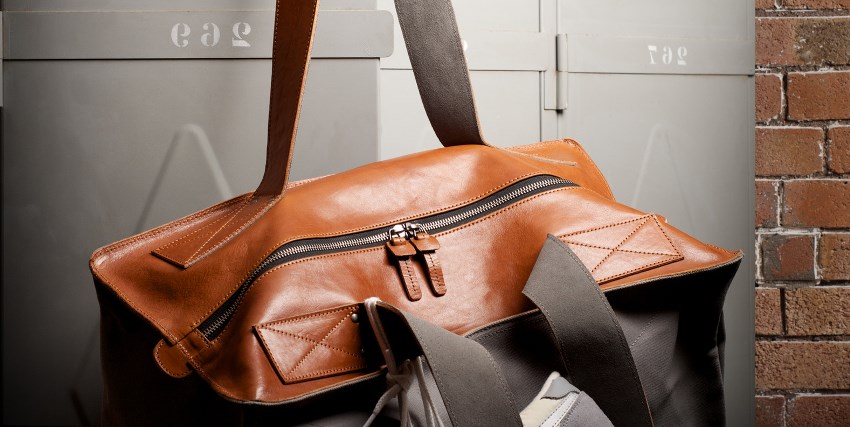 Things To Consider
Style
Obviously everyone has different tastes and not everybody is going to want to go with the same old boring black gym bag that everyone else at the gym has. It's important to define who you are and why should your gym bag be any different.
When it comes to style there are two main factors that come to mind and the first is color. Pick something that represents you best and if you happen to like black well then it's just an added bonus as almost everything these days is offered in black.
The second main factor is design of the bag. Are you a traditional duffel bag gym goer or are you looking for something a bit different not only to stand out but perhaps it's more applicable to your lifestyle. Consider other designs like backpacks, rollers, drawstring bags, there are quite a few options to choose from.
Material
Gym bags these days can be made of a number of different materials and each one has its own unique properties that will decide just how well your gym bag fairs.
It's important to consider what the gym bag is made out of, is it some sort of canvas, polyester or perhaps a rubber or plastic type of material? How thick is the material, will it be durable in the long run if it's constantly being thrown around, ran into, poked with keys or anything else you might throw in there?
How does the material feel, does it slide easily against your clothes or brush harshly almost acting like sandpaper? Perhaps if it's a rubber or plastic type of material maybe it even sticks to your clothes. We've found Polyester bags to be our preference.
Water Resistance
Tying into the type of material that your gym bag will be made of it's important to know if that material is made to be water resistant or waterproof. Be careful of certain companies saying their bag is water proof when in actuality it's more like it's water resistant.
Notice that sometimes a gym bag will be described as having the bottom made of waterproof material and not allow any water in from wet grounds or wet floors. This solely applies to the bottom of the bag and most times the rest of the bag will not be water resistant.
Features
Everyone's favorite part of a new toy or new piece of travel gear or new gadget is the features and functionality it has. With gym bags it's tough to see how it can do much more than hold your clothes but if you look there are bags out there that do all kinds of things.
When looking for gym bags for this list we wanted to consider almost anything a possibility as long as it fit into the desired category. There are duffels that double as a backpack, gym bags that don't even look like gym bags and some that have cooler insulation!
When looking for gym bags just keep in mind what all you are looking for it to do. If you need something that will carry your shoes or hold your dirty and sweaty gym clothes separate, there are gym bags out there that do that, just think about what you need before you pull the trigger on buying it.
Warranty/Guarantee
As with any product you'll ever buy you want some kind of assurance or guarantee that the product works as advertised. In lieu of there being a warranty or guarantee, reviews are the next best things.
If you're rough with your gym bags or plan on utilizing it for more than just the gym perhaps consider finding a bag that offers some sort of guarantee or warranty in case of damage.
Most gym bags are built pretty rugged to take the beating that is expected of them and again if you can't find a gym bag you like that has a warranty, than consider what all the people reviewing it have to say as that's a great indicator of future performance.
Price
Perhaps the most important consideration when looking for anything in your life is the costs of it. Is it worth your time, worth your effort, worth your money? Gym bags are no different and when considering what are the best gym bags available we took a fairly cost effective strategy.
There are times when needing to pay for top brands is important and times when a suitable lower shelf product will do. It all depends on your style, your income, your research and so much more.
Don't look at price as the only contributing factor when making a decision on a gym bag but consider it as part of the overall process on deciding which gym bag will be perfect for you. Perhaps that similar looking gym bag that's half as cheap will do the job just the same if not better.
---

Conclusion
There are many things to consider when buying a gym bag, who would have thought. But we've listed what we think are the top gym bags for various categories that might fit your needs.
Take into consideration the different aspects of each gym bag; the functionality, price, durability, style. There are literally hundreds of different gym bags to choose from and each one is a little bit different and has its own style and uniqueness.
Of all the bags we scoured through these were the top ones for each of their category, respective of the price. So go on, stop reading about gym bags and actually buy one so you can start getting into the gym and get that body you know you can get.