Exciting Vera Bradley Large Duffel
The Vera Bradley large duffel bag is by far one of my favorite products. Whether it be for travelling overseas, week long trips out of state, or just a weekend out of town, this bag gets the job done.
Interested to see what this travel bag has to offer? Just read on below to get a sense of the awesomeness that is, Vera Bradley.
The Vera Bradley Large Duffel Has Style
When it comes to style it's hard to beat anything by Vera Bradley and this duffel bag is no exception. This may be one of the best travel bags that you can get out there in terms of designs. It is one of the hottest products in the duffel bag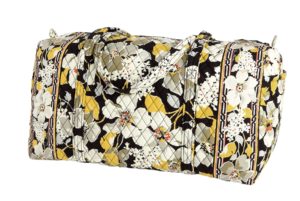 line and for good reason.
This collection boasts an impressive seventy different designs to choose from. There is literally something for everyone's taste.
So your first step is to narrow down the patterns that you want to a handful, because how can you only want one? After you have a couple of different designs that you are looking at you then have another choice to make. Some of the designs offer either a plain or patterned fabric on the inside.
Once you have picked out your favorite design, or two, get ready to be amazed when this shows up at your doorstep with the amount of clothes that this large duffel bag can carry. It comes in at an impressive size of 22" x 11.5" x 11.5" with a 15" strap handle.
With all of this taken into account, its impressive selection of different designs and it's incredible size, I give the style for this Vera Bradley large duffel, 5 out of 5 stars.
Durability Of The Vera Bradley Large Duffel
The durability with this Vera Bradley large duffel bag is for the most part on point. Why is it not perfect you ask? It's a minor issue but we'll get to that in a little bit.
One of the features that I absolutely love about this duffel bag is the fact that it is machine washable! You simply wash cold with a gentle cycle and line dry and it's as good as new. All this bag is made of is a quilt like cotton so it's super easy to maintain. You can wash it multiple times and it will not fade either! Now I should mention this but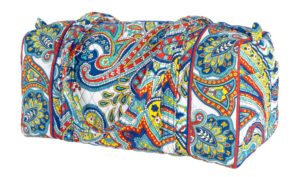 even if you have this bag zipped up, it is not waterproof if it rains outside. It is made of cotton after all.
This bag has been used over and over multiple times without any signs of use or wear. I feel that this bag is sturdy enough to take on long trips as well. I personally like to go on month long trips to Europe and it does a fantastic job of holding up underneath the stresses of travelling.
What would a review site be without the cons of a product… a sales pitch. So without further ado, the slight concerns that I mentioned earlier in this section are in all fairness minor but nonetheless, I will point them out.
The bottom of this bag does not come with a hard backing like other Vera Bradley products. With this the bag can lose its shape when it's full and you are carrying it around. And speaking of a full bag, when this bag is packed to the brim it can get heavy, sometimes too heavy to carry for long periods of time. I would recommend not putting heavier items in here and maybe clothing only or some smaller bags. An alternate option from Vera Bradley would be this slightly smaller weekender with shoulder strap.
The last concern that I have but have not encountered yet is with the zipper. It seems a little bit flimsy and if you tug too much on it or try to over pack your bag, there might be some issues with it.
Between issues with zippers and its heavy weight but also the fact that it's machine washable and holds up really well underneath the stresses of traveling, I give the durability of this Vera Bradley large duffel, 4 out of 5 stars.
How Functional Is The Vera Bradley Large Duffel Bag
The functionality of this travel bag, kind of like the durability, has some great attributes with just a couple of minor concerns.
Let's start with the main reason why anyone wants to buy this product… the space. This bag is big, I mean really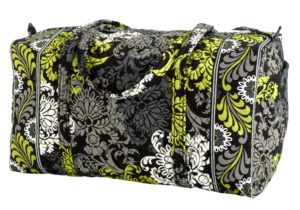 big. This duffel can easily hold a week's worth of clothing if it's a casual trip; meaning bathing suit, shorts, flip flops, shirts and tops, maybe even your toiletries or a small purse, depending on what you take. If you plan on doing laundry on your trip or it's just for the weekend then don't worry about space with regards to sweaters, jeans or other winter clothing.
One difference between the numerous styles of the best travel bag out there is that some come with inside pockets and others don't. So it really depends on what you want on the inside. Just make sure to check your specific style before you order, or get one of each! If you go with a bag that has pockets on the inside you will get something like pockets in a suitcase. Most likely there are 3 net pockets, one large and two smaller, all on the same side.
Speaking of pockets, this one comes with one outside pocket, regardless of what design you go with. The downside depending on who you are is that it is not a zippered pocket. I can see how things could possibly fall out of that pocket when in transit in a trunk or plane. If you're worried about anything in the side pocket, just stick it in the duffel, it zips up.
The biggest downside with this product and again this is just personal preference, but there is no shoulder strap.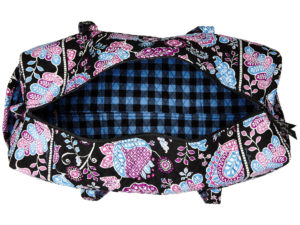 Luckily, you can use the hand straps on your shoulders as they are large enough and it gives you easy access to the pocket on the side of the bag without having to put it down.
Now to my favorite part of any review, how does it handle traveling by plane and through the airport? Although this is a large duffel bag, it does meet airline carry-on regulations. Now you won't be stuffing this under the seat unless you have almost nothing in it but it does fit nicely into the overhead storage. This bag has been on numerous trips with budget airlines and it easily fit within every single airlines requirement. I wish one thing that it had, however, is a strap on the back so that I could attach it to a roller bag, guess you can't always get what you want.
And finally to round out this section, when you get back from your amazing trip overseas or from a weekender, it can easily be folded flat for easy storage! With this in mind and the countless other specifics with regards to the functionality of this duffel bag, this Vera Bradley large duffel bag gets a very hearty, 5 out of 5 stars.
Vera Bradley Large Duffel Score
This is by far one of my favorite pieces of travel gear and gets 4.5 stars with my stamp of approval. From its superb functionality and carry-on size, to the many different designs, to the sheer amount of space this bag offers, it's no wonder it's one of Amazon's best-selling bags. Looking for a replacement for a big bulky suitcase? This might just be the best travel bag that you can replace it with. So get to browsing through all of the designs and pick the one that matches you best!
Have something to add or do you think I've missed anything? Then please leave a comment or review below!