A Word about The North Face
The North Face has been one of the leading manufacturers of active gear in the last fifty years. They started out small by opening a single shop in Bay Area, California, and now after decades of hard work and expanding, The North Face is a global brand that is recognized all over the world.
Doug Tompkins, who is a co-founder of The North Face vowed to make equipment that will inspire you to go out and experience the beauty of nature and wilderness. Explorers and athletes adore their passion for creating high-quality gear they can rely on in various situations. The North Face backpacks are quite popular and they are among the best sellers of this brand.
The North Face Borealis Backpack
If you enjoy our The North Face Borealis Backpack Review and want to find out more about similar products or the brand itself, we highly recommend that you visit their official website. It has plenty of information about The North Face backpacks and the blog posts are very inspiring to every explorer out there.
Get Inspired section is particularly interesting because it features snippets from daily lives of some of the most popular athletes that represent this brand. So if you want to learn about Emily Harrington's training routine or follow Jimmy Chin as he climbs Meru in India, this is the place to go.
You will find plenty of tips and tricks on how to spend your time outdoors or find the proper gear that will suit your level of experience. And you might even discover your next travel location!
Style and Design of The North Face Borealis
The North Face Borealis backpack is designed to be both comfortable and stylish. This backpack will help you organize your things effortlessly because it has plenty of compartments and pockets. The front features The North Face logo which is not too large but it is still visible. You will be able to choose from forty-one different color and pattern combinations. Here are our ten favorite designs that might interest you:
The look and design will stay the same no matter which color or pattern combination you select. The variety of shades will allow you to pick and choose the perfect backpack that will add a finishing touch to your personal style. The available range features very pleasant shades which are accented with brighter colors so you can be certain that your backpack will be noticed.
The North Face Borealis comes in only one size. An empty backpack weighs 1260g or 2lbs. The volume is 28 liters. The main compartment has a laptop pocket so the backpack is big enough to hold a 15-inch notebook.
The exact measurements are:
In inches: 75 inches in length; 13.5 inches in width; 8.5 inches in depth;
In centimeters: 50 cm in length; 34.5 cm in width; 22 cm in depth;
While the shape itself might not be very innovative, it is not bulky and the backpack will sit comfortably on your shoulders. We will get a closer look at the fit later on in this The North Face Borealis backpack review. The fact that you can choose from forty-one different color combinations is very impressive.
The North Face Borealis backpack has a very high score when it comes to the design and style. We will give it 5 stars out of 5. It is functional, has numerous little features and storage options which will make organizing a lot easier.
The North Face Borealis Durability
When you take a first look at The North Face Borealis backpack, you will immediately notice how firm and well-built it feels. The combination of different nylon materials will ensure that this particular backpack will last you for years, even if you wear it on a daily basis for either work, school, or outdoor activities.
We have already mentioned that this backpack is very light but it is still reliable. The nylon ranges from 210D to 1680D so you can be certain that it will not get damaged easily. Not to forget that The North Face has a lifetime warranty for this product.
The company stands behind their gear so you can expect a speedy resolution to any of the issues that might arise after the purchase. The price of The North Face Borealis backpack is somewhere in the mid-range but that doesn't mean you will not get the premium customer service. So if you notice any irregularities after you buy the backpack, contact The North Face via their official website or phone.
The overall rating for durability of The North Face Borealis backpack is a solid 5 out of 5. Since the backpack is not extremely expensive, you will get a reliable bag that can last you for a very long time. The seams are done perfectly and the materials are made to last. It might not be the most durable outdoor backpack ever, but it deserves the highest mark nevertheless.
The North Face Borealis Comfort
Saying that The North Face Borealis backpack is simply comfortable would be an understatement. The designers did their best to place the best cushioning in the right spots in order to provide the user with the outstanding experience.
While The North Face is known for making outdoor equipment, Borealis is perfect for people who need a solid and functional backpack that will be used on a daily basis. It will be particularly enjoyable for those of you who love to organize because it has plenty of pockets and compartments.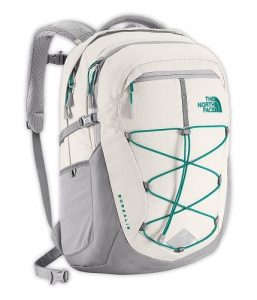 It has a laptop sleeve in the main compartment and you can slide in your 15-inch laptop inside without worrying it might get damaged. Your computer will be protected from all sides so you can carry additional items in the same compartment.
There is another smaller pocket that can be used for carrying your tablet or a smaller laptop which might not fit the big sleeve properly. So yes, The North Face Borealis Backpack is perfect for casual users who want to take their gadgets anywhere they go.
The straps feature the FlexVent system so they are shaped and molded to fit shoulders. The back has additional cushioning and the mesh will let your body breathe, keeping you cool at all times. You can also use the belt strap if you feel like the load might be a bit too much for your back.
The details, such as a firm but breathable back are very important and they bring this backpack to a whole new level. It is designed with tech-savvy users in mind so you will find plenty of storage options for your electronics and gadgets.
So we give 5 out of 5 to The North Face Borealis when it comes to the overall comfort. Every little section of this backpack is well padded and it will sit on your shoulders perfectly due to the shaped straps that will follow your body shape.
Features of The North Face Borealis
We have already mentioned a couple of key features in this The North Face Borealis backpack review but going through the whole list might be beneficial to some of you. Even though this backpack can be used for short outdoor adventures, it might lack more professional add-ons some athletes might need out there.
The number of interesting details is still impressive and you will discover that The North Face really outdid themselves with this simple yet very functional design: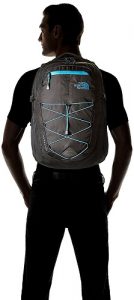 15-inch laptop sleeve with excellent cushioning;
Padded sleeve for a tablet in the front compartment;
Elastic bungee for extra storage on the outside;
Padded top handle;
Waist belt that can be removed when not in use;
Sternum strap;
Reflective bike light;
Easy access external pocket for things such as sunglasses or phone;
Two bottle pockets made of stretch mesh;
Compression straps on the sides for adjusting the load;
However, the extras will be more than enough in an urban setting and will provide you with plenty of storage solutions for your electronics and small accessories. Plus, you will have an easy access to pretty much anything you decide to carry in The North Face Borealis backpack.
The features you will get with The North Face Borealis backpack have a 4 out of 5 rating from us. While there are many organization options and useful components, this might not be the best-equipped backpack for long outings in the wilderness.
Value for the Price
Borealis backpack is one of The North Face's bestsellers and it is clear why – the price is very affordable and you will get an amazing backpack that can last you for years. It is very versatile so you can use it for both work and leisure. You don't have to break a bank in order to have a functional backpack.
The materials are durable while the design is very contemporary and modern which is a perfect combination for anyone who is looking for a versatile backpack. However, it might not be suitable for people who are looking for a professional hiking gear.
It will be more than enough for day outings in nature, as well as running errands around the city, or carrying your laptop with you to your local coffee shop or classes. Additionally, you can find the right color combination that will suit your style because there is plenty of options to choose from.
The good about The North Face Borealis:
Well-padded and comfortable – The FlexVent suspension system which is unique to The North Face really makes this backpack stand out. The straps are incredibly plush and you will not feel uncomfortable throughout the day.
Double laptop sleeve – You can be certain that your electronics are safe in this backpack because both compartments are secure. They offer a perfect fit for your laptop and a tablet.
Organization – Besides the laptop sleeves, you will get plenty of extra storage options that will help you pack your things perfectly. It is very useful for school and work. There are both internal and external pockets that will allow you to have a quick access at all times.
Plenty of colors and patterns to choose from – It doesn't matter if you love bright colors or you tend to stick to the classic designs – you can certainly find the combination that will fit your personality and style.
The bad about The North Face Borealis:
Not a professional hiking backpack – Even though it is made by The North Face, this particular backpack model might not be the best option for serious athletes and hikers. They might need something with a bigger volume that is more suited for the demanding physical tasks.
The Final Verdict
The North Face Borealis backpack is a very affordable option that is suitable for casual use. The materials are high-end and the comfort is exceptional. The design is quite simple but still very interesting and practical. You will be able to pack everything you might need for school or work and keep things organized. And not to forget that it will protect your gadgets as you run your errands around the town. The North Face Borealis Backpack gets an Overall Rating of 4.5 out of 5 stars.