What Is The Bluboon Weekender Carry-on
The Bluboon Weekender carry-on bag is a duffel bag made of a quality canvas that acts as a carry-on bag in addition to holding enough clothes to get you by for a week. The name is not a household one but if you give it a go you will not be disappointed.
If you want to know a little more about the Bluboon Weekender carry-on then read on below, you won't be disappointed. And if you are then you saved yourself some money and disappointment. See, you should read it either way. So go on, read it. READ IT!
Bluboon Weekender Carry-on Has Style
The Bluboon Weekender carry-on is a great looking bag. It's offered in four different colors; army green, coffee, dark grey and grey. I ended up going with the grey as I wanted something a little more modern but you can't go wrong with any of those options.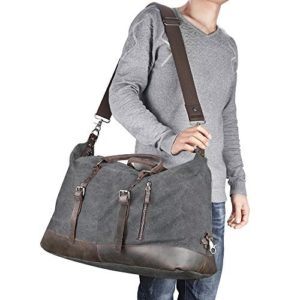 The carry-on is made of a very well-constructed canvas and the leather trim on the bag seems to be genuine. I'm extremely impressed with the quality of the bag, especially for the price. I've seen other bags that I considered getting but noticed they came with plastic accents or loops where the straps connect. I decided not to go with any of those and wanted something a little more sturdy and classic looking. The Bluboon Weekender carry-on has silver metal accents which were exactly what I was looking for and makes the bag look even that much better.
Every time I take this bag with me on a trip I get complimented on it. Everyone just absolutely loves it. It is probably the most stylish piece of travel gear that I own and absolutely thrilled with the purchase. Don't worry women, I know the pictures show a man holding the bag but this bag can definitely be an overnight travel bag for men and for women as it is very gender neutral.
The Bluboon starts off with a solid score of 4 out of 5 stars. The only reason it did not get five stars is because I would have liked to have seen a few more options in regards to the colors. So the Bluboon Weekender carry-on looks great but let's see how durable it is.
Bluboon Weekender Carry-on Provides Durability
I've only had the Bluboon Weekender carry-on for a month but have used it twice while going out of town and so far there has been no sign of any wear or tear and the bag is holding up very well. The straps on the bag give a solid sturdy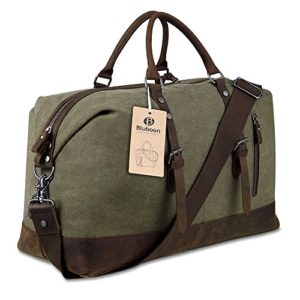 feel. The leather and canvas feel great as well and give the overall assumption that this bag is made with great care and quality.
The inside has a cloth lining and the bottom has a piece of covered panel that gives it a decent base if you need to make sure that it keeps its shape and structure.
The clasps and buckles on this weekend bag provide no doubt and do a great job as well as the zippers. The zippers seem rugged and built to last, just what you would expect out of a bag made for weekend road trips and flights.
The only concern I have, which is unfounded, is the fact that the bag can get heavy and I would like to see how the handles hold up over a longer time period that just a month. Hopefully it holds up as well as Baigio's overnight weekender leather bag. Maybe I'll come back and update this review in a few months… uh yeah I'll do that, sure.
Overall the durability of this Bluboon Weekender carry-on bag gets 5 out of 5 stars as I had no issues with it in regards to quality or structural integrity.
Bluboon's Weekender Carry-on Packs On The Functionality
The functionality of the Bluboon Weekender carry-on bag is exactly what you would expect from a large duffel bag that you want to use as a carry-on, it's spacious! It's got pockets for days! There are five pockets on the inside of the bag of which two have zippers. You can use these for various reasons. I mainly used it to hold my wallet, my phone, my keys and at times my charging cables. It's great if you're anal about keeping things organized. I myself am not,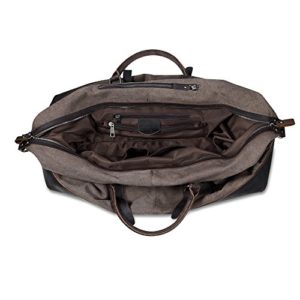 which blows my mind how I manage to run a website. Thank goodness I can delegate tasks. That's what a good leader does, right?
Okay, so it can hold a bunch of little odds and ends but obviously the main concern is how much can the main compartment hold. I was able to pack a week's worth of clothes as well as a pair of shoes, toiletries and my 15" laptop. I feel great with my decision to go with this bag as I was concerned if it would be too small but it was not, it's the perfect size for me.
Obviously with a bag of this type the question always arises, will it meet carry-on limits? The answer is yes with a small asterisk. One weekend while I went out of town I flew on JetBlue and the bag fit perfectly. The only caveat to that might be that it depends on the plane you are flying on and how much you pack into your bag if you want to stick it under the seat. If you over pack it and fill it to the brim, you could more than likely get it to fit in the overhead compartment but not so much under the seat. With that said just use your best judgement as to how you want to use it.
Now this isn't a problem for me but I could see how some people might find this bag to be a little bit on the heavy side. If you have to carry this weekend bag through the airport you might start to get a little tired after a while. However, I have a fantastic solution to this. Just make sure to hit the gym or get a cart, problem solved!
The Bluboon Weekender carry-on does a great job of what it should be doing. Getting my crap from point A to point B. Considering that I don't have any problems with the bag in this regard they get 5 out of 5 stars.
Bluboon Weekender Carry-on Rating
All in all, the Bluboon Weekender carry-on bag is one hell of a steal at such a reasonable price. If you wanted something else that is more of a household name with this kind of quality you would be pay much much more $$$$$$$$$.
The styles, for what's offered, are really solid and I actually might pick up a second bag just to have a different option depending on my mood. The durability for an off name bag was surprising and I'm really glad with this purchase.
And finally the functionality of the bag gets the job done without any complaints from myself.
This is definitely a keeper and I recommend you at least take a serious look at this bag if you want something with quality at a more reasonable price. This weekend bag gets a solid 4.5 stars out of 5.
Have something you want us to review or want to let us know what you think of the Bluboon Weekender carry-on? You can do so by leaving a comment or review below!