Introducing the New Samsonite Tread Lite Lightweight Hardside Set
This Samsonite Suitcase Set was an exclusive Black Friday release, set up between Samsonite and Amazon. Since being offered on Amazon, this set has shot up as one of Amazons bestsellers.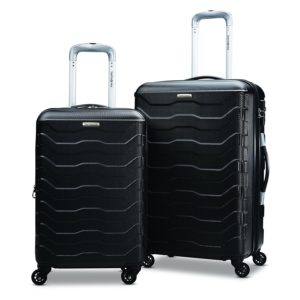 The question is, is this Samsonite Tread Lite Lightweight Hardside Set for you… And could they come up with more mouthful of a name than that?
Seeing as how this is a new product, this will be a shorter review as I haven't had it long enough to thoroughly review it for actual use.
Let's get down to brass tacks and see just how good this Samsonite luggage set really is.
Style Of The Samsonite Suitcase Set
Personally I find Samsonite luggage always looking better than the rest. I love the design of this new set and the carbon fiber look is definitely a hot look right now. If that is not your style or you want something a little different, they also offer this new set in a soft cover version as well. Unfortunately their only other option in terms of color for this model is silver.
There's not much more to say about the style that is Samsonite. They are known to be the cool and stylish luggage. However, the fact that they only offer this in two different colors surprises me a bit. Yet even with this I just can't say anything bag about it and still give this set a style score of 5 out of 5 stars.
How Durable Is This Samsonite Tread Lite Set
The durability is exactly as you'd imagine with a product of Samsonite's caliber. When I received this luggage set in the mail, I was too excited to get it out of the box and check out the quality.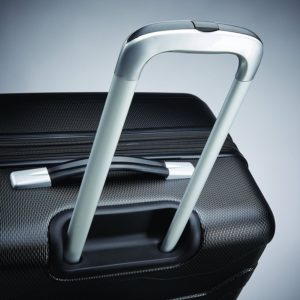 The outside of the Samsonite Tread Lite is a rigid, tough plastic blend of ABS/Polycarbonate. Essentially what that means is that is has a strong resistance to physical impacts… and corrosive chemicals apparently, which I won't even ask why you would need that with luggage #breakingbad? I digress.
The rest of the luggage set is superb as well. The zippers are sturdy and work great, as well as, the handles and wheels.
If that doesn't do it for you, it also comes with a 10 year warranty! What a great backup plan that I'm sure the majority of people will never have to use.
The rigid exterior, its resistance to physical impacts and corrosive substances and a warranty are all great things that I love about this suitcase set. For these reasons and more this Samsonite Tread Lite set gets 5 out of 5 stars.
Is This Samsonite Tread Lite Set Functional
Samsonite's functionality is second to none when it comes to travel gear. This is the second set I've had in my life and the first was fantastic.
A few of the things I like with this set is that it comes with a large ergonomic handle built to be easy on you when you're running around the airport. It has a large mesh pocket on one side of the case, like a separate compartment and adjustable straps on the other side to hold down all of your belongings.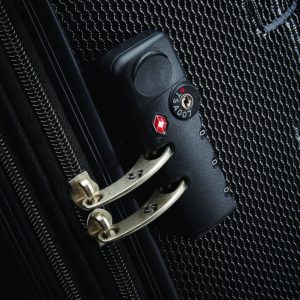 One of the best features and my personal favorite is the ability to expand the suitcase. So all you ladies can stuff more clothes in there without making your man carry more luggage.
A really neat feature with this product is that the larger case comes with its own TSA lock as well… sorry little case. It is a simple three digit combo lock that comes with a preset code of 0-0-0. Took me a few minutes to figure that out. But once you have the lock open you can make the combination anything you want.
Speaking of TSA, this set is small enough to not be checked as over-sized luggage by most airline carriers including Southwest, American and United as it comes in at 24″ x 16.5″ x 11″ and 20″ x 13.8″ x 9.5″ (excluding wheels and handle.)
And finally when you're not busy traveling and seeing the world, cause bills, you are able to easily store this luggage set. The smaller case fits nicely into the larger one for easy storage.
The functionality of this suitcase set is by far more superior to any other set I've looked at. This thing takes care of every need that you have when traveling. It's spacious interior and ability to expand along with this TSA approved locking mechanism sets this set apart. The Samsonite Tread Lite set gets a solid 5 out of 5 stars for functionality.
Samsonite Tread Lite Scores
The Samsonite Tread Lite set gets 4.5 stars, only because the price has gone up from Black Friday but the value is worth every penny. This set is great for anyone looking to step up their travel gear game. It looks sleek, it's very durable with a 10 year warranty and its functionality is second to none, not to mention you can get it in silver or black.
Is the Samsonite Tread Lite set for you? If you need something a little larger and not worried about airline flights with it, you can check out the larger Samsonite set here.
If you've had a different experience with the Samsonite Tread Lite set or just want to share a similar experience, please leave your review or comments below!