Chrome Citizen Bag
This is the Chrome Citizen Messenger Bag. It is considered by many people to be one of the best messenger bags available on the market, if not the best one. This messenger bag is constantly debated about amongst couriers and professionals and typically Chrome comes out on top. Today we'll dive in a little deeper to see what makes the Chrome Citizen the top messenger bag is so many peoples' eyes.
Chrome started making messenger bags just over 20 years ago and has mastered the art. They made extremely durable products built for city living and backed by many bicyclist and couriers. Plus they stand by their products with one of the best guarantees in the business.
We'll take a look at the overall style of the bag and what it's constructed of as well as the size of the messenger bag. We'll get a feel for how comfortable it is and also how durable. Finally we'll touch on all of its features and give you our recommendation. If you want to skip all of that and get a quick synopsis of what we think, scroll to the bottom to see what you think is good and bag with the Chrome Citizen Messenger Bag.
Chrome Citizen Messenger Has Decent Style
The Chrome Citizen Messenger bag is a stylish messenger bag that has a great design and multiple colors to choose from. The Citizen bags come in a variety of colors to choose from, about nine different colors when all are available. They're neat because they end up creating a two tone look.
The Citizen by Chrome also has some different styling as it uses what looks like a seat belt buckle for the shoulder strap. It's a neat way to stand out from the crowd and do something different that other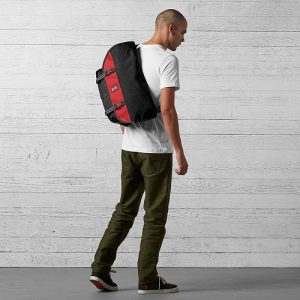 messenger bags aren't doing.
Aside from the colors and the seatbelt buckle the Citizen Messenger bag is like any other messenger bag in terms of design. For the materials they used to make this bag, Chrome incorporates nylon and tarpaulin liner into its bag which we will get into more when we talk about the durability of the messenger bag.
Unlike other messenger bags, unfortunately the Citizen by Chrome does not come in multiple sizes to choose from. You have one size which can be off-putting for someone who needs a larger or smaller bag that what is offered. The dimensions for the bag are: 22"W x 13"H x 7"D and weighs just over two pounds.
Overall the Chrome Citizen Messenger bag doesn't stand out as crazy or bland but falls into the perfect middle ground. It has some interesting looks about it that make it stand apart and when you're riding your bike down the street, people can easily tell you are carrying one of the best messenger bags made, the Chrome Citizen. These design colors are cool but unfortunately there's only one size. These reasons here make me confident in giving the Chrome Citizen Messenger Bag 4 out of 5 stars for style and design.
The Chrome Citizen Bag Is Extremely Comfortable
The Chrome Citizen Messenger bag is perhaps the most comfortable messenger bag on the market which is one of the top reasons to consider this bag. Chrome has designed the bag so well that it makes riding with the bag just as enjoyable as if you weren't even wearing it.
To start Chrome smartly made the shoulder strap extremely comfortable by creating it with EVA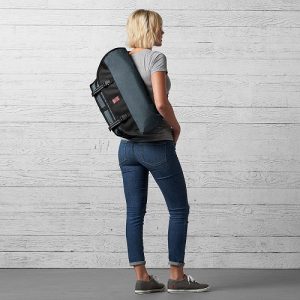 shoulder padding so that it never digs into your shoulder and you can wear it for hours at a time! I wouldn't recommend wearing the messenger bag to your side but on your back how it is meant to be worn.
We tested the Citizen Messenger bag out by loading it up full with books to see how it held up for the day and it was a delight to test this bag. At first we thought that because of the size, it seemed a little big, that it might get too heavy but the shoulder strap in addition to the chest buckle that helps stabilize the pack on your body made it a piece of cake to ride and walk with this messenger bag.
The Chrome Citizen has made it abundantly clear that it takes the comfort of its wearer serious as this is the most comfortable messenger bag I've ever worn. It even beats out Timbuk2's messenger bags which are also comfortable but not as much as this Chrome bag. So if your worries around this messenger bag were in regards to the comfortability then have no fear as the Chrome Citizen bag makes it enjoyable to ride with this in the saddle all day long. The Chrome Citizen Messenger bag gets 5 out of 5 stars for comfortability.
Durability Is The Chrome Citizen Messenger Bag's Middle Name
The Chrome Citizen Messenger bag is what it is because it's an extremely durable and long lasting bag that has proven itself again and again. The way a bag like this gets such a great reputation is if it's around to actually be noticed and not discarded after a short while due to durability issues.
The Citizen messenger has some great features about it that provide outstanding durability, like the 1050 denier nylon that it's made out of that has excellent abrasion resistance. It can easily take a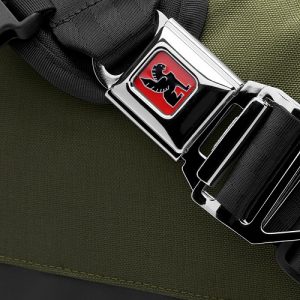 beating and not be any worse for wear. The only thing you'll need to do to maintain this messenger bag is keep it clean after you dirty it up while you're riding around with it all day.
This messenger bag also features an all-purpose weatherproof 18 ounce liner that will keep not only your bag looking like new but will also help protect your materials from getting soaked, dirty or damaged. It absolutely gets the job done as a weatherproof messenger bag.
Chrome was smart to implement industrial-strength hooks and loops for the shoulder strap because it's aware that people will try to pack these messenger bags to their limits and it doesn't bode well if the shoulder strap ends up snapping on you. The support here is excellent and we never felt worried about the ability of the bag to hold up under so much weight.
The durability of the Chrome Citizen Messenger bag has been phenomenal and that's exactly what you want when you are thinking about using this as a daily carry bag, whether for school or work, biking or walking. It's important that it lasts you for years to come and Chrome understands that and that's why they offer a lifetime guarantee. Chrome has done well for the Citizen messenger and gets 5 out of 5 stars for durability.
Decent Functionality For A Chrome Messenger Bag
When it comes to functionality, Chrome does a decent job with their Citizen Messenger bag. It's not anything that is mind blowing or completely different than what the competition is doing. And they make sure to include important features, there's just one small thing I wish they would improve on, but first we'll take a look at what Chrome did right.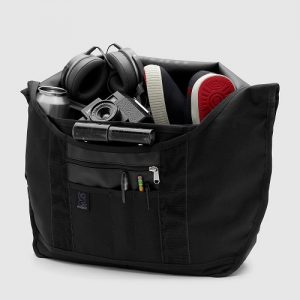 Most people who consider these bags use these for work, particularly bicyclist. It's the perfect bag for bike couriers and an important feature that every bike courier wants is reflective straps for nighttime visibility. This provides the courier with more visibility making it safer for them to be on the road at night while they deliver their packages.
Additional feature which can also help with safety is the daisy-chain mounting loops on the Citizen Messenger bag. This allows the rider to attach bike lights, again making them visible on the road at night. It's also useful to use a carabineer to carry anything else you may need while out riding around.
The Chrome Citizen comes with organizational pockets on the front which allows you stash away your wallet, keys, cell phone and charger if you didn't feel like carrying it around. It is also able to accommodate up to 17 inch laptops which everyone is carrying around these days. A small issue is that it does not come with an integrated laptop sleeve and you will have to buy that separately.
If you decide to buy the separate laptop sleeve then at least you'll be able to utilize the internal fasteners that come with this messenger bag. Which is great as some cargo you carry around might be expensive or delicate and you want to make sure that nothing is getting thrown around in there.
The messenger bag as we have mentioned a number of times has a pretty neat buckle that makes it stand out and makes for removing the bag quite easy. It also features a cross-chest strap which helps stabilize the load you're carrying in the bag and makes it feel as if it's one with your body. You can literally ride with that on for days and you'll forget the bag is even attached to you!
The top flap has buckle closures which are nice but sometimes not that practical as people tend to hate having to buckle and unbuckle them over and over but at least Chrome made sure to make this bag waterproof which is also an excellent feature. It doesn't hurt that the lid stays closed, even with the buckles undone, since Chrome added industrial-strength Velcro which does a superb job of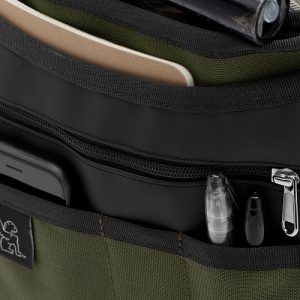 keeping everything nice and tight.
Chrome also made sure that you can carry a ton of packages, groceries, parcels or whatever you may want to lug around, as they made this bag with a capacity for 26 liters! The one small issue is that if you're not a courier then this may not be ideal for you as it's just one giant sack. There are no compartments or anything on the inside to organize. Everything will just be thrown into the bag and off you go.
Aside from the lack of interior organization or not already coming with a laptop sleeve, I wish they had added an external handle to the bag so you can grab it and go or hold it off of your shoulder with ease. It's a little awkward trying to carry this bag around a crowded room on your body when a simple handle to carry it by your side would have made this so much easier.
Taking all of these considerations into account, you can see that Chrome does a fantastic job of implementing most of the standard stuff you would want to see in a messenger bag but doesn't do anything to make it really standout from the rest. Taking the few and minor concerns into account, the Chrome Citizen gets 4 out of 5 stars for functionality.
The Chrome Messenger Bag Gets Top Marks
The Chrome Citizen Messenger Bag is considered one of the best messenger bags that you can get your hands on. It is always debated to be the number one bag to go with if not the number two bag. You can find this messenger bag with numerous styles and their signature seatbelt buckle shoulder strap which stands out among all other messenger bags. Let's take a look at what we find to be good and bad with this messenger bag.
The Good:
The Chrome Citizen Messenger Bag is offered in a total of nine colors for you to choose from so you can pick what you feels represent you best.
The capacity of the bag comes out to 26 liters in a messenger bag that is 22"W x 13"H x 7"D.
EVA padded shoulder strap with signature buckle makes sure you don't get tired of wearing the messenger bag.
Chest buckle helps stabilize the messenger bag to your body and keeps you comfortable, making you forget you are even wearing it.
Created with 1050 denier nylon and waterproof liner, the Citizen messenger will keep your contents safe and dry.
Industrial strength hooks and loops mean you don't have to worry about heavy loads snapping your shoulder pad while riding around town on your bike.
Reflective straps and mounting loops for lights provide additional safety by making you noticed by drivers at night.
Able to hold up to a 17 inch laptop with internal fasteners will keep your delicate or expensive products in place.
Industrial strength Velcro closures will keep your messenger flap down in heavy winds, especially while riding your bike as a courier around town.
Lifetime Warranty means Chrome stands by their products, which is always great to see.
The Bad:
Unfortunately the bag only comes in one size so if it is too big or small on you then you may end up returning it.
If you want a tablet sleeve you will have to buy it separate as one does not come with this messenger bag.
There is no handle for you to grab the bag by which would be great for when it's in the trunk or you're in a crowded room.
The Chrome Citizen Messenger is a great bag for many reasons and especially for bike couriers. The price might seem a little steep at first but when compared to other messenger bags you'll see why this is top notch. Plus it doesn't hurt that even if something happens with the bag from a craftsmanship standpoint, it's covered by a lifetime warranty. Taking all of the aspects of the messenger into consideration, we give the Chrome Citizen Messenger Bag 4 out of 5 stars!