The Alpine Swiss Leather Briefcase Is Top Notch
This is the Alpine Swiss leather briefcase. Alpine Swiss is a company known for making top notch wallets. This time, however, they outdid themselves with a great leather briefcase and this one stands out from the crowd. It provides everything you would need in a leather briefcase at such a reasonable price.
It is great choice as a replacement for an old one or for your very first. If you're not sold, read on below to get a better idea of what it has to offer.
The Alpine Swiss Leather Briefcase Looks Great
This leather suitcase, as our friends across the pond call it, is a great looking expandable leather briefcase by Alpine Swiss. It's a refreshing and simple design that does not incorporate many changes from earlier versions, and we like that.
Of course it's nice to always get the latest and greatest tech or fashionable clothing or whatever it may be, but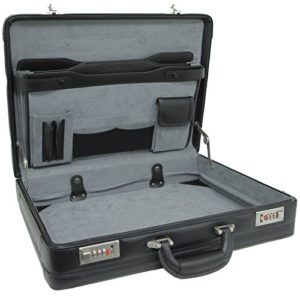 every once in a while something a little more traditional and classic does the job far better; as is the situation with this leather briefcase.
The Alpine Swiss leather briefcase gives a very professional look without being too snobby. For the fashionable business man in mind, this leather briefcase is by far one you want to consider. I don't carry around a briefcase for work but after checking this bad boy out, I might consider swapping it in for a day every once in a while.
With most things on the internet nowadays, you can never really be too sure if you're getting what you is advertised. With the Alpine Swiss leather briefcase you get exactly what's being offered. It is made with genuine leather and the smell along with that genuine leather makes it clear that Alpine Swiss did not skimp on this product.
As far as choices for leather suitcases go, black is usually the only color that I would care to get. However, I'm not the only one buying their leather briefcases (I can barely afford to spend money on one) and I believe there should be at least a brown option available for people who want something a little different.
The Alpine Swiss leather briefcase does a great job with its sleek design being both modern but ultimately classic. It provides us with real genuine leather and not some cheap imitation and it's not just built as a leather briefcase for men but also women as the product has a unisex design. With all of this considered the style of this leather suitcase gets a solid 4 out of 5 stars, pushing on the border of 5 total stars.
The Alpine Swiss Leather Briefcase Has Plenty Of Durability
Again this briefcase is made with genuine leather which obviously provides many benefits and in regards to durability; it means that it will last you for years to come. The construction of this expandable leather briefcase is exactly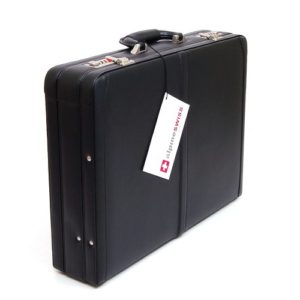 what you would want in any briefcase.
Its durability comes from the fact that the Alpine Swiss leather briefcase is built around a thin wooden plate that provides both stability and a reduced amount of weight so that, one, it won't be too heavy and two, it does this without sacrificing any quality. This is obviously wrapped in the genuine leather as mentioned before.
This leather construction provides outstanding protection. In terms of security it gives you the reassurance from its durable exterior that it can easily protect any contents that are inside the leather briefcase. In short the quality is more than adequate, especially for the reasonable price that you pay.
Enough about the exterior of this briefcase, we know it's great, but what about the actual hardware; you know, the piece of metal that keeps your briefcase closed. Well the locks with this leather briefcase actually do a really good job. They seem to be a little stiff when you first get the briefcase but as you begin using it more and more, they end up fitting right into place. Also if you're a stickler for watching where you put your briefcase, this one from Alpine Swiss has four metal feet on the bottom to protect the leather briefcase from getting tore up.
All in all the durability of the Alpine Swiss leather briefcase does exactly as well as you would expect and want it to. It holds up really well and feels sturdy while coming in at such a reasonable price. Perhaps with a price this good and a relatively unknown to the briefcase scene you may have some concerns, if so and you're looking for something a little more name brand and trustworthy then look no further than an almost identical expandable briefcase by Samsonite. To top it off, Alpine Swiss added a one year manufacturer's warranty. Taking all of this into consideration, it should be no surprise that this Alpine Swiss leather briefcase gets 5 out of 5 stars for durability.
The Alpine Swiss Leather Briefcase Is Full Of Functionality
The functionality that you get out of this Alpine Swiss leather briefcase is exactly what you would expect in even top line briefcases.  It has a simple design but that's what makes it great. It doesn't try to over complicate things, it just sticks to what works. As an example this briefcase does not come with a shoulder strap. I know some people prefer to carry their briefcase with a strap but again this one here keeps it simple, it's old school!
The inside of this leather briefcase is very spacious. Now I'm not sure I would recommend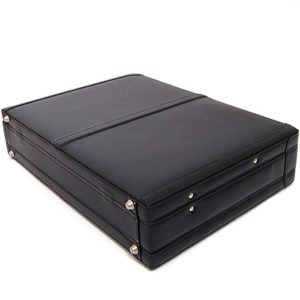 this but you can fit a 17 inch laptop inside the briefcase. The only downside to this is the lack of straps inside of the briefcase. There are no straps what so ever so you cannot secure any objects within it. This leather briefcase by Alpine Swiss is not designed to hold laptops, so there is a chance that there could be damage if you carry your laptop around in this case.
Along the same lines with securing the laptop, there is no place to store your iPad if you wanted to take that along with you as well. There is a small organizing section to hold business cards, pens and different things of that nature and this is located on the lid side of the briefcase. Right behind this there is a file folder that expands out if you needed to store some important documents in there.
This is a great leather briefcase for men as well as women. One thing to note for the women out there, however, is that it can be a little heaving. It's a large briefcase and can be difficult for smaller women to carry around. That's not even considering the fact that it is expandable. Once the brief case is expanded it goes from around 4 inches thick to about 5 inches thick. It does this buy undoing 4 separate snaps on the inside.
The last bits of functionality that I want to touch on regard the locks. The combination locks on this leather briefcase can be set with two different combinations of numbers. This means you can set your combination on the left independently from the combination on the right so they both have their own unique combo. If for whatever reason you do not wish to use the locks you can simply use the briefcase with using the combination locks.
As far as functionality goes, you don't need much more than what's provided by Alpine Swiss here. It has ample space to carry larger items, it locks with separate independent combination locks and if you need a little extra room, it expands. This Alpine Swiss leather briefcase gets 5 out of 5 stars.
Alpine Swiss Leather Briefcase Score
Whether you're looking for a leather briefcase to replace one you've had for years or you're looking for your very first, the Alpine Swiss leather briefcase is an exceptional option to go with. You get what essentially is a top tier leather briefcase for the fraction of a cost.
Between its classic look, its well-built structure with its genuine leather and light wooden frame along with its exceptional functionality makes this an excellent choice for anyone. When you take into account the exceptional price of this suitcase you can't help but give this Alpine Swiss leather briefcase 4.5 out of 5 stars.
If you like this review or have a different opinion then please leave a comment or review below!