A Word About eBags
eBags is a well-known brand among globetrotters who need to have modern, durable, and functional luggage. The company was launched in 1998 when five guys who are very passionate about traveling decided to create a space where everyone will be able to purchase travel bags they might need in a given moment. Their mission is to make every journey enjoyable and easy. So it doesn't matter if you are a casual traveler or you are constantly hopping from one continent to another – eBags has the right luggage for you.
The company is very proud of the quality of their bags and you can be certain that they will last for years no matter how often you use them. They pay close attention to the overall design and often update their products with the suggestions from their users. After almost two decades of success, eBags was purchased by Samsonite. Now they are a part of the huge Samsonite family and continue to make high-quality luggage.
eBags – Official website
If we manage to get you interested with this eBags Slim Laptop Backpack review, you should visit eBags official website which has plenty of useful information that will help you choose the best model for you. We recommend that you check out their Buying guides because that section of the website offers additional interesting articles that will ignite your wanderlust.
You will find plenty of tips and tricks on how to pack your bags for various trips, as well as some interesting destinations which are worth your attention if you love exploring new countries on your own or want to visit some of the up and coming tourist attractions. And of course, there are buying guides that will help you select the best luggage for your travels.
Style and Design of eBags Slim Laptop Backpack
eBags Slim Laptop Backpack features a simple but elegant design that will be thrilling to anyone who values clean lines and functionality. It is an absolute favorite among the travelers who usually carry all of their gadgets wherever they go. It is suitable for commuting, short trips, and long flights. This backpack is well-padded and it will bring your organization to a whole new level. Not to forget the high-quality material that will protect your laptop in all weather conditions. There is a small eBags logo on the front of the backpack that is not super noticeable regardless of the color you end up selecting. There are three available shades you can choose from:
Solid Black

– A classic choice that will fit everyone's style and it is a best-seller.

Brushed Indigo

– Rich blue color that will add more personality to your luggage.
The design remains unchanged despite the color you pick. Each and every backpack has a bright orange interior which will help you organize the contents better and you will be able to find exactly what you need because of the vibrant background.
eBags Slim Laptop Backpack is made in only one size and it weighs 3.8 pounds when empty. The main compartment is well padded and it will accommodate your 15-inch or 17-inch laptop safely. You can even transform this backpack into a briefcase when needed because it features side handles which can be pulled out. This feature should come in handy when you are on a plane and want to store your laptop bag in an overhead compartment.
The measurements of eBags Slim Laptop Backpack are:
18.5 x 12.75 x 7.5 inches / 47 x 32 x 19 centimeters
The Overall Rating for Style and Design for the eBags Slim Laptop Backpack is 4 out of 5 stars! The overall look is very classic but still has that modern vibe to it. The backpack has plenty of useful details such as AC adapter garage which can be completely detached from the backpack when you need more space and side handles that will make transport a lot easier.
With a total of three large compartments that can be accessed quickly and a front pouch for better organization, this is an excellent laptop backpack for people who are constantly on the move because they can keep all of their gadgets close to them at any time. We only wish there were more color options to choose from.
eBags Slim Laptop Backpack Comfort
Backpacks which are designed to accommodate laptops need to be comfortable and well padded, especially if you plan on carrying a 17-inch notebook which can be quite heavy. Luckily, the designers of eBags Slim Laptop Backpack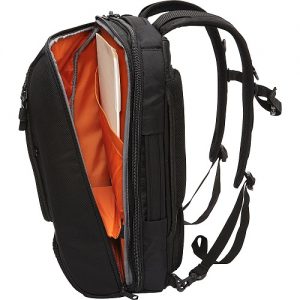 tackled this issue hands on and made a bag that will sit perfectly on your shoulders regardless of the weight you are carrying.
The straps are contoured and they should fit your body shape instantly. You can adjust them in no time and find the right length that feels suitable. They also feature Airmesh material which increases the padding as well as the ventilation and air flow. The designers who worked on this backpack listened to their customers' suggestions so they added an extra sternum strap which can be removed when not in use. It is a nice feature that will help you out if your backpack is fully loaded.
The back panel is also strengthened with Airmesh and you will notice immediately how well cushioned it is once you put the backpack on. The air will flow freely which is super useful in hot weather or long walks.
The Overall Rating for Comfort of the eBags Slim Laptop Backpack is 5 out of 5 stars because the designers made an exquisite product for exactly this purpose. The padding is located in the right places and the materials are very high-quality. The weight transfer is excellent, especially when you use the sternum strap. You will not feel tired while you hop from one place to another with your laptop in tow.
eBags Slim Laptop Backpack Durability
As soon as you pick up eBags Slim Laptop Backpack, you will notice that it is made impeccably. The fabrics feel expensive and high-quality. And not to forget that they will shield your gadgets while you are on the move.
The backpack is made of 840D and 900D Twisted Polyester with DuPont Teflon coating which adds an extra layer of protection against the elements. For instance, it is water repellent so you don't have to worry if you get caught in a drizzle with this backpack – the raindrops will simply roll off the surface, leaving your electronics dry and safe.
This backpack will arrive with a limited lifetime warranty which speaks volumes about the build of this bag. eBags really do stand behind their products and they believe in the quality of every single item they put on a market so you can be certain that you are getting an exceptional laptop backpack that will accompany you on your journeys for years to come.
The Overall Rating for Durability for the eBags Laptop Backpack is 5 out of 5 stars! This combination of polyester materials is light and secure while the Teflon coating should keep the water and moisture away from your laptop or any other gadgets you decide to pack. This backpack will not get damaged easily in the transport for sure.
Features of eBags Slim Laptop Backpack
Even though we have gone through some of the major features of this item in our eBags Slim Laptop Backpack review, we will include a complete list so you can get a better view of everything this backpack has to offer. It is an excellent bag for everyone who wants to travel with their laptop. You will notice that there are a lot of features which means that this backpack was made for people who are always on the move. So let's dive in:
Well-padded laptop compartment that can accommodate a 15-inch or a 17-inch laptop.

Middle compartment for books, papers, or documents.

Tablet compartment which is lined with microfiber that will keep the screen clean.

L-shaped zippers for easy access.

Secure and removable AC adapter garage that is crush-proof.

Water bottle pocket which is secured with a zipper.

Front organizer with numerous mesh pockets and key leash.

Zippered pocket for passport and other documents.

A top handle for easy transport.

Side handles which will transform this backpack into a briefcase when needed.

Breathable air mesh back panel.

Lockable zippers that can be secured with a pad.

Back panel with slits for a wheelie bag.
When we take a look at these features, it is clear that eBags really listens to their customers and they added some pretty useful details that will make traveling with this backpack a lot easier. The Overall Rating for Features receive 5 out of 5 stars because the overall functionality of the Slim Laptop Backpack is fantastic.
Value for the Price
Slim Laptop Backpack has been one of the eBags' bestsellers for years and it is always in demand. The customers do recognize the quality of this backpack and they can purchase it for a fairly affordable price. It is anything you need from a laptop backpack and more because there are so many useful features that the travelers will find particularly useful.
The current price of eBags Slim Laptop Backpack is not cheap but you will get a travel-friendly laptop bag that is both convenient and comfortable. It is also built from premium materials that will protect your electronics while you are on the move but also keep you comfortable which are the primary goals of this item.
The Good about eBags Slim Laptop Backpack:
Excellent organization options – Besides the laptop and tablet compartments, you will get another section which can be used for storing textbooks and documents. However, the feature we absolutely love is located at the front of the bag. This compartment is bright orange and has plenty of pouches and slots for little things such as pens or cables that can easily get lost in a backpack. You can easily reach it and find exactly what you need at any time.
Crush-proof garage – Located at the bottom of the backpack, this removable AC adapter garage can be used for storing delicate and fragile things that shouldn't be packed with the rest of your gadgets. And if you need to expand the volume of the backpack, simply remove it and you will get more space on the inside.
Versatile functionality – eBags Slim Laptop Backpack can be worn on your back or as a briefcase because there are side handles which can be lifted up when in use. You can detach the backpack straps so they will not get in the way while you carry the bag by the handles. The backpack can also be connected to your wheelie bag handles through the back panel so you can roll it with the rest of your luggage through an airport.
The Bad about eBags Slim Laptop Backpack:
Slightly thicker profile – If your primary goal is to find the thinnest backpack for a laptop, this one might not be for you. While it is slimmer than the majority of models which are available out there, the extra storage compartments do add some width.
Three available colors – This probably won't be a huge issue to many users but if you are looking a colorful and bright laptop bag, you might be disappointed to find out that eBags Slim Laptop Backpack comes in only three colors.
The Final Verdict
Having in mind the outstanding materials and all the useful features that eBags Slim Laptop Backpack has to offer, we can comfortably say that it is one of the best laptop backpacks a traveler can get. The backpack is coated with DuPont Teflon which will protect your electronics from the outside factors.
It has plenty of compartments and storage options that will be very useful to you,  especially if you tend to pack a lot of things. And most importantly, you will be able to secure the zippers with a lock. So if you need a functional backpack which you can use on daily commutes as well as for traveling the world, eBags Slim Laptop Backpack might be a great investment. The Overall Rating for the eBags Slim Laptop Backpack is 4 out of 5 stars!