Osprey Farpoint 40 Liter Travel Backpack     
This is the Farpoint 40 liter travel back by Osprey. Osprey is known for making excellent backpacks for many different reasons and we love these purely for their overseas travel application. They are fantastic and there's not really much that we would change about them.
Osprey has been around for quite some time and they have nailed it with the Farpoint 40. We'll take a look at their style, how comfortable it is, how durable and what kind of functionality it brings. If you want the short version you can see what's good and bad down below or read on for the full review!
Osprey Farpoint 40 Has Great Style Despite Limited Colors
The Osprey Farpoint 40 is a travel backpack that combines style and functionality. It looks good on you when you're running through the airport, walking around the city, hiking through nature and even when it's just sitting by your side while you wait on your next flight to depart.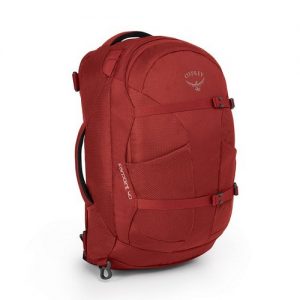 Osprey offers this backpack in three colors for you to choose from, Volcanic Grey, Caribbean Blue and Jasper Red. We tested out the Volcanic Grey and it was an absolute blast to carry around and it looks good at the same time. We ended up getting multiple compliments on our backpack and even saw other people with the same make, Osprey.
We've tested multiple backpacks and although this one is made with similar materials, namely nylon, it performs like a champion and has been an incredible pack the whole time. I love how it has a simple design and doesn't try to be flashy and also has great lines. I would like to have seen a few more colors to choose from but at least they give you a couple instead of just one.
It's also nice that Osprey doesn't put a whole lot of branding all over the backpack but keeps it minimal and simple, yet it's still distinguishable to anyone who travels. After considering these features regarding the Farpoint 40, I have to give it 5 out of 5 stars for styling!
Travel Comfortably With The Osprey Farpoint 40
The designers and testers at Osprey who decide on how to make their backpacks comfortable have really taken feedback and traveler's concerns to heart. They make some of the most comfortable and pleasant backpacks to carry and could possibly be the best for you, period!
For starters, Osprey built their backpacks and the Farpoint 40 specifically with a fixed, unisex back panel that is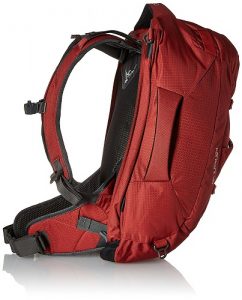 extremely comfortable on your back. It's built with a mesh liner that promotes airflow and allows you to keep your back dry when you are busy running around. It's a great feature that will keep you smelling fresh and feeling fresh and dry.
Osprey also has padded shoulder straps that never dig into your shoulders and are excellent for long trips when backpacking through Europe! It doesn't hurt that they also implemented a padded hip belt as well that wraps around your waist and helps support the weight of the bag on your lower back. It really allows you to carry much more weight than normal and not be any more strained as the weight isn't pressing down on your shoulders as much.
Another very minor but nice feature about the Farpoint 40 is that the handles are also padded to make it comfortable should you need to carry your backpack around from either the top or side. Whether you're carrying it like a suitcase (more on that later) or pulling it out of your trunk, might as well handle a backpack that's comfortable.
Osprey has done a phenomenal job with their backpacks and the Farpoint 40 travel backpack is no exception. They know what bothers traveler's the most and they make sure that their backpacks consider this and make traveling a much more enjoyable experience. I can easily say that Osprey backpacks are the most comfortable to travel with and for these reasons the Farpoint 40 gets 5 out of 5 stars for comfortability.
Osprey Farpoint 40 Offers Lifetime Durability
The Osprey Farpoint 40 liter travel backpack is built for the international traveler in mind. Osprey made sure to make this bag durable for years and years to come so that you wouldn't even need to consider purchasing another backpack. It's a top backpack for sure that is here to stay.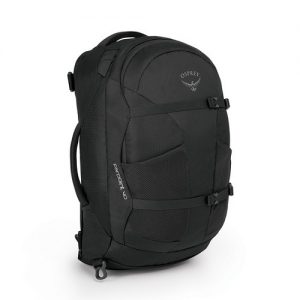 The way the Farpoint 40 is built, it can be perfect for wilderness exploration, a trip overseas or just a weekend getaway with your favorite friends. The best part is that this will stand up to anything you throw at it; take for example the lightweight frame suspension.
The lightweight frame helps keep the load lighter than it normally would be, thus keeping the shoulder pads and handles from wearing down even faster. The Atilon frame sheet also spreads the weight across the whole back panel which also reduces stress and pressure on certain points of the backpack, keeping it in shape even longer.
The exterior is very durable and can shed light rain with ease but if you're caught in a heavy downpour you might find that your clothes will be soaked when you make it to the hotel. It does a great job of taking on dirt, normal wear and tear and can also take on rough handling and abrasions which are undeniable when traveling by plane.
I absolutely love when a company backs their products with a warranty; it shows that they stand by what they make and their commitment to their craft. Osprey is no different as they have what they call the "All Might Guarantee". It covers any product that they make, for any reason whatsoever, free of charge for your lifetime!
Osprey has done a great job with this backpack and the durability is outstanding. They made sure to make it durable while also keep it stylish and comfortable. The lifetime warranty doesn't hurt either. Taking everything into consideration the Osprey Farpoint 40 has done an excellent job and gets 5 out of 5 stars for durability.
The Osprey Farpoint 40 Is Extremely Functional
The Osprey Farpoint 40 travel backpack is the backpack you want to take with you on your backpacking trips to other countries. I used this backpack when traveling for three weeks through Europe and the functionality was beyond anything I could have hoped for. It was like having a suitcase that you wear on your back but comfortable.
Osprey features this backpack with multiple pockets and slips to handle whatever you need to carry on your adventure.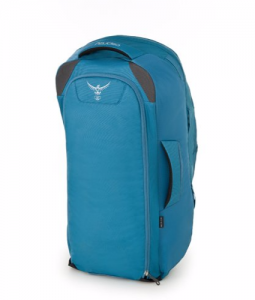 There is one interior slip and one interior zippered pocket to keep your contents organized while traveling. Outside you'll find one exterior pocket to stash your papers and other items you'll need for quick access while in line at the airport for security.
In addition to all of the pockets and slips available, Osprey also added dual compression straps on the backpack which allow you to keep your contents from shifting. This helps in two regards, one is that you don't have to worry about any valuables from shifting and getting damaged and two it won't affect you while you're walking with your backpack and will keep it stabilized.
If the actual size of the backpack and the extra pockets aren't enough for you to carry what you need there are also loops and straps on the outside of the backpack for you to clip on or add additional gear for whatever you may need it for.
One of the most important considerations for your luggage when you're traveling and especially traveling by plane is the ability to lock your luggage so that you don't have to worry about anyone stealing your valuables or going through your stuff. Osprey obviously has taken this into consideration and added a feature that allows you to lock your zippers together. The lock is sold separately but it simply slides through a hole in the end of each zipper so they can't be opened if the lock is in place.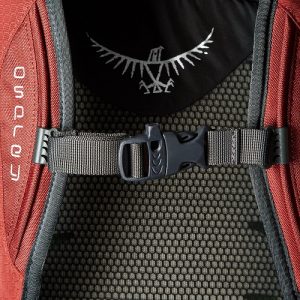 My favorite feature and the favorite of many other people who buy an Osprey backpack is that the Farpoint 40 features what's called panel loading. Normally with backpacks you have to open them from the top and pull out all of your contents and gear to get to what's at the bottom. With panel loading you lay the backpack flat on the bed or ground and unzip it like a suitcase and you're able to access everything in your backpack at once, without having to mess up your clothes or go through other gear. It is perhaps the best part of this backpack.
This backpack has excellent space for a 40 liter and the dimensions of the Farpoint 40 are 14"W x 21"H x 15"D and it weighs only three pounds. With the size of this backpack it obviously makes it perfect for carry-on and you can even use it with budget airlines like Ryan Air or Easy Jet without any problems.
If for some reason you don't want to use this backpack as a carry-on or you have too much luggage and need to stow this away as checked luggage, Osprey has a feature that will keep your luggage safe. The Osprey Farpoint 40 features the ability to zip away and stow your shoulder pads on the back side. This provides a slimmer profile, makes it look and function like a regular suitcase and also keeps your shoulder straps from getting ripped or torn if they have to go through the luggage belts.
The Osprey Farpoint 40 travel backpack is loaded with features, some of which are common and expected and some that are absolutely phenomenal and you wouldn't want any other backpack that doesn't have some of these features. Taking this all into account, the Farpoint 40 gets 5 out of 5 stars for functionality.
How Does The Osprey Farpoint 40 Measure Up
Osprey has done a fantastic job with the Farpoint 40 liter travel backpack and some of the features are trend setters that will start to change the way other companies make their backpacks. Why wait for another brand to make something when Osprey has perfected it. Let's recap what we found to be good and bad with this travel pack.
Good:
The Farpoint is a sleek looking backpack with great lines that's not flashy or has a bunch of branding.
Mesh liner on the back promotes airflow and keeps your back dry while you're running around the airport or trying to catch the next train.
Padded shoulder straps provide excellent comfort for those longer trips.
Osprey also has a padded hip belt which supports most of the weight of the backpack, taking the load off your shoulders.
The Farpoint 40 also comes with padded top and side handles.
Lightweight frame and frame sheet spread the weight across the entire back panel to distribute the load evenly.
Material sheds light rain and is great for protecting your contents from dirt and abrasions.
Multiple pockets provide extra storage and organization which allow you to access what you need when you need it.
Compression straps help stabilize the load and also keep your valuables from shifting around during transit to keep them intact.
Exterior loops allow you to strap on additional gear you might want to bring, perfect for wildlife exploration.
You're able to lock your zippers together to prevent unwanted eyes from prying into your luggage.
One of the best features the Osprey Farpoint 40 has is panel loading, allowing you to open your backpack up like a suitcase to access anything you need without pulling everything else out.
Small enough to be carried on just about every airline, including budget airlines like Easy Jet and Ryan Air.
The Farpoint 40 also provides the ability to zip away and hide your shoulder straps and hip belt to allow you to check your bag or carry it around like a suitcase.
Backed by the Osprey "All Mighty Guarantee" which is a lifetime warranty!
Bad:
Osprey only offers this backpack in three colors to choose from: Volcanic Grey, Caribbean Blue and Jasper Red.
It is a little pricey but must be looked at as an investment.
The Osprey Farpoint 40 and the Osprey Farpoint backpack line in general is one of the best backpacks you could ever consider. It has excellent comfortability, durability and numerous features that make it a top choice. The only downsides are there are three colors to choose from and the cost is a little pricey, although it's well worth the investment.
Osprey makes a great backpack and I thoroughly enjoyed reviewing this backpack. All in all it's one of the best pieces of travel gear I have ever dealt with and I look forward to using it on many trips to come. Overall the Osprey Farpoint 40 liter travel backpack gets 4.5 out of 5 stars.