Getting to know Timbuk2
Timbuk2 is one of the leading brands of messenger bags on the market and now they've taken their years of expertise and applied it to other products such as briefcases. This seems to be a logical transition as a briefcase and messenger bag have many similarities.
Timbuk2 started out in San Francisco, California in 1989 when a bike messenger by the name of Rob Honeycutt was tired of the messenger apparatuses that were available at the time.
Rob at that time created Timbuk2 and the iconic messenger bag that has become known and loved by bike messengers all over the country and globe.
Timbuk2 Hudson Briefcase
In our Timbuk2 Hudson review, we'll mainly stick to the more recent version of the Hudson, although another popular design is still available from their 2014 line. There are many reasons why the Hudson from Timbuk2 is a fantastic briefcase and we'll cover those below.
We'll touch on the design and style that Timbuk2 offers, along with the colors available to choose from. Obviously durability will be an issue that we can't avoid and of course we will cover the features and functionality that everyone loves so much. Finally we'll cap it off with our overall rating of the briefcase and who we believe it's best for. We've done the hard work, all you need to do is simply decide if this is the briefcase for you or not.
Timbuk2 – Official
Timbuk2 has exploded with popularity lately thanks in large part to their Classic Messenger Bag as well as the Commute and Command messenger bags. They are now considered one of the best if not the best messenger bag maker on the market. Their only real competition is Chrome who also make top of the line messenger bags.
Timbuk2's official site features all different kinds of bags from messenger bags and briefcases to laptop bags and dog carrier bags.
They also have a portion of the website dedicated to customizing your messenger bag in the event you want something a little different than what's available at every online retailer.
Timbuk2 really makes sure that you get the bag that you want and the options available to you are more than I can certainly count to.
Timbuk2 – The Hudson Series
As mentioned earlier Timbuk2 has stepped out of its comfort zone of messenger bags and started tackling briefcases as well.
The Hudson series is relatively new and they tend to name the briefcases the same from year to year however the design changed considerably from the 2014 edition to the 2015 edition. Both are fantastic and look gorgeous so it really comes down to personal preference.
All in all, the Hudson series, regardless of what version you go with, is a winner and one we can get behind. We see the Hudson series continuing for many years to come as Timbuk2 provides only top-quality products that everyone can get behind.
Style and Design of Timbuk2's Hudson Briefcase
The Timbuk2 Hudson briefcase is not your average briefcase. It's got a more modern style to it than the older more stuffy traditional briefcases. It's ideal for a younger crowd or even someone just looking to stand out from the crowd.
The Hudson briefcase is made of quality materials. It is composed primarily of a waxed canvas that gives a very smooth look and feel. Timbuk2 also included leather handles, leather boot and leather trims to give it just a bit of class.
If you're not a fan of traditional black briefcases then Timbuk2 has you covered with the Hudson briefcase. You of course have the option of black but there is also a grey, navy or an oxide option available as well.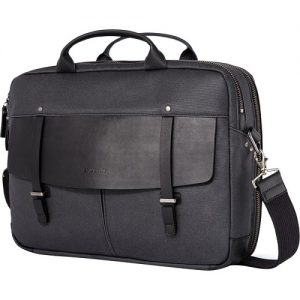 Black – A casual, neutral color that is easily capable of matching almost any style. Great for more formal business affairs or just as a personal carrying item;
Grey – A little less formal as compared to black, grey is also a neutral color but makes a different statement than most other briefcase colors;
Navy – This provides alternate options altogether than the monotone colors of grey and black. This is great for pairing with brown leather shoes and belt;
Oxide – All in a league of its own, Oxide is a variant that has to be seen and not described. Best for those looking to make a statement and stand out;
The Hudson briefcase by Timbuk2 is built specifically with the modern business traveler in mind. It's excellent for a younger crowd and exceptionally well-constructed for airline travel.
The Timbuk2 Hudson briefcase is one that is different than most other briefcases as it's made of multiple materials, including a strong durable canvas and accent leather and leather handles that move this briefcase up a rung and make it worth considering for multiple reasons.
The overall rating of Timbuk2 Hudson Briefcase gets 5 out 5 stars! It does a great job of stepping out of the box and providing the end user with multiple variations to choose from that can be more formal or wilder, depending on your nature.
Timbuk2's Hudson Durability
One of the key features of this incredible briefcase is actually its durability. Timbuk2 is not new to the game and they are smart enough to know that a highly made, quality product that will last for years to come is what builds brand loyalty and they've done it again with the Hudson briefcase.
The main exterior material is a tough canvas that can definitely take a beating as well as withstand the rigors of traveling.  Along with that canvas are leather handles and leather trim which obviously can withstand normal wear and tear abuse associated with airline travel.
Perhaps one of the most infuriating things that happen to luggage is the zipper ripping off. It
renders the suitcase virtually useless as you can no longer zip up your belongings to travel with. Thank fully Timbuk2 knows that durability is more than just how well the actual bag holds up, it has to do with the finer details as well, the hardware as well as the stitching.
Timbuk2 has implemented very sturdy zippers that feel and act extremely durable. Tough at times to use but you know they won't be breaking off of this briefcase at all.
Along those same lines, the stitching that Timbuk2 has included is superb. You don't see any fraying or strings coming off of this briefcase. Everything is so well stitched it's almost impossible to rip this bag apart on accident, just don't try and forcibly test it yourself.
If you're like me, great construction is amazing but not enough. When I consider a product, I'm always looking for some kind of guarantee or warranty. Timbuk2 comes with a lifetime warranty that covers any compromises in craftsmanship or manufacturing.
Timbuk2 is a well-known messenger bag company that decided to also produce briefcases. If you know anything of their messenger bags you know that they are extremely well made and built to last. The same can be said for the Hudson briefcase. The overall rating for the Timbuk2 Hudson Briefcase for durability gets 5 out of 5 stars!
Features of Timbuk2's Hudson
Now we're onto the fun part of any review and the part that people are usually most interested in. The features and functionality of a product are what really sell an item. So we'll cover the few features that the Hudson briefcase has and let you decide if this is the best briefcase for you.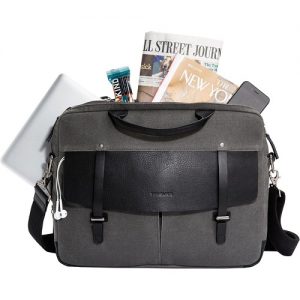 A somewhat standard option on most briefcases today is the optional shoulder strap. Hudson's shoulder strap, although not padded, is thick, very comfortable and of course removable. Sometimes even the newer more fashion forward briefcases look better without a strap.
Perhaps one of my favorite features about this bag that makes it stand out among other similar briefcases and can justify the price tag is that the enclosures for the laptop and tablet sleeves are magnetic. There is no Velcro anywhere on this briefcase which is great as most people hate hearing that ripping noise over and over, plus it provides additional class.
The Timbuk2 Hudson briefcase obviously is capable of holding your personal computers and tablets as previously mentioned. The briefcase is built to hold up to 15 inch MacBook's. You might be able to squeeze in a slightly larger size in there but I wouldn't try.
Timbuk2 being a messenger bag company knows how to make a briefcase just a bit more functional that most other companies. The Hudson features additional storage on the front in the form of zippered pockets. These are capable of holding smaller items such as your phone, passport, wallet and keys.
The exterior of the briefcase also offers some additional functionality that you might find useful. The exterior webbing of the Hudson briefcase allows you to attach carabiners to the briefcase in the event you need to bring additional items with you. You could even use a U-lock if you really wanted to.
Aside from additional attachments, Timbuk2 smartly make this briefcase with a pass-thru strap on the back side of the Hudson. Timbuk2 made this briefcase for modern travel and the pass-thru strap helps with that as it allows you to slide you briefcase over the extended handle of your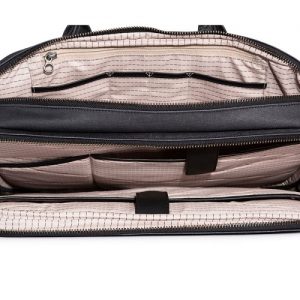 luggage, essentially putting less weight and stress on your body.
Finally the Hudson briefcase is TSA compliant and you can even send your bag through security without having to remove any devices which not only saves time but also saves you from a headache. Timbuk2 really thought about this briefcase as a traveler's briefcase and they have done an excellent job.
The overall rating for Functionality for the Timbuk2 Hudson Briefcase is 5 out of 5 stars. They took what has traditionally been a very boring box you carry around and not only have they made it much more stylish and modern but have also improved on its functionality.
Value for the Price
We've covered just about everything that you need to know in regards to the Timbuk2 Hudson briefcase and by now you should have a good idea if this is the briefcase for you or not.
There is still the matter of price, however, and I have to say that this briefcase is actually on the pricey side. Of course this should be expected when you get so much more style and functionality as compared to other boring briefcases, not to mention the lifetime warranty.
Now I'm not saying this is the best briefcase every made or anything but for what Timbuk2 is trying to do, they nailed it. To recap what they have going for them let's talk about what we liked and disliked about the Hudson briefcase:
The good about Timbuk2 Hudson Briefcase:
The Timbuk2 Hudson is made with premium quality materials, including a durable canvas and excellent leather capable of withstanding the rigors of air travel;
A number of different colors for you to choose from allow you to pick the briefcase that best meets your needs and suits your style;
Excellent durability with the exterior materials that make up the briefcase, along with sturdy zippers and well sewn stitching;
A manifold of unique and common features you find with this briefcase pave the way for future versions of briefcases as Timbuk2 made this one of the most functional briefcases on the market;
A lifetime warranty provides you with that peace of mind in the rare event that your briefcase does start to fall apart or come undone;
Perfect for stylish business men and women as well as being used as a laptop bag by those not in a professional setting;
The bad about Timbuk2 Hudson Briefcase:
The price is quite steep for a briefcase but can be justified with all of the functionality, durability and style that the Hudson briefcase brings to the table;
Might not be the best option for formal settings where a more traditional briefcase would be better suited;
The Final Verdict
Timbuk2's Hudson briefcase is perhaps one of the best briefcases on the market for the modern man or woman. It's got incredible style that is a breath of fresh air in a segment of the market that was going stale with the incredibly outdated briefcases of yesteryear.
The durability of the briefcase is incredible as the canvas used is highly durable and the leather is built to withstand the rigors of travel. The zippers are well built and the stitching is strong and sturdy.
Finally the Timbuk2 has a number of features, some old, some new, that provides the end user with functionality that they normally would not have, had they gone with a more traditional briefcase.
Now while Timbuk2's Hudson briefcase isn't for everyone, there is certainly a large segment of the market that not only finds this briefcase attractive but also practical. The only downside for those that are interested in it is that it is quite pricey.
Taking all of this into consideration the Timbuk2 Hudson has done a marvelous job at reigniting interest in briefcases and as such we give the Timbuk2 Hudson Briefcase 4.5 out of 5 stars!