WallyBags 45 Inch Garment Bag
This is the 45 inch garment bag by WallyBags. WallyBags was founded by a gentleman named Wallace London and the company gained its reputation from an innovation he used with this garment bags called the WallyLock or Wally clamp. They pride themselves on making sure your clothes stay wrinkle free and that's exactly what this bag does.
We'll get into more of what exactly makes this garment bag worth writing a review for below. As always you will be able to see what I think about its style, durability and functionality. And of course, if you are pressed for time or just want the condensed version, you can see what's good and what's bad, at the bottom of the review.
WallyBags Garment Bag Could Use More Style
This will be somewhat of a shorter section as there isn't much that can be said about the style of a garment bag. The WallyBags 45 inch garment bag is one of the less stylish garment bags but let's be honest, just how stylish can a garment bag really be?
This WallyBag garment bag comes in two colors to choose from, black and navy. When I was younger and used to shop at Express for some dress clothes, I would always get this flimsy garment bag that was basically a thin piece of fabric to just cover the clothes. When I first saw this garment bag, I originally thought of that but luckily this is a little better but honestly it still looks cheap even if it really isn't. It has some additional features that I'll get into later that bring it into its own but overall it gets the job done.
As I said this would be a short section and thus we've come to the end of it, ha. The WallyBag 45 inch garment bag looks like pretty much any other garment bag. I would have preferred to see a few more options in colors but navy and black will do. Overall I give the WallyBag garment bag 4 out of 5 stars.
WallyBags Has Plenty Durability
The durability of this WallyBag garment bag is something that actually shocked me. I try to be pretty rough with luggage I review but this garment bag as held up really well. It has a number of different things going for it.
To start the WallyBag 45 inch garment bag is lightweight, which helps with the handles holding up longer. It's simple, the less weight the handles have to support the longer the garment bag will last. When it is empty this bag will weigh about two pounds.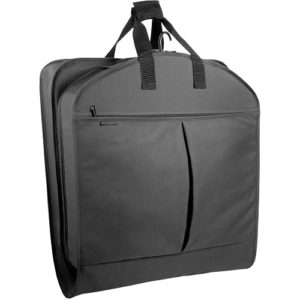 I also like the fact that WallyBag made their bag out of 600D Polyester fabric and made sure to make it water resistant. This means they decided to go with a slightly thicker design of fabric as compared to the 420D which only adds to its durability. Also, I'm not usually running through the rain with a garment bag but it's such an easy implementation and something I'd rather have and not need than need and not have.
Finally WallyBag did something that I absolutely love to see with any piece of travel gear that I buy. I found that they offer a three year limited warranty on their products, including this garment bag. This is fantastic news as I'm always weary about buying something from a company I'm not familiar with and this only goes to show how much they believe in their product. Three years for a garment bag made of this material is quite impressive if you use it regularly, but then again if you are constantly traveling or using a garment bag you probably are going to want something a little more sturdier and functional like this rolling garment bag. Otherwise this garment bag should last you for much longer than three years.
All in all I'm pleasantly surprised with WallyBags and their commitment to making a durable garment bag. Between the water resistance, the 600 denier polyester that also makes it lightweight and the three year warranty, this garment bag by WallyBags does a fantastic job and for that I give it 5 out of 5 stars.
WallyBags Garment Bag Could Improve On Functionality
The WallyBag 45 inch garment bag actually surprised me here with its functionality. When I was first looking at this piece of travel gear, I thought to myself, "No way would I pay that much money just to put a piece of fabric around shirts/suits". Then I realized why this garment bag demanded that price and it is worth every penny.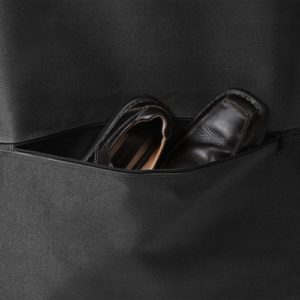 To start with what I believe to be the best feature of this garment bag is at the very top where WallyBags introduces their WallyLock. This locking mechanism makes sure to secure your hangers at the very top of the bag and will hold them in place by compressing two pieces of material (almost like a foam) that form around your hanger to provide a secure grip. And it's not just one or two or even three hangers that it can lock, it will hold up to eight or more hangers. I tested this out with multiple shirts of different sizes and weight and it did a perfect job of holding them in place. I had no doubts about its locking ability.
The front of the bag also provided a nice surprise. They have two large pockets that you can store either accessories or additional clothes in one and you even have room for shoes in the other. This is my biggest gripe with garment bags about not having a dedicated area for shoes but WallyBags did a great job with this.
There are handles on both ends of the bag so when you "close" the bag up you will be able to fasten the handles together to make it easy and it also supports the weight evenly across both handles. This way the top end isn't supporting the full load but sharing it with the lighter bottom side. At first I was concerned about not having wheels on this and was initialing thinking of deducting the score because of its lack of wheels but then I realized the handles were built smartly enough that they can be used to attach to most rolling luggage. There we go, I pay less for no wheels but can still roll it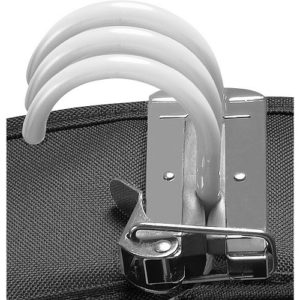 along with my normal luggage! What a great compromise!
However, everything isn't hunky-dory with the WallyBags 45 inch garment bag. There are a few things that I would have done a little differently, three things to be exact.
The first thing I noticed about this bag is that although it does have the handles you can attach to luggage if you are carrying any with you, it does not come with a shoulder strap. Not a huge deal for me but something I know people look for, people like a shoulder strap garment bag.
The second area of this bag I would have changed has to do with the zipper and the way it opens the bag for you to load your clothes into it. It's in all honesty a little bit of a pain to try and stuff your clothes in there. I would have preferred to see a straight zipper right down the middle of the bag. They could have put it on the opposite side of the pockets with no problem.
Lastly and the one that was the biggest disappointment for me is that you are not able to hang the bag unless you already have a hanger locked in there. For example, when I go to load the bag up with any clothes on hangers, I have to lay the bag down time and time again. Anytime I need to open the lock I have to take it off the rack to make sure every hanger doesn't come falling out. Again, it's a little aspect but one that slightly reduces the perceived value.
Overall however, the WallyBags garment bag did a fantastic job and should be commended for the excellent product they put out, especially at this price range. This garment bag gets the job done and does it well without any major issues. Overall I give the functionality of this bag 3 out of 5 stars. WallyBags 45 Inch Garment Bag Score
Overall I'm quite impressed with how the WallyBags 45 inch garment bag turned out. At first appearance I was expecting it to be less than useful but it managed to make me a believer out of it due to its functionality and warranty offered by WallyBags. So let's recap what was good and bad about this garment bag.
The Good:
WallyBags designed this garment bag with 600 denier polyester which is a little more durable that some other options garment bags are made of plus they've made the bag water resistant.
There is a 3 year limited warranty that is offered on the garment bag. It goes to show that they believe in their product and for low price of this garment bag it's just an additional bonus. If the bag breaks down on you after three years, you will have definitely gotten your money's worth.
The two front pockets on the garment bag are perfect for loading additional clothes, accessories like toiletries or even shoes! Every garment bag should have a spot to hold shoes!
The bag has two handles, one on each end, that can be attached together to distribute the weight evenly across the handles. It also makes the bag more durable.
The WallyLock locking mechanism is genius. It allows you to lock your hangers in place so that your clothes never fall to the floor of the bag and it keeps them from getting wrinkly. This is by far the best part of the WallyBag's garment bag.
The Bad:
I would have liked to have seen a few more color options. I know color options on garment bags can't be that popular but people have their own personalities and want to express themselves.
The bag just looks cheap. It looks like something you would get as a hand-me-down or from a thrift store regardless of how well it actually works.
There is no shoulder strap that you can use to carry this garment bag, only the handles. Not a huge issue for me but nonetheless it's still something that needed to be pointed out.
The zipper is a bit frustrating. The zipper zips around the size and doesn't even open all of the way. It would have been better suited to put the zipper down the middle on the opposite side of the pockets instead of trying to shove your clothes down to the bottom of the bag to straighten them out.
There is no 'hanger' attached to the bag itself. If I try to put a hanger in the bag or take one out, I need to lay the bag down as the locking mechanism is what keeps the hangers in their positions in the first place.
This garment bag does have its surprises and pitfalls but overall does get the job done. It could use a little more style and improve on areas of its functionality but it's durability I have no concerns with. I would say however, for the price, you could probably afford to pay a little more and get a high quality bag. WallyBags offers additional garment bags of better quality for a little more money or you could go with a different name brand product. With all of this taken into account, I give the WallyBags 45 inch garment bag 3.5 out of 5 stars.
If you have a WallyBags garment bag and want to leave a review, you can do so below!