What is the Timbuk2 Command?
While some people may think this is an ordinary messenger bag, Timbuk2 Command is everything but that. It's a spacious, beautifully designed messenger bag that can serve versatile purposes. Even though most people use it as a laptop carrier, the storage of Timbuk2 Command is big enough to accommodate various smaller items.
It's exceptionally comfortable to wear, and it's not too expensive, so it might be good to take it into consideration if you're looking for a high-end messenger bag.
A word about the brand
The brand of the messenger bags we're going to talk about is Timbuk2 – one of the best bag manufacturers out there. This brand was founded by Rob Honeycutt in 1989 in San Francisco, and they've been making top-quality models ever since
The stocks of Timbuk2 include various standard bags, messenger bags, and backpacks, and they plan to provide for people who value safe & easy travel.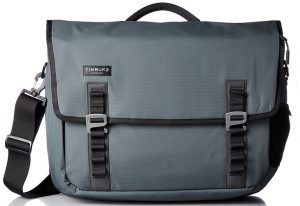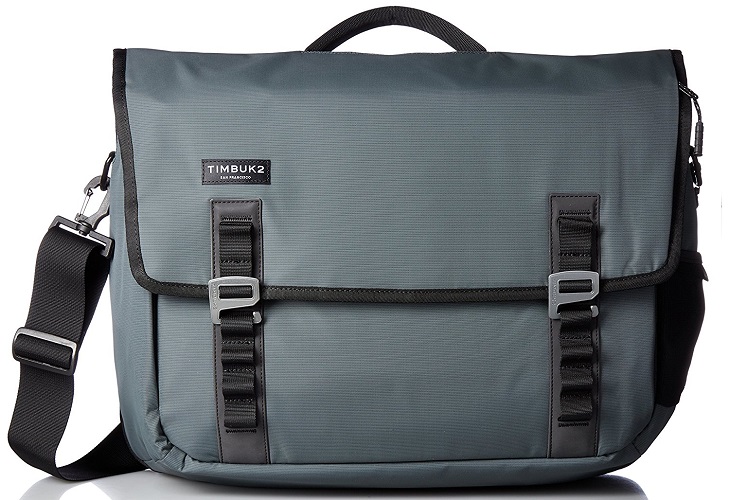 If you're into bags (and you happen to like Timbuk2 Command), you should make sure to check out their shop list. There are bags of all sizes and designs, as well as models that belong to different price point categories. It's safe to say that Timbuk2 offers something for everyone.
Among the best-selling bags we can count Ramble Pack, Rapid & Tuck Pack, Copilot Luggage Roller, Transit Briefcase, and other premium-quality packs.
Things we will speak about
We'll mainly speak about the things you need to know about Timbuk2 Command. These things are the features that come supplied with this magnificent bag, the durability, design, colors, and much, much more.
As Timbuk2 is a brand that offers high-end products, we'll also speak about the cash. This pack isn't exactly affordable, but there's a manifold of reasons why it's worth the money. Furthermore, we're also going to discuss all the good and bad things about Timbuk2 Command before we pass the final verdict.
Timbuk2 Command Style and Design
At first glance, this messenger bag is designed in a very plain and straightforward manner. "A square messenger for laptops and smaller items" would be a perfect layman definition of Timbuk2 Command, but there's more to it than that.
First of all, Timbuk2 Command features a simplistic design – the brand put a heavy accent on performance and features, as those two qualities are more important than beauty and aesthetics. Even so, the outward appearance of Timbuk2 Command can't be labeled as "ordinary".
This messenger bag is beautiful in its own right, but there're so many features that will avert your gaze elsewhere. For instance, you won't notice how remarkably the interior looks like once you try it out for the first time – you'd be in awe at how comfortable this messenger bag is.
Timbuk2 Command comes in a variety of colors. The standard issue Timbuk2 Command messenger is "Nautical", or simply deep blue, if you prefer it that way. There's a peculiar thing about color options, though – each different model is made of different material.
Some additional colors include (including the standard model):
Nautical – Nylon Coated, 400D; The Deep Blue Nautical color is somewhat of a standard for Timbuk2 Command. It's reasonably durable, and it's very gentle to the touch. The nylon coating provides it with enough sturdiness to withstand some serious abuse.
Black & Red Devil – Made of Polyester; Black & Red Devil Timbuk2 Command model is, perhaps, the most beautiful color variation of the entire series. It's made of polyester which is quite nice, as this material provides decent balance between performance, comfort, and style.
Midway – Made of Rip Lite Polyester; The Midway color variation is the only color option that's made of Rip Lite Polyester. This model is more durable overall (when compared to others), but it features weaker resistance to puncture and scratches. Overall, Midway's grayish color is somewhat neutral, but it's beautiful in its own way.
Standard Black – Nylon material; The standard black Timbuk2 Command is for people who value elegance above all. This model was made of nylon materials, and it's not as durable as others. Anyhow, it feels extremely natural once worn.
Surplus – Nylon Coated, 400D; The Timbuk2 Command Surplus must've gotten the name after some kind of interior joke. Surplus usually relates to "we didn't want this, but, hey, it turned out fine". This is not the case with this model, as it's very beautiful and attractive. Not as much as some other models, but it's quite durable and sturdy.
All of the color names were taken from the Timbuk2™ official website.
This magnificent messenger bag comes in three size options – small, medium, and large. Each model is different in width, height, depth, weight, and volume. The different sizes of Timbuk2 Command are:
Width – 16.9 inches or 43 centimeters;
Height – 13.6 inches or 34.5 centimeters;
Depth – 5.1 inches or 13 centimeters;
Weight – 2.6 pounds or 1.2 kilograms;
Volume – 1,098 cubic inches;
Width – 17.1 inches or 43.5 centimeters;
Height – 14.4 inches or 36.5 centimeters;
Depth – 5.1 inches or 13 centimeters;
Weight – 2.7 pounds or 1.25 kilograms;
Volume – 1,343 cubic inches;
Width – 18.5 inches or 47 centimeters;
Height – 15.4 inches or 39 centimeters;
Depth – 5.9 inches or 15 centimeters;
Weight – 2.7 pounds or 1.25 kilograms;
Volume – 1,587 cubic inches;
The Overall Rating for Timbuk2 Command's Style and Design gets 5 out of 5 stars. The Command provides us with a number of different options to choose from not only in color but also in sizes. It's an ideal messenger bag for those looking for some personality to go along with functionality.
Timbuk2 Command Comfort
As we've already mentioned, Timbuk2 Command's forte is comfort & performance. First of all, this messenger bag is lightweight. Timbuk2 Command weighs only 2 pounds (when it's empty), and it comes with various pockets and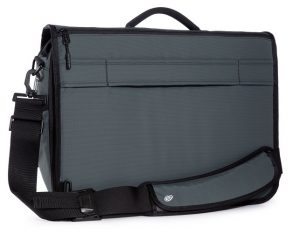 compartments that let you carry a lot of stuff without losing any comfort.
Furthermore, the back of Timbuk2 Command is ventilated. Having a ventilated back has become a mainstream feature on other wearable gear like hiking backpacks but on a messenger bag this is a nice innovation.
The ventilation feature helps keep your back cool and dry which is important, especially when you are biking around in the hot afternoon sun with this messenger bag strapped across your body.
The padded shoulder strap also helps provide us with a comfortable carry even if you carry heavier items. Also the back support is squishy enough to neutralize the potential pain from pointy objects and items.
The Overall Rating for Timbuk2 Command's Comfort is 5 out of 5 stars. There's not a whole lot to go on with regards to comfort as you're really only worried about the strap on the bag here but the addition of the ventilated backing helps push the comfort rating up a bit.
Timbuk2 Command Durability
The issue of durability is very hard to resolve. Timbuk2 Command comes in various color options, and each color model is made of different materials. This means that some models are sturdier than others, but each model was built to last.
For instance, the materials used in the manufacturing process of Timbuk2 Command are Nylon, Polyester, Denier, and various combinations of the aforementioned materials. These materials were refined before they were put to use, and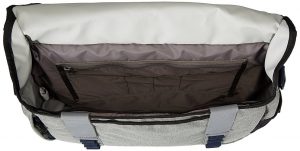 they provide massive durability to this amazing messenger.
Aside from the actual fabric used, the Command uses quality materials in the actual hardware on the bag; you'll never feel like anything will rip or come apart. It's a very sturdy messenger bag for sure.
If that weren't enough for you, Timbuk2 also offers a lifetime warranty on all of their products. This only goes to show that they stand behind their product and for good reason as you'll probably never have to take them up on their warranty.
The Overall Rating for Timbuk2 Command's Durability is 5 out of 5 stars. Again there isn't much to discuss here as the bag is made with various materials, which can be a good thing depending on what your preference is. Also when a company stands behind their product with a lifetime warranty it's hard not to trust that they know what they are doing.
Timbuk2 Command Features
The main point of Timbuk2 Command is that it comes with a set of premium-quality features. There aren't many features, but the ones that are there greatly contribute to comfort and performance. Plainly speaking, there are two compartments, a back protection, and several straps. On top of that, there's a special luggage handle that makes this messenger bag ideal for flight travels and short trips.
First of all, the matter of reflective strips should be discussed. These twin strips are reflective and they're easily noticeable. Even though most people would consider this messenger for shorter trips, even some bikers tend to like it, so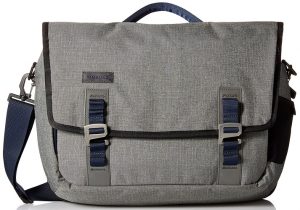 this is a big plus in that situation.
For instance, imagine that you're driving and that your bike doesn't have any reflectors. People will struggle to see you at night, and that could easily mean trouble. This messenger bag comes with two noticeable strips that will tip the scales in your favor.
Furthermore, there's a z-pulley that makes the entire situation different. This pulley lock configuration strap makes it easy for you, as you can tighten and loosen it in an instant. If you're accustomed to wearing your bag low, medium or high – it doesn't matter. Timbuk2 Command can be worn anyway you want it, thanks to this feature.
People often struggle with items that can induce pain in their back, and most people refrain from packing these items to avoid this inconvenience. You won't have that problem if you opt for Timbuk2 Command, as this feature practically neutralizes the pain from these items.
The last feature we're going to mention is the adjustable strap. This strap is quite plain, as you will use it to carry Timbuk2 Command around. You can carry it like a standard backpack, or you can use the luggage strap to carry it as a messenger bag – it's really a matter of preference.
The Overall Rating for Timbuk2 Command's Features is 5 out of 5 stars. As you can see this messenger bag comes with quite a few features and some that are a bit more standard that we did not mention. Timbuk2 has truly done a magnificent job with this messenger bag.
Who is Timbuk2 Command good for?
By now, you should have a clear notion of who is Timbuk2 Command good for. People who work on the go, people who travel a lot, people who work on laptops a lot – these are just some categories of people who will benefit the most from this messenger bag.
Furthermore, people who have quite a lot of cash will want a messenger such as this on their shoulders. After all, this is a high-end bag.
Value for the Price
This section is dedicated to the one thing most people worry about – the cash. Since we're going to discuss the value at the section below, let's talk about the price point category of Timbuk2 Command. People often say that $100+ is an expensive category, but these people often forget the fact that you'll be using this messenger bag for years to come.
Are we saying that this is a longshot investment? Yes, without exception. Even though it might cost you, Timbuk2 Command is worth every cent. You'll be able to storage your laptop, along with various other objects with ease, it's comfortable, and it's extremely appealing.
If we take these facts into consideration, it's hard to neglect the fact that Timbuk2 Command is more than worth the cash. If we're to speak about this matter scientifically, Timbuk2 Command belongs to the expensive price point category, but you'll be the judge when it comes to value.
Even though we've mentioned a lot of positive things about Timbuk2 Command, there are good and bad things about it. Saying that this messenger bag is perfect would be bold, but it wouldn't be too far from the truth. Anyway, let's see what's there to like and dislike about it, so you can judge for yourself:
The good about Timbuk2 Command:
Versatile – People can use this messenger bag for air travel, short trips, and laptop carrying situations;
Great storage – there's a place for your laptop and various other items;
Stylish and beautiful – Timbuk2 Command looks ravishing, to say the least;
Lifetime warranty – This warranty shows how committed Timbuk2 is to their product;
The bad about Timebuk2 Command:
Price – Timbuk2 Command belongs to the expensive price point category;
The Final Verdict
When you search for a bag, you want something that can store your stuff with ease, without being heavy or uncomfortable. Timbuk2 Command is precisely what you want, if this is the case.
This bag is outfitted with multiple pockets and several separate compartments that can easily store a full-size laptop and various other smaller objects.
Apart from that, it's extremely comfortable. You won't even feel it, as it's practically lightweight with 2 pounds of weight. Each compartment serves a different role, and each pocket can be used for various purposes. For instance, you could be enjoying a casual flight trip or outdoor vacation – Timbuk2 Command can easily accommodate your items, whichever the case.
Furthermore, this mesenger bag is versatile. Even though it's originally a laptop messenger, you can store other items with ease. Each compartment is separated, so you can store whatever you feel like, in almost any situation.
If you can look past the price, Timbuk2 Command is a perfect choice. With plenty of storage, a comfortable strap, and a stylish design, this messenger bag offers quite a lot. It's safe to say that this should be your best bet if you're searching for a high-end messenger bag.
Timbuk2 produces quality products and is one of the top if not the top messenger bag producer available right now, especially at affordable prices. Although they are not the cheapest nor most expensive, you'll easily be able to see why your money was well spent. The Overall Rating for the Timbuk2 Command Messenger Bag is 4.5 out of 5 stars!