Herschel Supply Co. Little America Backpack
This is the Little America Backpack by Herschel Supply Co. Many people know of Herschel Supply Co. and for good reason; they provide exceptional products at reasonable prices. Herschel Supply Co. is a relatively newer company being founded in 2009. They are based out of Herschel, Canada and produce quality products with a fine regard for detail.
The quality of their products are not lost on me as I review the Little America backpack which has grown to become one of their most popular and best-selling backpacks available and for good reason. To get a better understand if this backpack is right for you, read on below or go to the bottom to get a snippet of what's good and what's bad.
The Little America Backpack Has Style
The Herschel Supply Co. Little America Backpack is an extremely well designed daypack. Its design is both modern and somewhat adventurous. It makes you feel like you're about to embark on a journey to find the unknown. But what I really like about the Little America backpack is that it goes well for both women and men.
Herschel Supply Company decided to make the Little America Backpack in a variety of designs. They officially have 50 different designs for this daypack but will only have about two dozen or so listed on any given website as it depends on the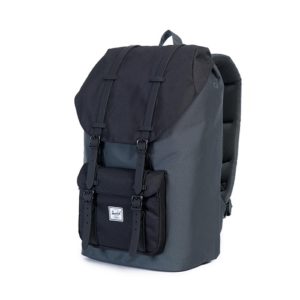 supply. The one I'm reviewing is labeled as a dark shadow color with black and black rubber straps; you can see this to the right.
The Little America Backpack does come in a couple of sizes for you to choose from as well so you can be sure you get exactly what you need. You have the normal volume and sized option or their mid volume option.
I like how each travel backpack is made a little differently. It's not the colors that are the only difference from one bag to another. All are made with 100% polyester but the straps are a little different on each. Some are made of synthetic leather while others are made with a soft rubber, but both options look great so I wouldn't make that a deciding factor.
Another stylish feature the Little America backpack has is not even on the outside but the inside. The inside of this fancy backpack is made with a Herschel Supply Company's signature red striped fabric lining that looks great.
And finally what would a backpack be without its branding. Herschel Supply Co. does stick their logo right on the back pocket but it's a nice classic woven label that doesn't detract from the bag at all.
The Herschel Supply Co. Little America backpack is a fantastic looking bag with lots of options in terms of colors and materials. It has something that can work for anyone. There are tons of options to choose from so if you can't pick just one then don't worry, you're not alone. The Little America backpack gets 5 out of 5 stars for style!
The Little America Backpack Is Extremely Comfortable
Would you ever wear a backpack that was uncomfortable to wear beyond a week, a day, a hour? No and neither would I. Luckily the complete opposite is the case with this backpack. It may be one of the most comfortable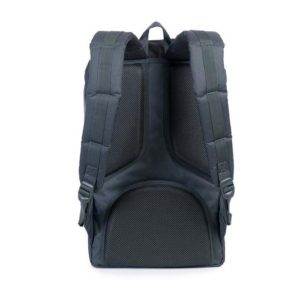 backpacks I've ever tried out.
The main reason being is because Herschel Supply Co. pay attention to what consumers say and with his bag they nailed it. I wore this backpack every day for 2 weeks with some days having it on for hours while traveling around. The backpacks shoulder straps are contoured and extremely well padded that it almost felt like I didn't even have anything resting on my shoulders. And this is with a backpack that was full of clothes, shoes, laptop and toiletries.
The back of this backpack isn't lacking in padding either, they also did an equally great job with that aspect. The Little America backpack also took a note from backpacks that are built more for hiking and added an air mesh backing to it which promotes airflow and keeps your back from getting sweaty. What a perfect addition to an already impeccable backpack.
The Herschel Supply Co. constantly makes great products and the Little America backpack is no exception. The backpack is extremely comfortable to wear, even for long periods of time. For these reasons I have to give it 5 out of 5 stars.
Herschel's Little America Backpack Has Decent Durability
The Herschel Supply Co. Little America Backpack provides about as good as can be expected durability. I used this backpack on a daily basis carrying anything from a change of clothes and sneakers to books and laptops. It has held up well the entire time.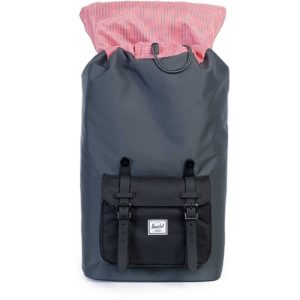 I say used because I am not testing out another backpack but if I had the choice, I would simply use this one all of the time until it fell apart. Speaking of falling apart, unfortunately the bag did have some loose strings start to come undone after my time with it but I credit that to a few things. One, I'm testing out this backpack so I load it up very heavily sometimes and two; I used it all day every day when I was checking it out. A little wear and tear occurs with heavy and abusive use but luckily Herschel also has a great backup plan.
Yup you guessed it; Herschel Supply Co. offers a limited lifetime warranty. This means they will cover the original purchaser for their ENTIRE LIFE if any defects from manufacturing or craftsmanship occur with the bag. This is always something I look for when purchasing a product because, all too often, I go out on a limb and buy something that just breaks without any form of recourse.
The Herschel Supply Co. Little America Backpack has done a great job of holding up in the time I've used it. If you plan on using this as a backpack or gym bag and not overly stuffing it every day, this should be a good fit for you but seeing as how I abused it every day for two weeks and started to see a little wear and tear, I have to give this bag a rating of 4 out of 5 stars for durability.
The Little America Backpack Could Use More Functionality
The Little America backpack by Herschel Supply Co. has served its purpose well during the time I've used it and I give it high praise but I did notice one or two things that I might consider changing with the bag or at least want to point out for you.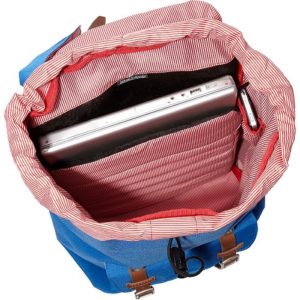 However, let's start with some of the good things this bag does. To start off by saying this bag is big is an understatement. The interior of this bag is HUGE! You can easily fit just about everything you would ever need to carry into this bag. I did not one have a problem packing all of my stuff in there. Some women might find this bag to be a little big as it's listed at 20 inches high and 12 inches wide. If so, check out the Herschel Supply Women's Survey Backpack that's 16.5 inches high and 13 inches wide.
The straps on the outside are held down by magnets underneath the strap and make it much more convenient for getting into your bag quicker. You can't really tell they are there either unless you are looking for them; so far it has been a really nice feature.
The smaller pocket on the outside also has these 'decoy' straps that don't really strap it down. Instead it has a flap that folds up with a zipper underneath. Very sneaky Herschel, very sneaky.
The last great feature about this backpack is on the interior. The backpack has its own little section along the back that is a padded fleece pocket for laptops and tablets to prevent any scratching or damage. The pocket is also a few inches off from the bottom of the bag so when your bag hits the ground from you setting it down, it won't hurt the computer. What a small but FANTASTIC design feature.
One of the most notable things about the Little America backpack when you first start using it is that you're not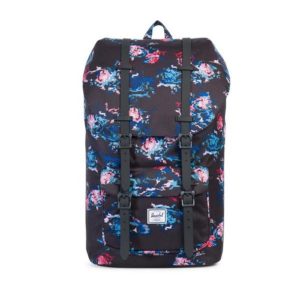 really sure where to put everything you want to carry. "But didn't you just say the bag is HUGE and can carry everything?" Yes I did, however this is not in regards to the amount of stuff but the location of the stuff.
The bag is big but it has no compartments, no sections, and no organization. The outside of the bag has the one small pocket but where are the side pockets for this backpack? And the biggest pain that I had for a couple days when trying to take a bunch of little odds and ends is the bag on the inside is just a giant sack. There are two little open pouches on the sides but no place to hold my phone, wallet, pens, keys, etcetera. Is this what it feels like for a girl with a giant purse? How do you find anything?
All in all, I can't fault Herschel for this design feature, it's evident by the pictures but I was not thinking about it. It really does give off that feel of more of an adventurer's backpack than one you'd want to use for business or maybe even class if you take a calculator and pens and what not with you. Hopefully this will help you make up your mind. However, because of this lack of organization I will give the Little America backpack 4 out of 5 stars.
How Does The Little America Backpack Score
Here we are, at the end of the Herschel Supply Co. Little America backpack review. Hopefully you got some good information from this review and it helps you in your decision making. So let's recap what's good and what's bad.
The Good:
Herschel offers many designs to choose from and carries about two dozen different color/material options.
The padded shoulders and padded mesh back provide exceptional comfortability and airflow to keep your back from sweating. You really can walk around all day with this bag loaded up without it becoming uncomfortable.
The Little America backpack can withstand normal use and you will see normal wear and tear but it also comes with a limited lifetime warranty.
The backpack is huge and can hold plenty of items, including a laptop/tablet which has its own padded fleece divided section.
The Bad:
If you're rough with this bag and try to overload it with heavy contents, you may be exercising the warranty that's offered.
The Little America backpack has no side pockets and no internal organization.
After reading back over my own review and thinking about my time with this bag, I can safely say this is about as accurate of a review that I can write. You can clearly see the benefits of owning one of these marvelous backpacks even with its shortfalls but it clearly won't be for everyone. This bag is meant more for someone who is not looking for organization but more of a get up and go bag, where you can just throw in whatever, whenever. The price of this bag doesn't adjust my rating but I've seen bags that are priced higher and lower that are of similar design but quality I'm not sure of.  Also you're able to find more designs for this backpack than just what I have listed. For these reasons I give the Herschel Supply Co. Little America backpack, 4 out of 5 stars!
If you have a comment or review of your own feel free to leave it below!