What's The AmazonBasics Laptop Backpack
It's a backpack from Amazon that holds laptops up to 17 inches. Bet you figured that out by now.
Is this the best budget backpack on the market?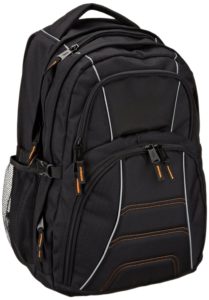 It may not look like much but this backpack does have serve a purpose. Let's see how this AmazonBasics laptop backpack measures up, shall we?
AmazonBasics Laptop Backpack Comfort
The AmazonBasics Laptop Backpack comfort level is, just okay.
How is the padding on this backpack? Great question, I'm glad you asked. The padding is, well, so so. It's not bad but it isn't great either.
The padding is not too thick; it may have around half an inch of padding on the straps and even less on the back. I found that for simple lightweight loads, books and laptop, it was fine and had no major issues.  However, when I tried it with a heavier load, cramming in multiple thick heavy books and my laptop, I found the straps to start digging into my shoulders and occasionally the cardboard in the back padding would start to bend.
Speaking of cramming, once you start to max out this backpack you get a sense of its durability. With all of this in mind we give the AmazonBasics laptop backpack 3 out of 5 stars.
AmazonBasics Laptop Backpack Durability
The durability of this backpack is pretty much what you'd expect for a backpack in this price range. For normal use this backpack did great. It's perfect for occasional use but if you are a heavy hitter and always on the road, then you may want to look elsewhere.
I used it on and off for a little while to get a sense of how it held up and I found no major issues with it except for the fact that the bottom has little padding. Essentially I had to be gentle with it, instead of throwing around backpacks like I'm used to. If this backpack fell and hit the floor, I would not be very confident that the computer would go unscathed unlike the Viagdo Laptop Backpack.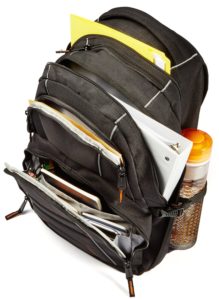 Another aspect I wanted to test out is how the backpack held up under rain. Now is this backpack waterproof? Probably not, but to my surprise it actually held up quite well. To test this I put the backpack outside on a slightly rainy day, it wasn't down pouring but a nice quick shower came through (I'm in Florida and you can pretty much put the rain on a schedule and know exactly when it comes.) After 15 to 20 minutes I went out to get the bag and to my surprise the inside where the computer would be, was dry! (Before you ask no I did not have my laptop in the bag; I don't have money like that to throw around.) So I let the backpack dry out and it was good as new the very next day.
Based on this information we have to go with a rating of 3 out 5 stars for the durability of this backpack.
AmazonBasics Laptop Backpack Functionality
The functionality of this Amazon Backpack raises some questions but essentially does what it says it will do.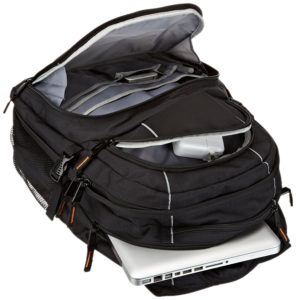 This backpack comes with large multi-compartment sleeves. There are four main areas starting with a smaller sleeve at the front for small items, followed by 3 increasingly larger sleeves for books, clothes, a laptop, whatever you would normally put in a backpack. It even has a pocket to put some cables in. All in all this was what we expected and were happy to see it this way.
The last thing I checked was to see if it could really hold a larger laptop. The short answer, it can and it can't. Here's what I found. It will definitely hold laptops UP TO 17 inches (thicker laptops might be a bit more snug so you may want to look for little larger laptop backpacks) but for a more common size of 17.3 inches it worked and it didn't. I tried my MSI laptop unsuccessfully; however, I used a friend's 17.3" Dell and it just barely fit.
One last note, this backpack will fit under an airline seats, so don't worry about bringing this onto the plane as a personal bag. It's big enough to hold the items you need and small enough to not be a hassle. With this additional benefit, we'll bump our rating for the functionality of the AmazonBasics laptop backpack to 4 out of 5 stars.
AmazonBasics Laptop Backpack Score
This AmazonBasics laptop backpack gets 3.5 stars. It is great for casual users and with it's low price point and two day shipping available, it's great for shoppers on a budget. This backpack is not much of a match for the heavy hitters out there though. I would not take this backpack on long business trips, to conventions or anything of the sort due to the lack of padding. I would, however, be comfortable using this backpack on a daily basis to get to school and work or if I want something cheap and easy to use.
If you've had a different experience with the AmazonBasics laptop backpack or just want to share similar thoughts, please leave a comment or review below!